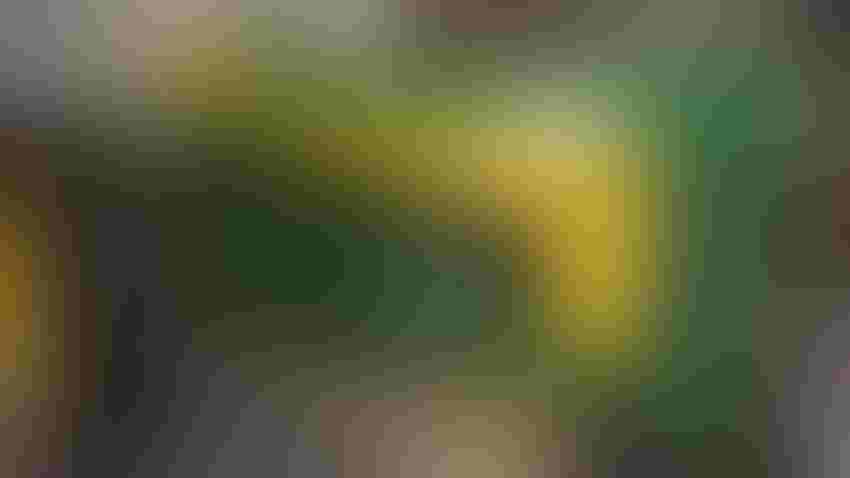 PROUD COLORS: This John Deere 730 in Marshall and Berdine Martin's shed is the only green-and-yellow tractor in a sea of red. It represents Berdine's family, Marshall says. Her father had a John Deere 730.
Tom J. Bechman
Marshall Martin's dad liked International Farmall tractors. Martin likes them, too, and has several in his collection, including some from his dad and other family members. But nestled among those red tractors is a John Deere 730 diesel.
"My father-in-law had a John Deere 730," explains Martin, West Lafayette, Ind. "So, I got it to honor him for my wife, Berdine. Otherwise, red is the dominant color in our barns."
Martin adds that his father-in-law, Forrest Kipp, farmed with all John Deere equipment near Annawan, Ill.
The John Deere 730 is restored and in good condition. Martin acknowledges it's not the easiest tractor to start, especially in cold weather.
The John Deere 730 and 720 models held the fuel economy record for the most-efficient diesel tractor in the Nebraska tractor tests for 27 years. According to tractordata.com, 24,495 John Deere 730 model tractors were built at the factory in Waterloo, Iowa, between 1958 and 1961. Just down the road in a secret facility, a separate team of engineers was developing the John Deere 4010 that would replace the 730 and change the tractor industry.
Of those nearly 24,500 tractors, over 17,000 were diesels, with the rest split between gas and propane models. Addressing the hard winter-start issue, over 3,700 diesel 730s came with a pony engine.
The 730 diesel was a five-bottom plow tractor that rated at 53.4 hp in tests and claimed 59 PTO hp over 57 hp on the belt.
Like the 720 Series before it, the 730 featured batteries tucked under the driver's seat — not nearly as convenient as it sounds because it was a tight fit. The 730 diesel came with four 6-volt batteries under the seat.
Subscribe to receive top agriculture news
Be informed daily with these free e-newsletters
You May Also Like
---