Last month I wrote about the loss of topsoil over time since the native prairie was first plowed under after the passage of the 1862 Homestead Act, and how far farmers have come since the Dust Bowl, with practices like no-till and cover cropping.
However, we still have a long way to go. A good case in point is the heavy rainfall events Nebraska experienced this year and last. On May 6, 2015, counties across the eastern part of the state experienced 7 or more inches of rainfall. A drive across the countryside would easily reveal which fields had been under continuous no-till and those under conventional till — as evidenced by heavy amounts of runoff and gullies.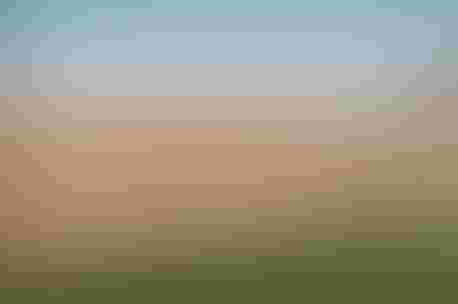 SYMPTOMS OF EROSION: In this photo of an eroded field in eastern Nebraska, it's apparent that even after 80-plus years since the Dirty '30s, we've still got room to further mitigate soil erosion. After heavy rainfall events this spring and last spring, where some locations saw 7 or more inches of rain in a single event, many fields had large amounts of runoff like this.
Around that time, a Natural Resources Conservation Services news release for Nebraska counted up the costs in a possible scenario for Thayer County, which received a whopping 10 inches of rain on the night of May 6. If half of Thayer County's 326,000 acres of cropland were impacted by that rainfall, and the average soil loss was 2 tons per acre, the total soil loss in that county alone would be 320,000 tons. At a cost of $2.10 per ton for nitrogen and phosphorus, the estimated cost from that storm would have been $672,000 in Thayer County, just in fertilizer. What about the entire ten-county area impacted by the storm?
The point is it's an ongoing challenge for those who farm on the heavy clay soils of southeast Nebraska. When rainfall hits a compacted soil surface, pores get filled in with soil and can't retain water. Likewise, the dust devils, and in some extreme cases, dust storms that darken the horizon after hot dry periods on the western High Plains have shown that we may not have improved as much as we'd like to think.
That's not to say growers aren't already taking steps in no-till. Erosion can still happen in no-till fields - and in the case of 7 inch rain events, erosion can occur regardless of how the field is managed. Recognizing the problem simply means there is room for continuous improvement. The challenge is to build a landscape that can reduce the amount of erosion hat occurs, and that can better handle heavy rainfall or drought than it could under a conventional system.
Measuring progress might be as simple as looking for visual indicators. A resilient landscape should see negligible loss of soil, nutrients and pesticides; be able to withstand repeated excessive rainfall events during the growing season, resulting in a higher rate of water infiltration and less runoff; be able to endure in times of drought with the help of improved water-holding capacity, thanks to living roots and ample residue covering the ground; and represent physical, chemical and biological properties in equilibrium with the environment as well as the goals of the farming operation.
If you're a corn and soybean farmer who's been no-tilling for several years and have tile outlet terraces on your fields, you might be asking, "What else can I do?" There is always room for more improvement and fine-tuning, but the first step might be expanding the crop rotation with a winter cereal crop, or adding a cover crop or two to the rotation.
What's keeping growers from taking the next step? There are always hurdles, including the labor and equipment challenges associated with expanding a rotation or establishing a cover crop or perennial grass; the lack of livestock in the Corn Belt; a focus on short-term costs versus long-term benefits; and for many, that ever-present concern of "coffee shop talk" and the question of "What will my neighbors, landlords, relatives, etc., say if I do something outside the norm?"
One of the biggest obstacles, especially in a down ag economy, is return on investment — not to mention the fact that high property taxes make it difficult to try anything new. The question is how do you generate income from cover crops or improved soil health?
It's a tough question to answer, and it all depends on the situation. Every farm is different and has different challenges. Those growers who have a winter cereal crop in the rotation have different options than those with a corn and soybean rotation; producers with access to livestock have different factors to consider than those without; and producers in southeast Nebraska have more heavy rain events to contend with than those in the western reaches of the Panhandle.
In coming columns, we'll be exploring some of these options, what works best in different situations, how you can incorporate these practices into your farming operation, and how you can expect to realize a return on investment from these practices.
Subscribe to receive top agriculture news
Be informed daily with these free e-newsletters
You May Also Like
---