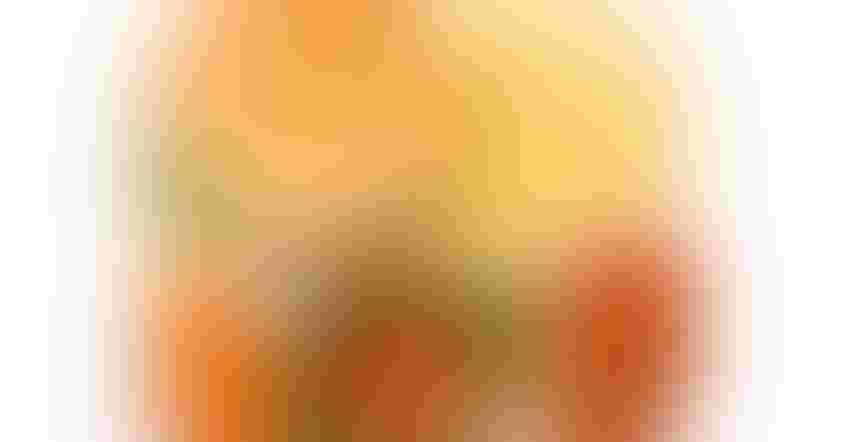 BEEF ON MENU: National Farm to School Month is a time to spotlight the Missouri Department of Agriculture's partnership with the Missouri Beef Industry Council's program MoBeef for MoKids. This program puts beef back on the menu in many school districts throughout the state.
doram/Getty Images
Like so many people in the agriculture industry, I love the fall season. There is a crispness in the air, and combines are starting to roll. Very soon our grain bins will be filled with what is forecasted as a near-record crop. This is the time of year all farmers anticipate when they drop that first seed in the ground each spring.
October also means school is in full swing, and this is the month we celebrate National Farm to School Month across the country. You might be wondering what that means and why it is important.
Each time schools across Missouri and the nation use locally grown food on their menus, it supports local farmers and also provides the opportunity to teach students about agriculture.
Most of you already know that I have a passion for sharing the story of agriculture. Farm to School has the power to share that same story on the most basic level with a generation that will be making important decisions with regard to our industry as adults. Kids can learn where their food comes from and how it's grown through Farm to School activities.
Bridging ag education gap
We are thankful for Missouri Farmers Care and the Missouri Farm Bureau. Both are tremendous advocates for agriculture education in Missouri schools. Each of these groups visit classrooms and host other youth activities to teach children about all aspects of agriculture production, from corn and soybeans to pork and beef.
FFA chapters across Missouri will host children's barnyard and similar events this school year, where their members bring livestock and equipment to school. FFA members then lead discussions and answer questions about agriculture and the care and purpose of the animals. I love these activities and truly believe they are vital pieces of educating future buyers of our products.
Many Missouri schools have school gardens, where students plant, water and harvest fruits and vegetables. We love to see photos of kids working in their school gardens, then to hear how the students enjoy the produce in a taste test. Their pride and ownership of that product is undeniable.
What fun it is when students decide they like sweet potatoes, butternut squash or eggplant because they tried it at school after watching that plant grow from seed. I know my kids were much more willing to try something new at school than at home when Mom fixed it.
Here at the Missouri Department of Agriculture, we love school gardens and the educational benefits they provide to students. Our favorite way for schools to participate in Farm to School is to buy delicious product raised and grown on Missouri farms. Sometimes that purchase is direct from the grower.
Focus on local in lunches
Schools "contract" with local farmers to provide in-season items such as tomatoes or watermelons. When schools struggle with how to begin a Farm to School program, we encourage them to start with just one item. Is there a grower in your area who can provide cherry tomatoes for the salad bar? Take the success of that connection and continue to add products that are in season.
USDA released a Farm to School census study of Missouri schools last month. Responses were from food service directors at 507 school districts, representing almost 750,000 students. Of those, 36% serve local foods, below the national weighted average of 50%. The average percent of total food costs spent on local food was 6.6%. There definitely is room for growth.
The top local foods used by Missouri schools are milk, apples and rice.
We are so fortunate to have Central Dairy/Hiland Dairy right here in Missouri to provide milk cartons each school day. Missouri is also home to apple orchards, both large and small, that sell directly to schools or to distributors who then deliver to school districts.
Did you know Missouri is a top rice producer? Our Missouri rice growers are looking at a record crop for 2021. I want students all over Missouri to enjoy rice grown in the Bootheel. To me, local is from border to border across the Show-Me State. One of the larger school food service companies, servicing tens of thousands of students, buys only Missouri rice for its school lunches. We appreciate that commitment.
Lexi Jose, a member of the Missouri Grown team in the Missouri Ag Business Development Division, takes the lead on Farm to School activities for the department. She works to make that connection between the school and the grower. Jose has created resources that will assist with common questions or hurdles schools and farmers face when they start Farm to School purchases. Find out more at our Farm to School page.
Usually, people equate Farm to School with fruits and vegetables. My goal is to see that entire lunch tray filled with product from Missouri. Perhaps it's a lofty goal, but our team will continue to strive in that direction.
Partnerships promote farm products
Four years ago, we joined forces with the Missouri Beef Industry Council to create MoBeef for MoKids, a program to increase the amount of beef in school lunches.
Beef from area cattle producers increases the number of beef entrees from the average of one in every 10 meals to at least two, and often three or four lunches, every 10 days. Local beef to local kids — that's a win every time! Now in 35 schools, MoBeef for MoKids continues to grow, as more schools are starting the program this year. For more information, visit the MoBeefKids website.
At the Missouri Department of Agriculture, we are moving into the 2021-22 school year with a new focus on increasing the amount of Missouri products on school menus. Farm to School took a back seat last year as school districts focused on getting children fed in a difficult year. Now, with schools back in session and students back in school, we want to see them enjoy products that are raised and grown right here in their home state.
Chinn is the director of the Missouri Department of Agriculture and a hog producer from Clarence, Mo.
Subscribe to receive top agriculture news
Be informed daily with these free e-newsletters
You May Also Like
---