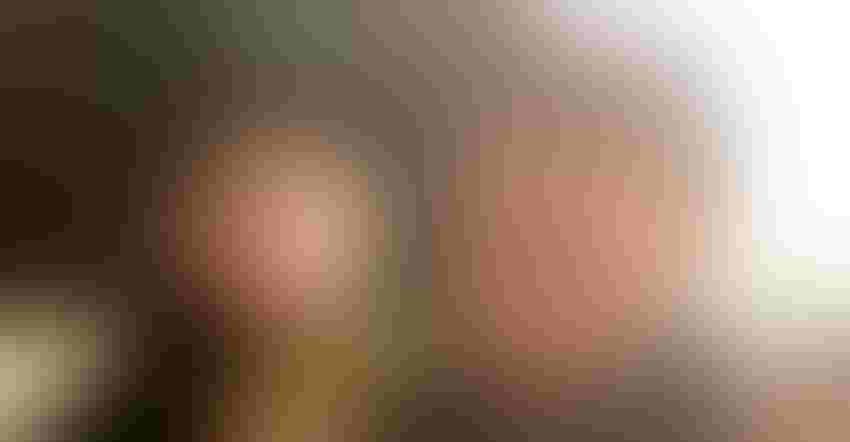 YOUNG FARMERS: My daughter Emily Malkin and son-in-law Tyler Malkin recently bought a cash-crop farm in central Michigan from Tyler's grandfather, Warren Malkin, as part of a succession plan. Tyler is pictured here during harvest with their son, Tucker Joseph, who just turned 1. Part of the agreement includes a clause that the almost-400-acre farm cannot be split up and sold for 25 years.
Emily Malkin
First, some facts about agriculture:
For too long, agriculture and its supporting network ignorantly assumed those outside of the industry knew what it took to grow food, fiber, feed and festivities — agritourism and the beverage industries are growing. That includes extensive capital investment, time, inputs, technology, risk, expectations, conservation, logistics and so much more.

The average age of the U.S. farmer is about 57.5 years, according to the last U.S. Census (2017). Those older than 65 years — the largest segment of producers and the largest controller of land —are expected to retire and exit production in the next several years.

How land is transferred, and the timing, will have major implications for the industry.

The world's population is expected to reach 9.1 billion people in 2050, up from 7.4 billion in 2016. Farmers globally must increase food production 70% compared to 2007 levels to meet the needs of the larger population, according to a report from the Food and Agriculture Organization of the United Nations.
It appears we have a problem. A growing population will fuel demand with an increasing amount of dollars to spend, as more and more join the middle class around the world.
Farmers who are older than 65 outnumber farmers who are younger than 45. The difference is substantial, with 2.1 older growers for every farmer younger than 45.2.
Not to be a "negative Nellie," there have been many positive strides in agriculture as it continues to produce the world's most abundant, affordable and safe food in the word. From precision farming and gene editing to new technologies and heightened conservation, there's a lot of good going on. However, problems are often compounded by neglect, so recognizing a need and acting is essential.
Thankfully, there are a growing number of resources to help with this transition.
New feature
In this next year, Michigan Farmer and Ohio Farmer online and American Agriculturist will report on efforts being made to educate the public about agriculture, from farm to table, and the many steps in between. The first article on a Farm Science Lab in Michigan can be found here.
We'll also explore the challenges and opportunities for aspiring and beginning farmers, including succession plans to facilitate the transfer of skills, knowledge and land between current and future generations.
The long-standing support of youth clubs such as 4-H and FFA continue to help recruit, cultivate and support future leaders in the industry. New farmer training initiatives, including mentoring programs, have grown, and hundreds of projects have emerged over the past decade to arm the next generation with the skills they need to succeed in agriculture. To that mission, the federal Beginning Farmer and Rancher Development Program has invested $150 million.
There's no one answer or one-size-fits-all. New farmers entering agriculture today have different needs and face new challenges compared with those who came before them. The best way to transfer a family farm varies from family to family. The first step of an effective farm succession plan begins with discussion, which leads to defining goals by prioritizing needs. Then, you can incorporate the needs of future generations who will also benefit from a succession plan.
Read more about outreach efforts and this process throughout 2023. If you have a succession or outreach story to share, I'd love to hear from you. Write me at [email protected], or call my cell at 517-749-4288.
Subscribe to receive top agriculture news
Be informed daily with these free e-newsletters
You May Also Like
---