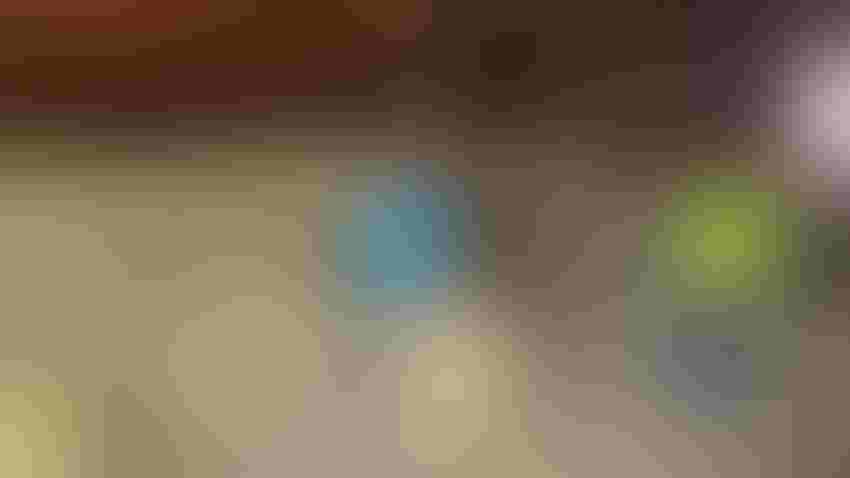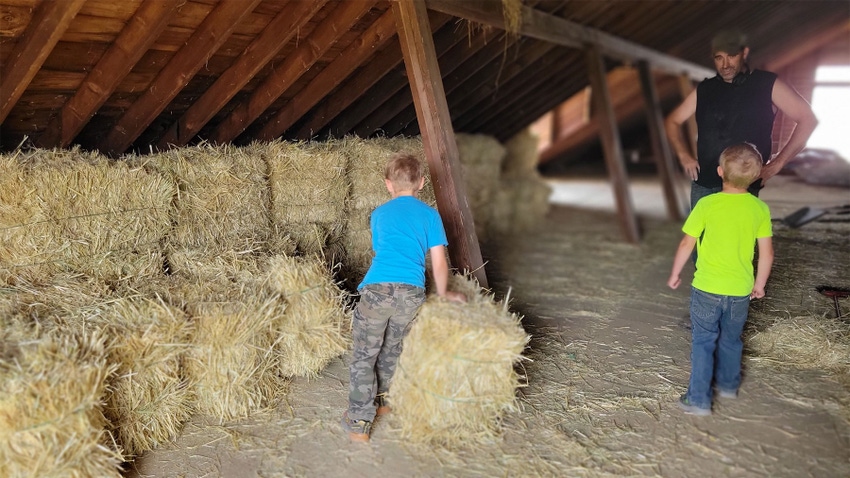 YOUNG WORKERS: Mike Reskovac and his two sons, Cole and Caleb, gather straw bales on the farm on a recent day.
Sheilah Reskovac
As I was scrolling through Facebook one morning while drinking my morning tea, a post grabbed my attention: It was an old picture of teenagers baling hay.
The post talked about how young people don't want to work hard, and how today's teenagers don't know what manual labor is. I didn't really pause; I just kept scrolling.
But then I looked out my kitchen window as I heard a four-wheeler. At the same time, a vehicle pulled in and the passenger got out and waved as the van pulled away. Our summer help had arrived for the day.
Earlier this spring, we were approached by not one, but two local boys — 12 and 13 years old. They were both looking for a summer job, and surprisingly, they did not know each other.
We decided that we had enough weed-whacking and other small, odd jobs around the place to keep them both busy for a couple of mornings each week. Besides, the other boy who helped us out had graduated from weed-whacking to operating equipment, and he had recently gotten another job. We figured we'd best start breaking someone else in.
I looked away from the window and smiled to myself. It's true that not a lot of young people know what hard work is, but there are still plenty of them out there who do. Some even come looking for it.
We need to give young kids like this a chance to do jobs and develop their skills and work ethic. I sometimes cringe when Mike says it's time to pay them, but I know that things are getting done that neither Mike nor I have time for.
Later that day, I took another Facebook break and saw another post. This one did make me stop and think. I don't remember who wrote it or the exact wording, but it was a blog by another farm mom. The heading read: "Farm kids aren't born wanting to work; it is something that is learned." That hit home.
As a child, I remember days when I just wanted to be inside playing or watching TV, but I was always told I had to do my chores. By the time I was a teenager, I knew it was a treat to have extra time to do something I wanted, or that I had to get my stuff done before I could enjoy a book or catch up on a TV show.
I can see the same type of behavior in our boys. This summer, they decided that they wanted a basketball hoop. We told them that they would need to help work and do chores to earn the money for it. They have been working unloading straw, keeping the cows fed and watered, and other jobs. They've combined tooth fairy and birthday money, and by the time you read this, they will probably have their basketball hoop.
Some days it takes some pushing and prodding to get them to do the work, but once they start, they do a great job and seem to love whatever they are doing. Between all the "Do I have to's" and "I don't want to's," I have also heard, "We're farmers; we have to do our work. Come on, let's just do it so we can get money for our basketball hoop." And, "Welp, that's what farmers do!"
It makes me smile when I catch these little snippets, seeing how proud they are of themselves for doing a good job. It is worth every minute of teaching them love for this life.
Some kids will never know what hard work is, or what it's like to have to work for something you want. We're blessed this summer to not only have two of our own boys learning this, but also helping guide our summer help to learn these things, too.
Sheilah and Mike Reskovac and their sons farm near Uniontown, Pa. Check out all of their "Two Hearts, One Harvest" blogs. 
Subscribe to receive top agriculture news
Be informed daily with these free e-newsletters
You May Also Like
---