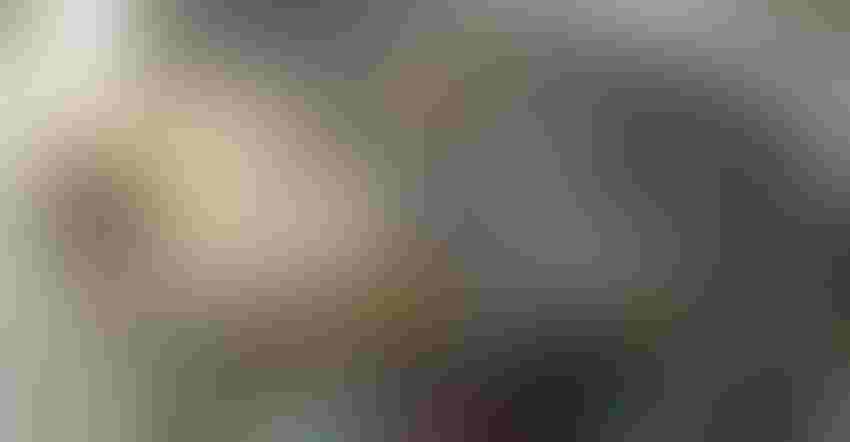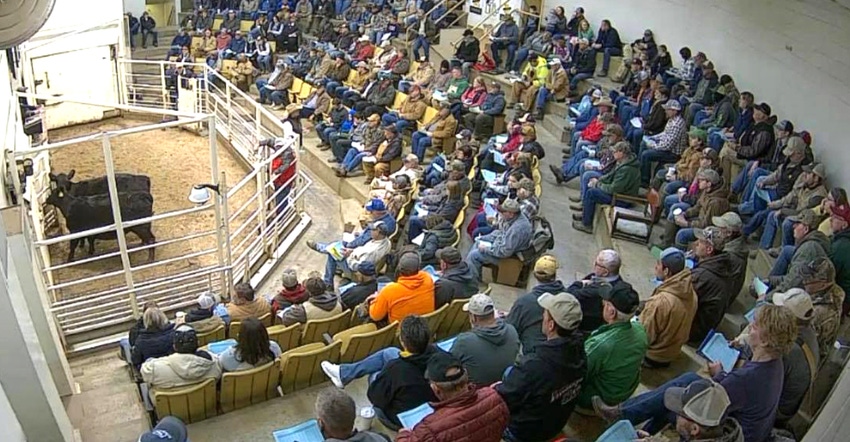 PACKED HOUSE: A recent sale of Show-Me-Select bred heifers drew a crowd to F&T Livestock Market in Palmyra, Mo. Buyers looked to increase their herds, and sellers were pleased with prices.
F&T Livestock Market
After a mid-December sale of 229 heifers averaged $2,017, all Daniel Mallory, sales manager and University of Missouri Extension field specialist in livestock, could say was, "Unbelievable."
Before the last Show-Me-Select heifer sale this fall, quiet talk told of lackluster prices at five previous sales across the state. Some previous sale averages as low as $1,651 seemed too low for bred replacement heifers with known data.
However, at the F&T Livestock Market in Palmyra, Mo., cattle producers whooped and applauded as they heard the totals.
When the Saturday sale ended, the crowd lingered to talk. The higher prices brought smiles for consignors and buyers.
"We had a great crowd," Mallory said. "The consignors brought excellent quality." Records showed repeat buyers bought 73% of the heifers.
Back for more
Dave Patterson, MU beef specialist and founder of Show-Me-Select, always says, "Repeat buyers make a sale. They know what they're getting."
When he arrived at the sale barn, Patterson noted the large number of pickup trucks with livestock trailers. That meant buyers came to buy a load of heifers.
As the auction started, the F&T Livestock sale arena was packed. There were bidders to buy and herd owners coming to learn. Bidders soon made themselves known. By the ninth lot sold, heifers started regularly topping $2,000 per head. The first heifer had sold for $1,500.
At the end, heifers from Keithley-Jackson Farm in Frankford, Mo., averaged $2,621. That topped the 17 consignor averages. Ed Jackson, manager, has sold in every Palmyra sale for 23 years. He was in from the start.
Success in the northeast
Jackson typifies many longtime consignors. Get in and stay in. Also, he follows the MU Extension protocols on heifer management and breeding.
He raises crossbred heifers, with Angus sires bred to Hereford-Angus crossbred cows. A walk through the barn before the sale shows many black baldies.
Over time, longtime sellers gain reputations for their cattle. Their buyers come back for more.
Reputations for heifers from northeastern Missouri include their body condition scores. They are raised in corn country, many with homegrown feed.
Another factor in the successful sale was bidders from across the river in Illinois. The sale sheet shows 12 Illinois buyers took home 67 heifers.
No other state has a heifer development program like Show-Me Select. Patterson tells of buyers from 22 states across the country since the start more than two decades ago.
Plans are underway in two Missouri regions to add the Show-Me-Select program and sales. Cow herd owners in the central Ozarks and northwestern Missouri are set to act.
Interested breeders can make contact to join through their local MU Extension center. Only heifers from enrolled owners are let into the sales. Only Show-Me-Select heifers wear the black-and-gold ear tag.
Dailey is a retired MU Extension professor. He writes from his home in Columbia, Mo.
Subscribe to receive top agriculture news
Be informed daily with these free e-newsletters
You May Also Like
---