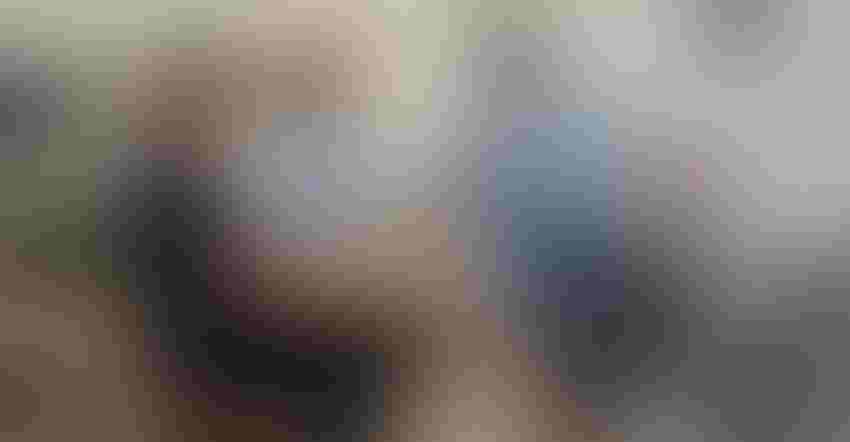 OPEN AND TRANSPARENT: Jim Douglas (right) explains how they operate their farm as his wife, Kay; Michael Langemeier, Purdue University Extension ag economist; and other farmers listen. Douglas recently visited Taiwan both to explain how he grows beans and to learn what Taiwanese customers need.
Courtney Kingery emphasized the importance of trade when Indiana Prairie Farmer talked to the new Indiana Soybean Alliance CEO recently. She mentioned she and some farmers would soon head overseas to further efforts toward developing trade.
Good to her word, Kingery and ISA board members were in Taiwan this week. Kingery; ISA directors Nancy Cline, Kirklin; and Jim Douglas, Flat Rock; and Bruce Kettler, director of the Indiana State Department of Agriculture, spoke to the media directly from Taiwan.
The group helped celebrate 50 years of organized efforts by U.S. soybean groups to promote soybean trade in Taiwan. They also visited a factory that crushes soybeans and talked directly with a variety of industry people.
This came on the heels of a visit by a Taiwanese delegation to the U.S. and Indiana in September. They signed an agreement to purchase 90 million bushels of U.S. soybeans annually.
Here is what these four Hoosiers learned in Taiwan:
Kingery: It was great to experience this side of the marketing equation firsthand. It was a natural follow-up after the Taiwanese delegation visited us. Some major goals in ISA are promotion, education and leadership development. We addressed promotion and market development for our product through this trip.
Not all soybeans the delegation committed to buying will come from Indiana. However, buying U.S. soybeans helps the economy of both the entire county and Indiana.
Kettler: My biggest takeaway is how they view soybeans as a product for human consumption. We tend to think of soybeans as a commodity, largely used for livestock feed. It's much more than that for these customers. Soybeans go into tofu and other food products. Quality is a big deal to them.
We assured them that our farmers focus on producing a quality product and want to be sustainable. Perhaps we need to look further into how we can produce and promote food-grade soybeans.
Cline: The people here are so interesting and treated us so well. I personally talked to people from all walks of life. They seriously want to know how we farm, and how we grow soybeans.
I was only 12 when U.S. soybean interests first came here. That made it very special for me to be here and meet people. It was a great chance to share the story of Indiana agriculture, and they were very receptive.
Douglas: There are 23 million people on this island. We traveled and saw patches of rice, corn and peanuts. We also saw ducks and pigs. They're 100% dependent on other countries for soybeans. That's not going to change because they can't get more land. Hopefully, we can be the ones that fulfill that need for a long time to come.
It's all about building relationships. These people especially want to know who they're buying from. It's no different than at home. We don't like doing business with people we don't know.
Kettler: There is a lot of truth in the saying that there is great value in "just showing up." Governments work behind the scenes and make trade agreements. That's important because it sets the rules. But it's people who make sales. They want to visit us and see how we grow their product, and they want us to come see them. Relationships are what really make trade happen.
Subscribe to receive top agriculture news
Be informed daily with these free e-newsletters
You May Also Like
---