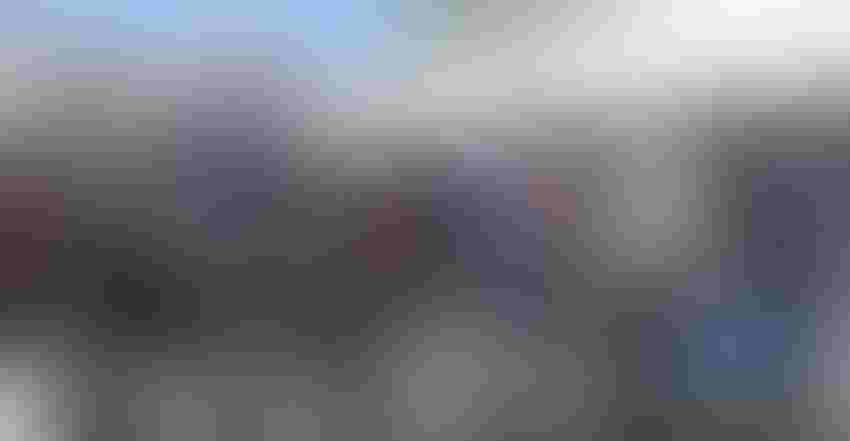 BREAKING GROUND: Lansing Correctional Facility held a groundbreaking ceremony April 19 for a two-year rebuilding project. Pictured are KDOC Deputy Secretary Johnnie Goddard, left, CoreCivic President and CEO Damon Hininger, KDOC Secretary Joe Norwood, Gov. Jeff Colyer, Lansing Correctional Facility Warden Sam Cline, and JE Dunn Construction President Paul Neidlein
Gov. Jeff Colyer joined Corrections Secretary Joe Norwood on April 19, along with state and local officials, to launch the reconstruction of Lansing Correctional Facility.
"It's a fantastic day and it really is about all of the people here that have put this together because this is so important for our state," Colyer said. "I want to thank all of you for being here and for being a part of this."
The 155-year-old facility is the largest and oldest correctional facility in the state. It is undergoing a two-year reconstruction, which will result in a 1,920-bed unit and a 512-bed minimum unit. The Kansas Department of Corrections has entered into a 20-year lease agreement with CoreCivic that will commence upon the completion of facility construction, with a base-year lease rate of $14.9 million, including an annual 1.94% rent escalator. JE Dunn Construction will manage the design and construction.
Staffed and operated by the KDOC, the facility will be leased from CoreCivic, which will also maintain the facility. The facility will be owned by the state of Kansas at the end of the lease.
Colyer said the Lansing site is filled with aging infrastructure that has become increasingly more expensive to operate. He said a modern facility will enable the KDOC to focus on reducing recidivism and helping offenders become law-abiding citizens.
"The work that goes on behind these walls is vital to the safety of our state and too often we don't recognize the men and women of the Department of Corrections who perform these difficult jobs," Colyer said. "With the rebuilding of this facility we hope to make that job easier and more effective for them and we also hope to make it safer for them."
Surrounded by current and former Lansing Correctional Facility employees attending the groundbreaking, Corrections Secretary Norwood thanked Colyer and members of the legislature for their support of the project.
"The staff at Lansing have done an admirable job managing inmates and delivering services at this facility," Norwood said. "The men and women who work here will continue to carry on the legacy of excellence at Lansing."
During the groundbreaking ceremony, CoreCivic president and CEO Damon Hininger, who grew up in Lansing, said he knows how important Lansing Correctional Facility is to the local community, including generations of families who have worked at the facility.
"I'm proud to be part of a project that will result in a better and safer environment for folks who work at this facility, and more humane conditions for the individuals who are serving time at the facility," he said.
JE Dunn Construction President Paul Neidlein, who called the project a cost-effective and creative solution, said the rebuilding of Lansing Correctional Facility is special for the Kansas City-based company.
"There's going to be over 350,000 hours put into this project by people who live in this area — that live in the state of Kansas," he said.
The facility is expected to encompass a net savings of $23.6 million over the life of the lease through staffing and building efficiency. The new facility will feature:
• Two housing units: a 1,920-bed maximum and medium unit and a 512-bed minimum unit.
• Areas for medical services (improved design for aging population) food service, spiritual life and staff support.
• Indoor and outdoor recreation areas, ample site circulation and parking, and improved lighting and security.
• Modern utility systems that provide significant cost and energy savings.
• Capacity for future expansion.
• Local maintenance staff, locksmiths, and professional services.
• Energy saving shell design with top-of-the-line roofing system, and highly insulated walls systems.
• Security systems include triple-biased magnetic door switches, and enhanced video surveillance systems.
• Layout that controls the movement of the inmate population.
Source: Kansas Department of Corrections
Subscribe to receive top agriculture news
Be informed daily with these free e-newsletters
You May Also Like
---