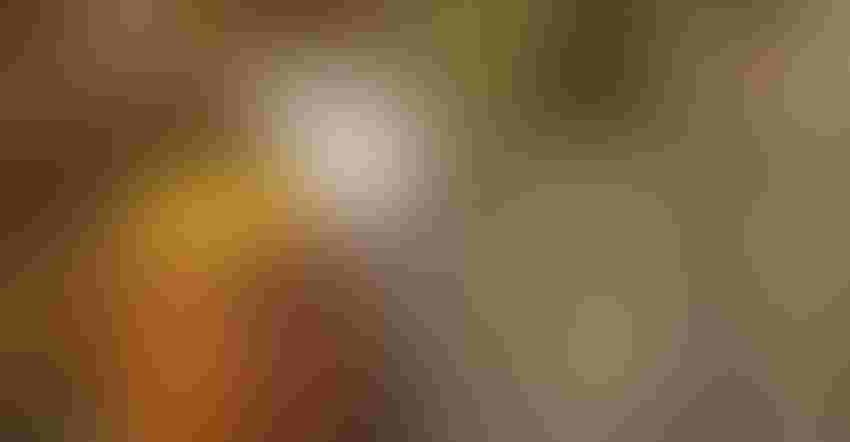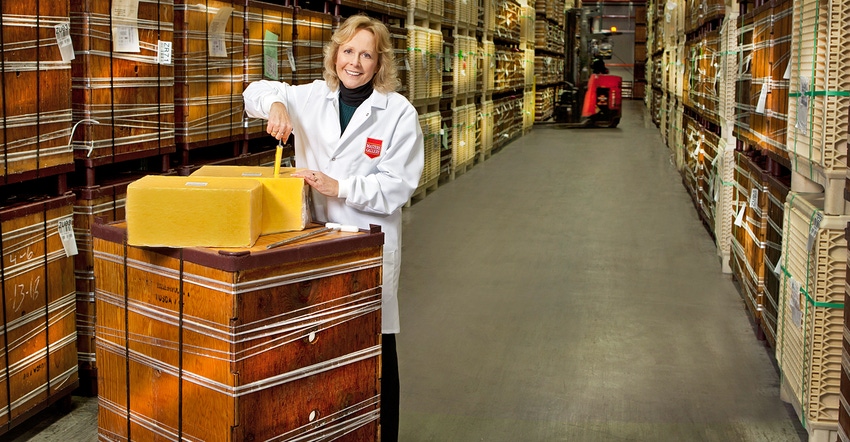 PASSING THE GRADE: Sandy Toney is a cheese grader at Masters Gallery in Plymouth.
Four nationally and internationally recognized names in cheese production contribute to Plymouth's title as the Cheese Capital of the World. Together with several privately owned warehouses, they handle an estimated 15% of U.S. cheese production, and are concerned with quality as well as quantity.
• Sargento Foods Inc. is one of the largest retail cheese companies in the U.S., according to Wikipedia. Barbara Gannon, Sargento's vice president of corporate communications, says the company has the No. 1-selling brand of sliced natural cheese. An earlier ad campaign was based on "persnickety" cheese people — the company headquarters address is 1 Persnickety Place in Plymouth. However, the ad campaign now refers to "real cheese people," capitalizing on the fact that Sargento's products are all real cheese. About 1,000 workers are employed in Plymouth.
• Sartori Food Co. makes Italian cheeses and employs "hundreds" of workers in Plymouth, according to Blair Wilson, vice president of marketing. Sartori Black Pepper BellaVitano was the grand champion at this year's U.S. Cheese Championships and joined numerous other Best of Class entries from Sartori in national and international contests. A company website calls Sartori Sarvecchio Parmesan the most decorated parmesan in America, with gold medals from the American Cheese Society, the World Cheese Championships, World Dairy Expo and the Wisconsin State Fair. Wilson says Sartori cheese is available at retailers in all 50 states and more than 30 countries.
• Masters Gallery Foods Inc. maintains one of the largest privately held cheese inventories in the U.S., according to its website, packaging millions of pounds for private labels, food-service and industrial clients. A company news release says it has $1 billion in sales and employs about 600 workers in a 310,000-square-foot plant. Masters exhibited Best of Class cheeses at both the U.S. and World Cheese Championships.
• Great Lakes Cheese, with headquarters in Hiram, Ohio, says on its website that it supplies 25% of all packaged cheese consumed in the U.S. through four cheese conversion super plants. The plant at Plymouth takes up 340,000 square feet. The company also has numerous top awards in U.S. and worldwide cheese competition.
Rich history
Two names, Sartori and Gentine, are synonymous with Plymouth cheese production. Joseph Sartori and Leonard Gentine Sr. merged their names to found Sargento in 1953. Sartori later sold his interest to concentrate on his own cheesemaking, but the Sargento name lives on. The two companies continue to maintain a close business relationship, now headed by the fourth generation, Louie Gentine and Jim Sartori.

SAY CHEESE: Sargento CEO Louie Gentine (left) poses for a photo with employee Barb Wetor and John McGivern of the PBS TV show "Around the Corner."
Masters Gallery is led by another branch of the Gentine family. Chief Executive Officer Jeff Gentine's dad, Leonard Gentine Jr. ("Butch"), left Sargento to form World Wide Sales Inc., which evolved into Masters Gallery. It has grown from a small cheese brokerage to a major national cheese supplier.
Like Masters, Sargento buys cheese from dozens of cheesemakers in Wisconsin and other states "made to our exacting specifications," says Gannon. "We distribute nationally and on a limited basis internationally." Sargento produces shredded, sliced and snack cheeses with its own label.
Before Sargento was formed, Leonard Gentine Sr. opened the Plymouth Cheese Counter in 1949, selling a wide range of cheese varieties. The retail establishment, including a gas station and liquor store, is still in operation.
Plymouth also is home to several large cold-storage warehouses that exist mainly to store cheese for the big four cheese handlers. According to the Sheboygan County Economic Development Corp., up to 300,000 square feet of cheese storage capacity has been added in just the last several years, matching the growth of the cheese companies.
Buchholz lives in Fond du Lac.
Subscribe to receive top agriculture news
Be informed daily with these free e-newsletters
You May Also Like
---