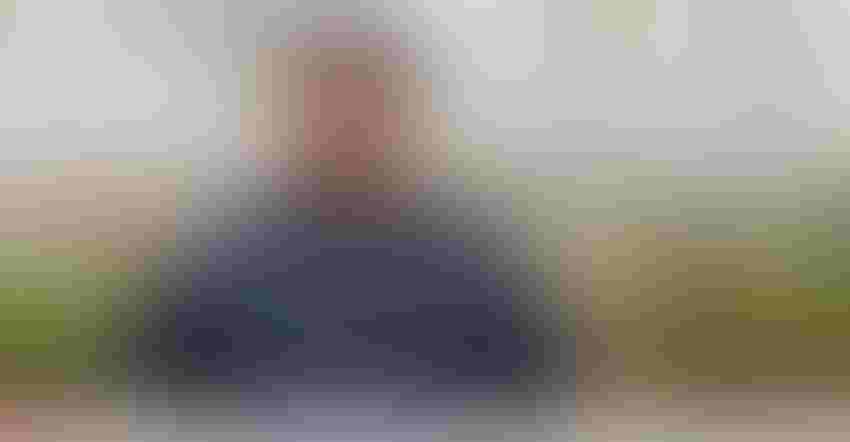 UNCERTAINTY: Brothers Chad and Jeremy Christians own three retail greenhouse sites. Chad Christians (pictured) says that the business could limit the number of customers entering its stores — if given the chance.
MFB
Update: With great pressure from industry, Gov. Gretchen Whitmer issued a new executive order April 24, allowing landscapers, lawn service companies, plant nurseries and bike repair shops to resume operating, subject to social distancing rules. 
Big-box retailers no longer will have to close off garden centers and areas dedicated to selling paint and carpet, and workers for moving or storage operations are now allowed. The public also can participate in more outdoor activities, such as golf and motorized boating. 
While the new order replaces one that was scheduled to expire April 30, Whitmer still wants nonessential workers to stay put, extending the state's Stay Home, Stay Safe order until May 15. The new order will require people to wear face coverings when they enter enclosed public spaces.
 
Greenhouse and garden center operators are trying to stay in business, but Gov. Gretchen Whitmer's extension of the stay-at-home order is making it harder to do so.
Such is the case for Joe Theisen, owner and operator of the southeast Michigan-based J. Theisen Inc.
The third-generation wholesale greenhouse generates 80% of its sales between late April and Memorial Day. After Whitmer's COVID-19 announcement, which included expansion and extension of restrictions through April 30, the business might now dump its pansy crop.
Related: Complete coronavirus coverage
"Like many businesses, the governor's executive order has had a serious effect on us," Theisen wrote in an email to Michigan Farm News. "While we have a product that is 'essential,' we have nowhere to distribute it as all of the independent garden centers and landscapers we serve are closed. To make matters worse, our product is very perishable. … Time is of the essence."
Theisen said if greenhouses can't take plants to retail customers, he doubts they will survive. He's emailed the governor and legislators about the issue and doesn't know what else to do.
"Our garden center customers feel that they can adapt their stores to maintain a safe environment for both their employees and customers as directed by health officials," Theisen said. "We are an important link in getting the economy going again."
Getting the economy going is only the start, said Audrey Sebolt, horticulture specialist for Michigan Farm Bureau (MFB).
"It's disappointing to hear that the governor's new EO does not allow the sale of flower and vegetable plants in a safe manner," said Sebolt, noting the Michigan industry is worth $580 million to $700 million and employs about 9,000 people. "It will be a total loss for this industry if they are not allowed to sell their plants over the next eight weeks."
No on-site sales
Under Whitmer's executive order, independent retail garden centers cannot sell products on-site, which hurts direct marketers such as Brigette Leach. Her hydroponic greenhouse business in Climax, Mich., produces vine-ripened tomatoes, salad greens and fresh herbs.
"Many vegetable growers depend on plugs and bedding plants from greenhouses," said Leach, who serves as District 1 director on the MFB board of directors. "For the Kalamazoo County area and my district, there are a lot of greenhouse operations. What we are talking about here are family operations.
"Here we are in a world that keeps telling us they want local foods, family farms, and here's a perfect example of why family farms can't survive — let alone thrive — because we have people making decisions that directly negatively affect us."
Brothers Chad and Jeremy Christians of Christians Greenhouse understand this feeling. Their retail outfit boasts three sites across Michigan.
"Right now, it's just devastating on a fact of uncertainty," said Chad Christians, grower and operator of the Williamston, Mich., business. "We have no idea what's going to happen. May is like 70% of our business, maybe 80% even, so it's quite catastrophic. The uncertainty is just overwhelming. We have put out all of our money for a year's worth of selling in six weeks."
According to Chad Christians, the business could limit the number of customers entering its stores — if given the chance. Instead, he's left sifting through a bowl full of uncertainty.
"We're different than a lot of retailers because we're not just losing four weeks or six weeks of income," he said. "We're losing a whole year potentially, and the repercussions of this could be catastrophic for the whole industry."
After June, Jeremy Christians said business drops 90%.
"At first, it didn't seem like it was going to affect our business," said Jeremy Christians, manager of Christians Greenhouse. "I mean, I've been paying attention to it since like Jan. 6, but then slowly and steadily it started affecting us more and more. Now it's getting to be kind of a big deal."
Source: MFB, which is solely responsible for the information provided and is wholly owned by the source. Informa Business Media and all its subsidiaries are not responsible for any of the content contained in this information asset.
Subscribe to receive top agriculture news
Be informed daily with these free e-newsletters
You May Also Like
---