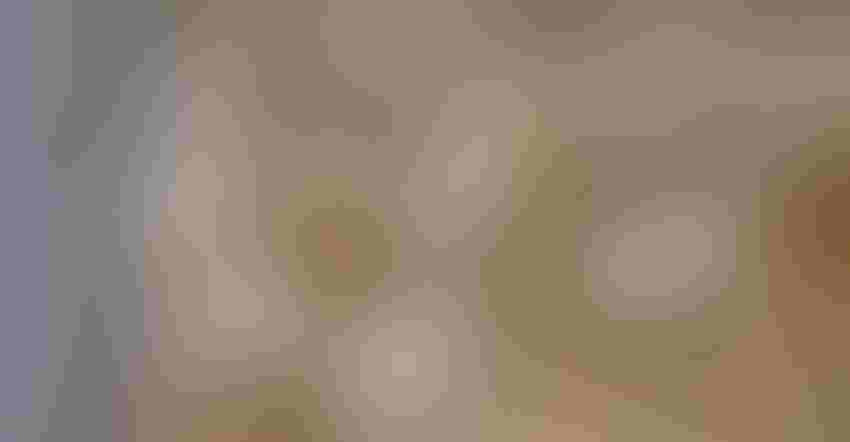 BIOSECURITY MEASURES: The Kansas Department of Agriculture advises farmers to take biosecurity precautions now to protect their commercial and backyard poultry flocks from highly pathogenic avian influenza. KDA announced March 9 it had discovered HPAI in wild fowl in central Kansas. Then, on March 12, it announced a backyard mixed-species flock in Franklin County, in eastern Kansas, had tested positive. There is no immediate public health concern; however, farmers need to take steps to protect their birds.
Courtesy of Kansas State University Research and Extension
It's a spring ritual for many backyard chicken farmers. But as they head to their local farm supply stores to purchase baby chicks to add to their flocks, the Kansas Department of Agriculture warns it has confirmed the presence of highly pathogenic avian influenza (HPAI) in wild birds and in a backyard flock in the state.
On March 9, KDA announced HPAI had been found in wild waterfowl in central Kansas. This was the state's first confirmed case of HPAI since 2015.
"Confirmed HPAI in wild birds in central Kansas is an indication that Kansas birds are at risk of exposure from the wild migratory bird population," said Justin Smith, Kansas animal health commissioner, in a press release. "We've encouraged Kansas poultry owners to be aware of this possibility, but now the reality is, all poultry owners need to be vigilant in taking steps to protect their flocks from avian influenza. If you haven't implemented biosecurity practices yet, the time to do it is now."
Then, on March 12, the USDA Animal and Plant Health Inspection Service confirmed the presence of HPAI in a noncommercial backyard mixed-species poultry flock in Franklin County, in eastern Kansas. Samples from the flock were tested at the Kansas State Veterinary Diagnostic Laboratory and confirmed at the USDA APHIS National Veterinary Services Laboratories (NVSL) in Ames, Iowa.
KDA is working with USDA APHIS on a joint incident response. KDA officials reportedly quarantined the affected premises, and birds on the property will be depopulated to prevent the spread of the disease.
Avian influenza
HPAI is a highly contagious viral disease that can infect chickens, turkeys and other birds; it can cause severe illness and/or sudden death in infected birds. Avian influenza can also cause sudden death in birds even if they aren't showing other symptoms.
Notable symptoms of HPAI to watch for include:
coughing, sneezing, nasal discharge, and other signs of respiratory distress

lack of energy and appetite

decreased water consumption

decreased egg production and/or soft-shelled, misshapen eggs
If these symptoms are observed in your birds, contact your veterinarian immediately. If you don't have a regular veterinarian, contact KDA's Division of Animal Health office toll-free at 833-765-2006.
Biosecurity precautions
Anyone involved who produces poultry, from the small backyard chicken owner to the large commercial producer, should review their biosecurity activities to ensure the health of their birds, according to KDA.
The steps to take include:
Prevent contact with wild birds, especially wild waterfowl. Remove any potential nesting areas for wild birds.

Cover and enclose outdoor feeding areas and stored feed.

Take all possible steps to separate wild birds from having any access to your flock or its living area.

Clean and disinfect any vehicle tires or equipment that has been on other farms or other locations where there is poultry or wild birds.

Wear clean clothing, boots, and shoes when in contact with your flock.

Restrict unauthorized people and vehicles onto property.

Isolate new birds before introducing them into your flock.
Find guidance on biosecurity on the KDA Division of Animal Health webpage, agriculture.ks.gov/hpai. More biosecurity resources as well as updates on the current HPAI status nationwide can be found on the APHIS website, aphis.usda.gov/hpai.
Continuing response
According to the U.S. Centers for Disease Control and Prevention, the recent HPAI detections do not present an immediate public health concern. No human cases of these avian influenza viruses have been detected in the United States. Birds and eggs from the infected flock will not enter the food system.
As part of existing avian influenza response plans, federal and state partners are working jointly on additional surveillance and testing in areas around the affected flocks. USDA is working with its partners to actively look for the disease in commercial poultry operations, live bird markets and in migratory wild bird populations.
The Kansas Department of Agriculture contributed to this article.
Subscribe to receive top agriculture news
Be informed daily with these free e-newsletters
You May Also Like
---