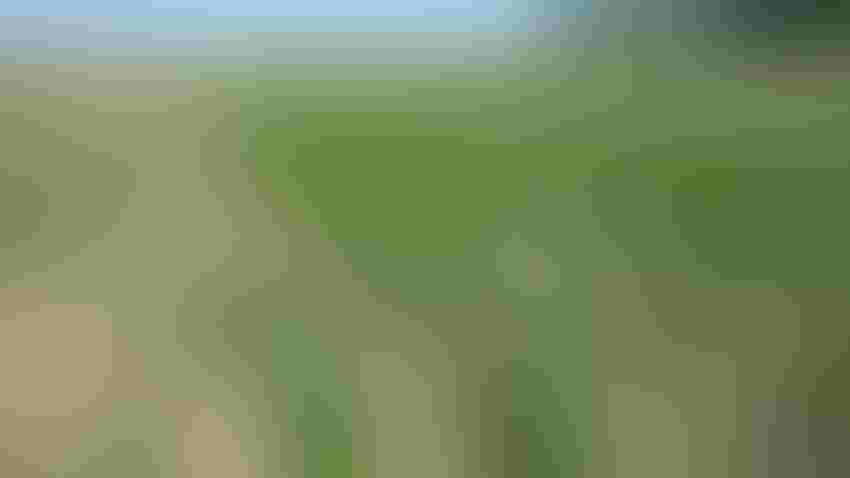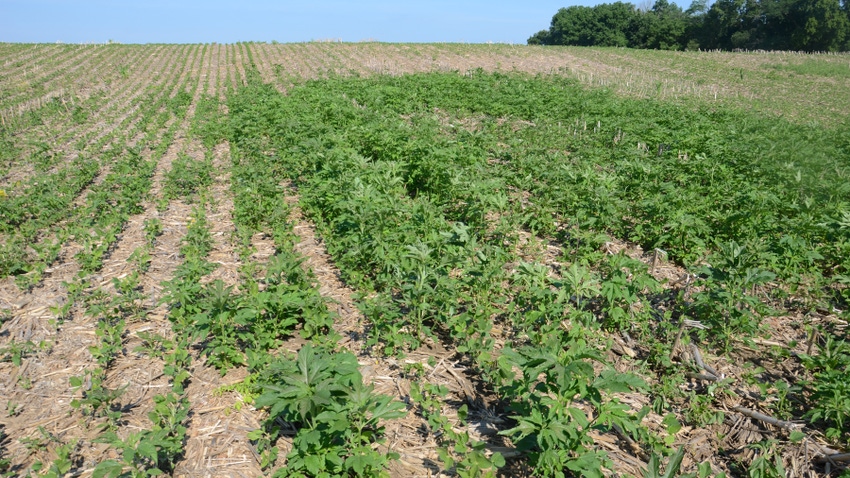 RESISTANT OR TOO BIG? Knowing whether a weed is resistant or simply too big to control can be a fine line, says Bill Johnson, Purdue weed control specialist.
Tom J. Bechman
"These weeds are PPO resistant; those are ALS resistant. Pick your herbicide chemistry accordingly." Do you feel like the dumbest person in the room when the speaker slips into "herbicide speak"? You are not alone.
"I deal with it every day and still struggle," says Bill Johnson, Purdue Extension weed control specialist. "A grower has much more to remember. Keeping up with sites of action, chemical group numbers and weed resistance can be a daunting task."
Here are herbicide groups with weed-resistance issues:
1. Glyphosate, Group 9
Site of action. Glyphosate disrupts an important metabolic pathway and is an EPSP-synthase inhibitor.
Resistant weeds. Glyphosate-resistant weeds include marestail, giant ragweed, waterhemp and Palmer amaranth. "That doesn't mean every plant is resistant," Johnson says. "However, we can find glyphosate-resistant marestail and waterhemp in every Indiana county. Glyphosate-resistant giant ragweed is in at least half of all counties. Glyphosate-resistant Palmer amaranth is typically on sandy soils."
Products. Glyphosate powers Roundup Ready and many generics and premixes.
2. PPO inhibitors, Group 14
Site of action. Group 14 chemistry interferes with the protoporphyrinogen pathway.
Resistant weeds. Johnson offers best guesses on weed resistance status in Indiana. For waterhemp, he expects more PPO-resistant waterhemp in two tiers of Indiana counties bordering Illinois, and in areas with more non-GMO soybeans. For Palmer amaranth, there is one PPO-resistant population. PPO-resistant common ragweed populations appear scattered throughout areas where non-GMO beans are prevalent, but Johnson says they don't have good resolution on this one yet. There are no documented cases of PPO-resistant giant ragweed, but concern brews where non-GMO beans are grown.
Products. PPO resistance primarily impacts soybeans, and is most problematic for postemergence herbicides such as Cobra, Reflex, Blazer and generic equivalents of active ingredients of these products. PPO resistance results in shorter length of residual control for soil-applied herbicides like sulfentrazone (active ingredient in Authority products), Sonic and generics; and flumioxazin, the active in Valor plus generics. Carfentrazone-ethyl is the active in Aim and several other herbicides for preplant burndowns or post applications.
3. ALS inhibitors, Group 2
Site of action. Group 2 chemicals block the acetolactate synthase pathway, used to assemble several branch-chain amino acids.
Resistant weeds. Look for ALS-resistant marestail in every county in Indiana, ALS-resistant giant ragweed in 60% to 80% of counties, ALS-resistant common ragweed anywhere non-GMO soybeans are grown, ALS-resistant waterhemp in every county and ALS-resistant Palmer amaranth in every county with Palmer. In addition, Johnson suspects there is ALS-resistant foxtail in 20% to 50% of counties, ALS-resistant shattercane in northern counties and ALS-resistant johnsongrass in some counties bordering the Ohio River.
Products. In corn, major players are nicosulfuron, active in Accent; thiencarbazone-methyl in Corvus; and rimsulfuron in Basis. For soybeans, active ingredients include cloransulam-methyl in FirstRate and several premixes like Canopy, Sonic and generics. Chlorimuron-ethyl is in Classic, Authority XL and Authority Maxx, Envive and Enlite, Trivence, and Valor XLT. Imazethapyr is the active ingredient in Pursuit, Zidua Pro, Matador, Latir, Panther Pro, Pummel, Authority Assist and lots of generics. Flumetsulam is the active in Python and Hornet.
4. Other chemicals
Site of action. Dicamba and 2,4-D are both Group 4 chemicals and plant growth regulators.
Resistance. Dicamba-resistant waterhemp is documented in a couple of counties. Low-level resistance to 2,4-D in marestail was documented in southern Indiana a few years ago.
Products. For corn,DiFlexx, Sterling Blue, Status and Banvel contain dicamba. For Xtend soybeans, XtendiMax and Engenia contain dicamba. For Enlist soybeans, Enlist contains 2,4-D.
Subscribe to receive top agriculture news
Be informed daily with these free e-newsletters
You May Also Like
---