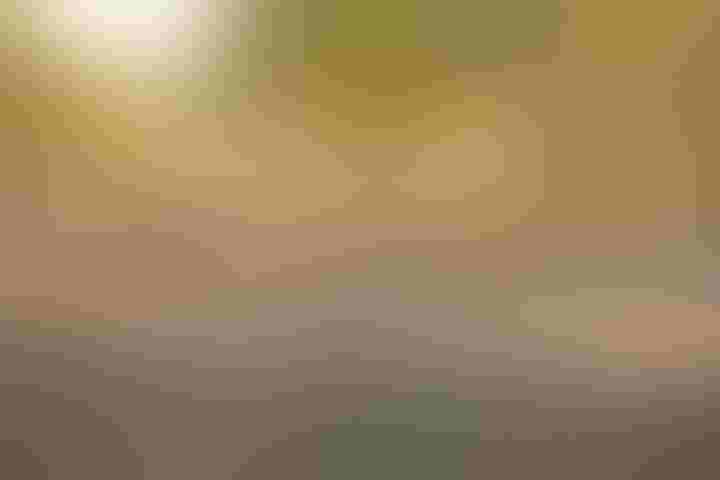 I. Scheduling Irrigation Using ET
In this time of drought, irrigation experts recommend almond growers facing reduced levels of available water spread out irrigations over the season as much as possible in proportion to almond evapotranspiration (ETc). Understanding how to schedule irrigations using ET, therefore, is important for efficient water use.
A first step toward optimum irrigation scheduling is to understand the changing demand of almond trees based on water use by evapotranspiration, or ET. Particularly in a water-short year, growers can use ET scheduling to apply limited resources throughout the season with an eye on minimizing damage to trees or crop losses.
ET scheduling accounts for the loss of water through soil surface evaporation and transpiration through openings in the leaves. In almonds, ET will change throughout the year according to weather (heat and humidity impact evaporation) and time of year or crop stage (smaller leaf surface equals lower rate of transpiration).
The amount of almond water demand (ETc) can be calculated using this equation: ETc = ETo x Kc. ETo represents water use by a reference crop, which is grass pasture. Evapotranspiration rates for reference crops can be found through a number of sources, including the free state-operated CIMIS system or through various free or fee-based services.
Note that (ETo) is multiplied by a scientifically based crop coefficient (Kc). The Kc is a simplified way of representing the ratio of water use by the crop in question (ETc), such as almonds, to the reference ETo, which is water use by grass pasture. Almond crop coefficients have been updated by UC Cooperative Extension based on recent research and are available at AlmondBoard.com/AlmondCoefficient. Keep in mind that the crop coefficient will change throughout the year to account for differences in leaf surface area and other factors.
It is especially important in a short water year to fully understand ETc to schedule irrigations based on refilling the soil profile according to the amount of water used for a particular period. In a drought scenario, researchers suggest holding off on early irrigations until trees are stressed, about a week after pressure chamber readings reach –12 bars. Even in non-drought years, some early stress benefits trees by avoiding root saturation early in the season.
Once the irrigation season begins, growers should irrigate based on ETc on a prorated basis according to the amount of water they expect to have for the season. So if water deliveries are expected to be at 15%, not accounting for other sources, it is best not to skip irrigations, but to irrigate at a corresponding rate, according to schedule, at 15% of ETc.
Want the latest agricultural news each day? Click here for the Western Farm Press Daily e-mail newsletter.
More information on scheduling irrigations using ET can be found on the UC Drought Management website.
Another valuable resource is "Irrigation Scheduling 101," pages 16–25 of the Irrigation Module of the California Almond Sustainability Program.
An overview of the irrigation scheduling resources available to growers was covered in a recent Almond Update on AgNet/West radio.
Distribution Uniformity
II. Testing for Distribution Uniformity
In this time of drought, assuring high irrigation system efficiency and distribution uniformity (DU) through system maintenance is critically important. Systems should operate in the range of 90 to 95% DU, as it takes 22% more water to adequately irrigate with a 70% DU than with a 90% DU. Ensuring distribution uniformity of the irrigation system allows growers to improve site-specific applications of irrigation water and reduce variability in irrigation water delivery within the orchard.
An annual distribution uniformity test can help reveal areas in need of maintenance or irrigation system modifications that could reduce high and low water distribution points that develop over time, as well as reduce variability in the delivery of water to the orchard.
"After five years of operation, the ability of these micro-irrigation systems to apply water in the way growers think they are applying water has decreased," said Merced County pomology farm advisor David Doll. "The pressure of most of these systems will degrade over time, especially if growers are using well water to irrigate. If your pressure drops, your ability to apply water efficiently drops, and even at a half-gallon per hour over the course of the season, that can be pretty dramatic."
Regular maintenance should go beyond walking the orchard to check for leaks, he added, and include flushing lines, inspecting nozzles or emitters, and cleaning screens. From there, look at how pressure drops across the field. Keep in mind that "goof plugs" and other line repairs can reduce pressure at the tail end of runs.
A basic "catch-can" test can measure how much irrigation water is being delivered to individual areas to help identify if variability is being caused by the irrigation system and not other factors, such as soil variability.
Improving uniformity not only prevents over-irrigating areas at the front end of the system, but also stressing trees at the other end, which can invite pests and other problems into the orchard. And research shows improving uniformity will also save water.
UC Davis guidelines for DU testing can be found online.
Of course, the first step toward ensuring distribution uniformity is a good system design, Doll said. Investing in a well-designed system that can deliver adequate pressure throughout the orchard will ultimately pay for itself.
"Most of the distribution uniformity problems come from pumps, over time, not being able to deliver enough water," Doll said.
It's a good idea, he added, when designing a system not to assume the pump will be able to deliver at the optimal rate, especially as the system ages. Frequent pump testing will reveal if growers need to install a booster or otherwise modify an existing system. And don't skimp on mainlines.
"The farther you are from the pump, the more loss of pressure you have, compounded by long runs of drip tape or microsprinkler hose," Doll explains.
As a result, trees at the end of these long runs are getting only 60% of what the rest of the orchard is getting."
For more information on the importance of testing for distribution uniformity, listen to a recent interview with Kern county farm advisor, Blake Sanden.
Want the latest agricultural news each day? Click here for the Western Farm Press Daily e-mail newsletter.
Subscribe to receive top agriculture news
Be informed daily with these free e-newsletters
You May Also Like
---