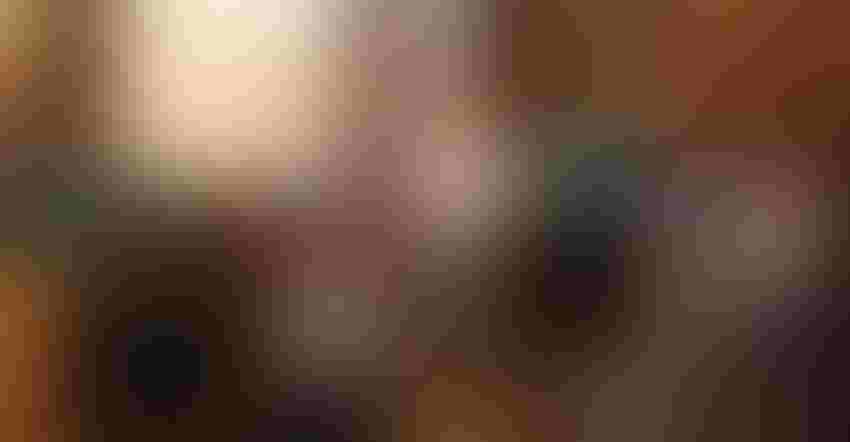 TRADE TALK: Rich Ebert (left), president of Pennsylvania Farm Bureau, discusses the importance of free trade agreements to farmers and the ag industry. Standing to Ebert's left are Russell Redding, secretary of agriculture; Daniel Valen, New Holland North America; farmers Chris Hoffman and Paul Hartman; and Angela Marshal Hoffman, deputy director of Farmers for Free Trade.
At the recent Ag Progress Days event in State College, Pa., farmers and agribusiness officials sounded off on the effects of current trade tensions on farming.
Here's what the speakers had to say:
• Rick Ebert, president of Pennsylvania Farm Bureau: "Pennsylvania farmers strongly support free trade agreements that make our food products available to countries around the world. With tight profit margins in farming, exports can make the difference between whether a farm business is profitable or not. Selling American goods and services internationally also creates and maintains good jobs throughout the agriculture industry."
• Chris Hoffman, hog and chicken farmer in Juniata County: "Without question, our pork industry has benefited from free trade. As a result, we have stronger farms that play a valuable role in contributing to local, state and national economies. And, even if it's not my cut of pork being exported, healthy export markets keep surplus products down, positively influencing prices for all pork producers."
• Paul Hartman, Berks County dairy farmer: "We were just starting to see some much-needed price improvement before the trade war erupted, and, for dairy farmers, the timing could not have been worse. As a result, dairy prices have fallen about 10% since the first few months of this year."
• Dan Valen, director of product marketing for New Holland North America: "Over 30% of our New Holland plant's output and over 36% of all CNH Industrial produced products are exported annually. This significant volume makes our companies active participants in free trade discussions." In addition, Farmers for Free Trade says farmers count on a global trading system that drive sales of our world class agricultural products and provides a reliable way to do business with key trading partners.
• Angela Hoffman, deputy director of Farmers for Free Trade: "Many of Pennsylvania's farmers and agricultural workers are already paying the price of the trade war, and we hope our conversation will help highlight the need for consistent and fair-trade policies."
Subscribe to receive top agriculture news
Be informed daily with these free e-newsletters
You May Also Like
---