New CFBF officer has a passion for preserving ag's future
New CFBF officer has a passion for preserving ag's future
Shannon Douglass, an Orland, Calif., grower who started a job placement service for people looking for farm-related work, was recently elected as the California Farm Bureau Federation's first vice president.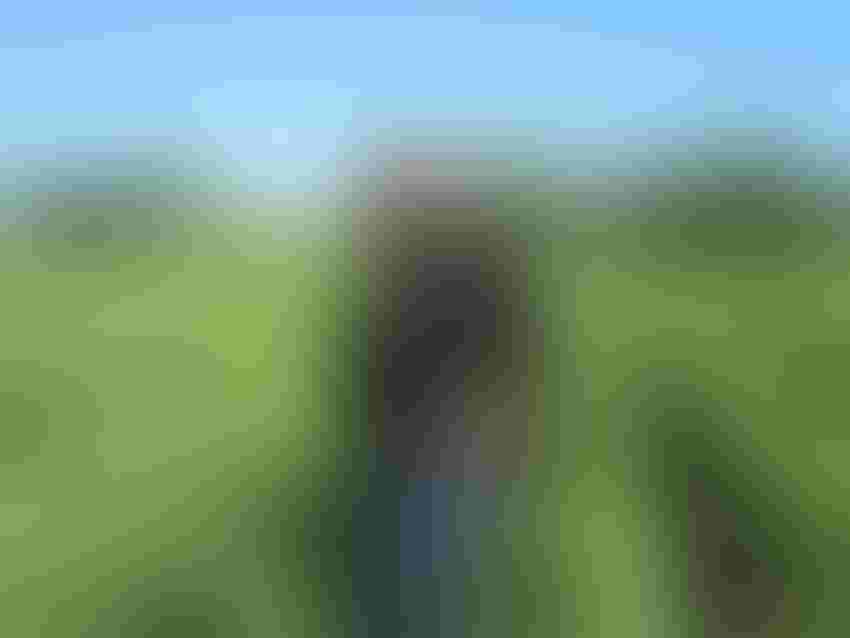 Shannon Douglass stands in a sunflower field on her family's ranch in Orland, Calif. A long-time Farm Bureau activist, she was elected as the California Farm Bureau Federation's first vice president in December.
Shannon Douglass has a passion for ensuring that the future of California agriculture remains bright.
The Orland, Calif., grower and former California State University-Chico instructor helped start a web-based job placement service five years ago. The CalAgJobs site matches students and others with employment opportunities on farms and ranches and in ag-related businesses.
Douglass, 34, also works to make sure new farmers and prospective ag employees have an industry to work in. For most of her adult life, she has been involved with the California Farm Bureau Federation, for which she was elected first vice president in December.
"I'm really fortunate to be part of Farm Bureau," she says. "I think it's an amazing organization."
INTEREST IN AG
Douglass became interested in agriculture  through 4-H and FFA activities while growing up in the Sacramento area. She studied ag at Chico State, where she was in numerous clubs and was on the livestock judging team. That's where she met her husband, Glenn County native Kelly Douglass.
After they were married, the couple started raising replacement heifers and steers, and later purchased beef cows. Now the family raises cattle and does a little direct marketing of beef, and grows sunflowers, watermelon and squash for seed, silage corn and hay in rotations, and a few pumpkins.
Shannon Douglass taught animal and crop sciences at Chico State for a few years while also recruiting young professionals for a pest-control trade group. She left the teaching job when she and her friend and business partner, Miranda Driver of Woodland, Calif., started CalAgJobs in 2013.
"You've got to pick your priorities," Douglass says. "In some ways, I miss teaching and the connections with students, but you can only do so much."
Douglass and Driver started their job-placement service with the help of a USDA Specialty Crop Block Grant of about $66,000, which has been used to help students find internships. The service started as an email distribution list, to which Douglass would post job openings as they came in. But the list got too big for their email account to handle, so they started a website, CalAgJobs.com.
"I have zero interest in tech stuff, and that's sort of in (Driver's) wheelhouse," Douglass says.
AG'S MATCHMAKER
CalAgJobs offers three services – internship postings, job postings in which people can apply on the website or on the employer's website, and recruitment services for specific companies. The number of jobs that have been found through the website has been difficult to track, Douglass said, but the site's traffic has been growing.
"I think our growth has really been a result of our customers coming back," she says.
The internship component is particularly valuable to students, Douglass says.
"There are more than four jobs for every graduate in the crop sciences," she says. "One thing we've found is that internships are a great way to show people what a career in ag looks like."
Internships are a good way to teach students about the different facets of ag, such as showing an animal science student "the agronomy side," she says. The grant-funded program "has been a great way to get more employers to consider doing internships, as there's been more interest from the ag students out there," she adds.
When an employer had an internship available, the company used to have to contact each of the agricultural colleges separately to put the word out to students, Douglass says. They can still do that, but CalAgJobs gives them a central location to offer positions, she says.
"This doesn't replace what the colleges do … but it helps a lot," she says.
"The job market in agriculture remains strong, especially in the crop sciences and irrigation," she adds. "A lot of that is due to the environment in California."
For example, there's plenty of need for pest control advisors, which "really aren't a thing in other states" but are in California because of the state's strict regulations on pesticides, she says.
"There's a lot of work being done in nutrient management, with the expansion of food safety rules," she says. "There's a lot of opportunities for young people in agriculture."
KEEPING AG HEALTHY
Douglass would like to keep it that way. She joined the Farm Bureau in college to take part in a discussion meet, and later she and her husband started a Young Farmers and Ranchers group in Glenn County. She later chaired the YF&R State Committee and took part in the American Farm Bureau Federation's Partners in Agricultural Leadership program.
Currently a Glenn County Farm Bureau board member, Douglass was chosen in December as the CFBF's new first vice president. She succeeds Oroville, Calif., olive grower and former city councilman Jamie Johansson, who was elected as the organization's 16th president after Modesto tree nut grower Paul Wenger served the maximum eight years in the position. Second vice president Shaun Crook of Sonora is also newly elected.
Officers are elected to two-year terms and can serve up to eight years in each office. It's likely that Douglass will seek the CFBF's presidency, once it becomes available.
"The future of Farm Bureau is very important to me," she says. "I'm very excited to be part of this team."
Among the top issues for the CFBF are state regulations, which have made it "very challenging to do business," and water availability, which is different in every part of the state, Douglass says. The Farm Bureau seeks to work through regional differences and present a unified voice, she says.
"Farm Bureau has been very important for us for a long time," she says. "They do tremendous work for farmers and ranchers big and small. They are the most unified voice we have in ag in the state. I think anybody who cares about the future of ag in California should be engaged with Farm Bureau."
Despite her many positions within Farm Bureau, Douglass says she still has plenty to learn. The state has more than 400 commodities, each with its own issues and needs, she says.
"I was very lucky to have been so involved in a variety of levels of Farm Bureau," she says. "There's always more to learn."
Subscribe to receive top agriculture news
Be informed daily with these free e-newsletters
You May Also Like
---