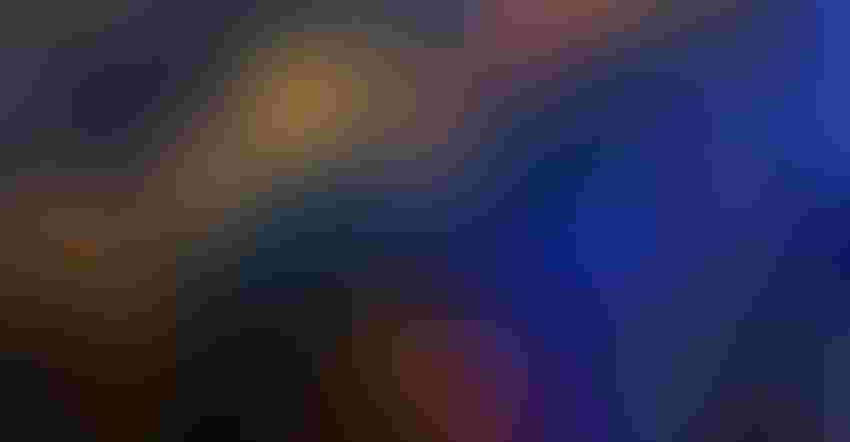 Monday, Oct. 16
Soybeans are lower this morning, trimming gains from last week's big rally. Beans may take a breather while traders wait for more harvest results in what looks like a drier week for farmers to get back into the field.
China's Communist Party Congress is meeting this week and the ceremonial occasion will be watched by the market to see what plans are announced and if they plan to continue buying soybeans.
Corn and wheat posted more lackluster numbers in the latest weekly export inspections data, for the week ending Oct. 12. Soybeans fared much better – just don't compare this week's volume to results from 2016/17.
Several rounds of wet weather over the past two weeks have kept harvest progress slow. The latest USDA Crop Progress report, issued Oct. 16, indicates just 28% of the corn crop is harvested – 6% better than a week ago, but well behind the five-year average of 47%. Soybean harvest neared the halfway mark, jumping ahead from 36% complete last week to 49% this week. That still keeps it well behind 2016's pace of 59% and the five-year average of 60%. 
Tuesday, Oct. 17
Corn gained the most in this week's crop ratings, suggesting production may be bigger than the 14.28 billion bushels USDA estimated Oct. 12. While soybean ratings edged only slight higher, futures continued to sell off overnight as traders turn their focus to Brazilian production and Chinese demand.
Wednesday, Oct. 18
While farmers are finally enjoying better weather for harvest, the mood remains far from sunny in the grain market. Prices are moving lower despite gains in other markets.
What will corn prices look like in 2018-2021? Good question and three groups have three different answers, check that out.
Thursday, Oct. 19
Is the USDA rally over? Soybeans were under pressure, but tried to hold onto prices after giving up 25% of their gains. Check out this conversation between Bryce Knorr and broadcaster Pam Jahnke.
This look at weekly exports showed there may have been an "October surprise" for corn. Check out this slideshow that offers an in-depth look at the numbers.
Friday, Oct. 20
The latest export sale data adds Spain, China and an unknown buyer to the list for big trades this week. You can check that out sale this week
In this Facebook Live report Bryce Knorr shows that soybeans appear to have carved out their own base of support. Check out the latest video.
In Friday's Morning Market Review, there's a look at harvest progress and its impact on pricing. There's also good price news with higher exports and wet weather ahead.
Friday's Afternoon Recap, Ben Potter shares insight into what he calls a seesaw market for the week, with different news whipsawing prices all week. Check out his final look at the markets for this week.
And in the Market Update podcast, Ben Potter talks with Willie Vogt about the week's trade, and some issues impacting prices. You can listen to the podcast audio.
Market outlooks
Fertilizer Outlook – What passes for calm in the fertilizer market never seems to last long. Just as it looked like urea might be making at least a temporary top, a new round of demand and problems with suppliers ratcheted prices higher again. The rally in soybeans could also ramp up nutrient prices if it proves to have legs.
Soybean Outlook - The soybean market has made up its mind. For growers this presents both opportunity for profits – and the potential risk of losing them if the market heads south.
Corn Outlook - USDA didn't have any real bullish corn news in its Oct. 12 report but it may not matter, at least for a while. Seasonal trends and a rally in soybeans could slowly lift the market to profitable selling levels.
Wheat Outlook - I've been an advocate of regular sales of any remaining 2017 wheat crop inventory to avoid getting stuck with additional losses if the market can't recover. But with the market looking weaker more aggressive action may be needed.
Financial Outlook - Futures aren't the only markets looking to the future these days. Financial markets are also trading at levels reflecting what investors think will unfold in the months ahead.
Energy/Ethanol Outlook - A slow harvest appears to be spreading out demand for diesel, helping support prices despite more signs the market is trying to put in a seasonal top.
Basis Outlook - Higher shipping costs in mid-October normally mean one thing: weaker basis. But the slow pace of harvest this fall has farmers focused on filling on-farm storage and existing forward contracts, keeping new hedge pressure from sales from overwhelming either cash or futures prices.
Subscribe to receive top agriculture news
Be informed daily with these free e-newsletters
You May Also Like
---