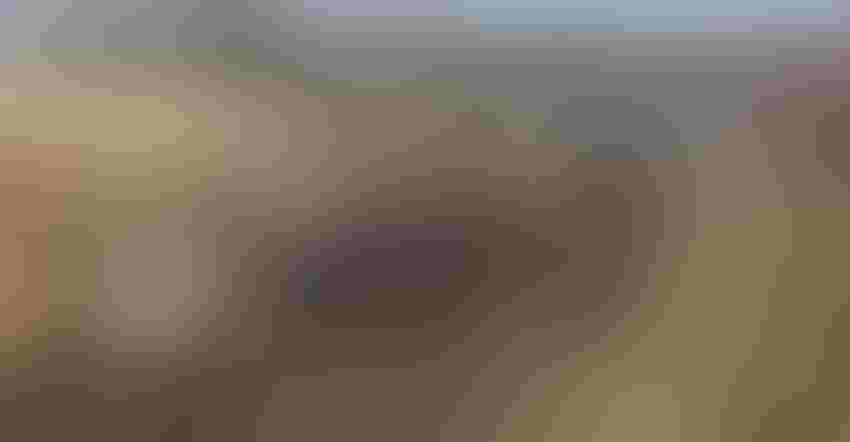 DAIRYING DOES: Several dozen does from the goat herd at Moxie Ridge Farm & Creamery will be kidding through June.
Photos by Paul Post
Lee Hennessy tried Hollywood, the wine industry and digital media, but it took coming to the farm for him to find true happiness.
With some help from the Grow NYC Farmer Assistance — formerly the FARMroots technical assistance program for Greenmarket farmers — Hennessy is becoming a successful marketer of his Moxie Ridge Farm & Creamery products.
Moxie Ridge Farm & Creamery specializes in goat's milk cheese, but also features fresh eggs, pork, and a flock of Romney and Scottish Blackface cross sheep and lambs that produce both fiber and meat.
And just for good luck, Moxie Ridge celebrated its third anniversary on St. Patrick's Day.
With 50-plus Alpine goats birthing in three waves — ending in June — Hennessy's hands are quite full on this one-person, 46-acre operation in Argyle, N.Y.
"Goats are very seasonal milkers, they usually have a 305-day lactation," he says. "For me that works because I'll be able to milk longer, March through December, so I'll able to produce my cheeses most of the year."
For the other two months, Hennessy relies on buying cow's milk from Wayward Goose Farm, owned and operated by Dan and Laurie Brooks of West Pawlet, Vt.
"They have a very similar approach to their management and milk production," he says.
From retail to wholesale
Until recently, all of his farm's products, including the signature Crème Fraiche and Monocle cheese, were sold direct-to-consumer at New York City's Greenmarket in Union Square on Fridays. This produces more than 80% of Hennessy's income, plus a Saturday farmer's market in Saratoga Springs.
But the Big Apple is more than 200 miles away, which makes for very long days. For the farm to be sustainable, Hennessy realized that a wholesale business model was needed to reduce the pressure and risk of depending solely on weekly retail sales.
With Farmer Assistance help, he obtained a $50,000 grant to install the infrastructure needed for wholesale operations.
"Money was used to purchase a commercial dishwasher, walk-in cooler and a new cheese press that allows me to make an aged product that's better for wholesale," Hennessy says. "I've also expanded the creamery, redone its walls, resurfaced the floor and renovated the aging room, doing a lot of it myself.
"The biggest one-piece investment was the contractor to do all the construction. Farm Assistance administered the grant and showed me how to put all this together."
Diversifying markets
Larger, aged cheese wheels have a much longer shelf life compared to fresh, ripened cheese sold retail in small containers.
Instead of hoping for a good day at Greenmarket that's quite often weather-dependent, Hennessy can now drop off products to several wholesale accounts en route to Union Square.
"Most growers need to have multiple market channels to minimize risk, create consistency of sales and increase their brand penetration into diverse markets including our Greenmarkets, brick and mortar sellers, and food hubs," says Christopher Wayne, director of Farm Assistance. "Recognizing that the majority of food moves through wholesale channels, Farm Assistance is providing resources that help our farmers assess the feasibility of wholesale markets to increase their farms' profitability."
After lots of planning and hard work, including help from Farm Assistance, Hennessy's first wholesale placements were made in New York City this month.
"The fresh and fresh-ripened products [cow milk] are starting off the wholesale program and the aged cheeses will start in the midsummer," he says. "As my milking herd grows, I'll be able to wholesale more goat cheeses. I'll also be doing some mixed milk cheeses for both retail and wholesale."
While pursuing wholesale, Hennessy continues to develop retail channels with a goal of reaching a 50-50 revenue split.
"That said, the benefit of being small as well as working closely with advisors like Erik Hassert [Farm Assistance strategic marketing manager] is that if one channel or another proves better for my business, I'm agile enough to make a strategic shift to a more beneficial mix," he says.
It's been quite a journey for an upstate New York native who ventured to the West Coast in pursuit of success, then finding it back home. Hennessy learned the ropes of farming working at Coach Farm, which at the time had more than 1,000 goats in Columbia County, southeast of Albany. After gaining considerable experience, he found property in Washington County through a program of the American Farmland Trust.

WAY BACK HOME: Lee Hennessy tried to launch a successful career In Hollywood, but this upstate New York native has found what really makes him happy: farming.
"I just kept trying different stuff. It was like, 'why am I not happy?'" Hennessy says. "Then, finally, I kind of realized, rather than trying to be successful and waiting to be happy, maybe I'll just try to be happy first, cross my fingers, work really hard and try to be successful. That's ultimately why I came back, to learn about farming. It turns out I'm pretty good."
The New York Farm Viability Institute has provided funding to Grow NYC Farm Assistance to help its growers and producers enhance their outreach at GreenMarkets with improved displays and signage, social media, and through expanding market channels and wholesaling opportunities.
"Being able to capture top dollar in the urban marketplace enhances farms' opportunities to reach their full marketing potential. Our projects with Farm Assistance and GrowNYC have been a resounding strategy-building success, helping farmers grow and expand their market share and sustainability," says David Grusenmeyer, executive director of the New York Farm Viability Institute.  
Find more information on Grow NYC Farm Assistance online, or contact Christopher Wayne, director, at [email protected] or 212-341-2254.
Post is a freelance writer in Eastern New York.
Subscribe to receive top agriculture news
Be informed daily with these free e-newsletters
You May Also Like
---