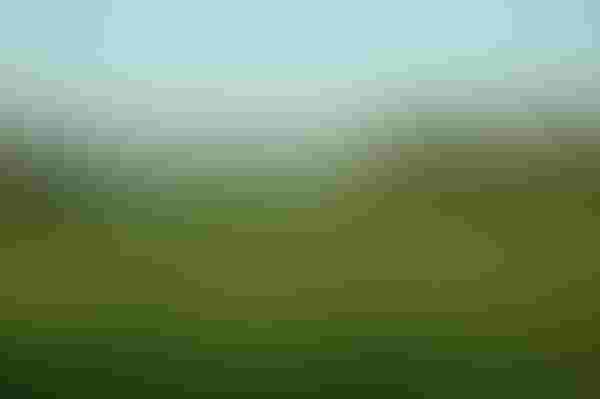 Indiana's farmland values and cash rents have continued to soar in 2012, even amid the worst drought in decades, according to a June 2012 Purdue University survey. The Purdue Farmland Value Survey showed a statewide increase in farmland value ranging from 14.3% to 18.1%, depending on land quality, since the 2011 survey. Cash rents increased between 12.8% and 15.2%.
"Robust net farm incomes, favorable interest rates, strong farmland demand and a limited supply of farmland for sale kept Indiana farmland values and cash rents moving higher," says Craig Dobbins, Purdue Extension agricultural economist.
Statewide the average value of bare Indiana cropland ranged from $5,013/acre for poor-quality land to $7,704/acre for top-quality land.
To assess farmland productivity, survey respondents estimated long-term corn yields for poor-, average- and top-quality land. For the state, the average long-term corn yields for poor, average and top were 126, 159 and 192 bu./acre, respectively.
The farmland value increases are good news for landowners, but not necessarily for some prospective buyers, Dobbins says.
"For the landowners, the increase is generally a good thing," he says. "It makes the asset that much more valuable and if they are thinking about selling it, they can sell it for a good price.
"If you're someone who is trying to start out or get into farming, this news isn't all that good. It just makes it more difficult to make a farmland purchase.
According to Dobbins, 2012 was the year many thought crop production margins and thus farmland values would level out or even fall. But the season-long drought hiked grain prices and the prospects of higher 2013 and maybe 2014 grain prices led to higher farmland values.
Values of farmland moving out of agriculture, called transitional land, also are on the rise after a four-year decline. The 2012 average value was $8,505, up 7.2% from 2011.
"This is a specialized market with the transitional land value strongly influenced by the planned use and location," Dobbins says. "The estimated value of farmland in this market has a very wide range."
For example, transitional land value estimates in the June survey ranged from $2,500/acre to $21,000.
Because of those variations, Dobbins said the median transitional land value of $8,000/acre is likely more meaningful than the average. That number represents an increase in value of $750/acre.
The survey also looked at the value of rural recreational land, which includes land used for hunting and other recreational activities. The average value of an acre of recreational land was $3,489, an increase of 3.9% from 2011. The median value in June 2012 was $3,000 per acre – the same as last year.
"As with transitional land, there is a wide range of values for rural recreational land, again making the median value a more meaningful indicator than arithmetic average," Dobbins says.
This year's survey includes responses from 276 farm managers, appraisers, land brokers, agricultural loan officers, Purdue Extension educators, farmers and professionals representing the Farm Credit System, the Farm Service Agency county offices and insurance companies. Respondents represented six Indiana regions and all but four Indiana counties.
A full assessment of the survey results and more information about respondents and data gathering methods are available in the August 2012 edition of the Purdue Agricultural Economics Report (pdf).
Subscribe to receive top agriculture news
Be informed daily with these free e-newsletters
You May Also Like
---