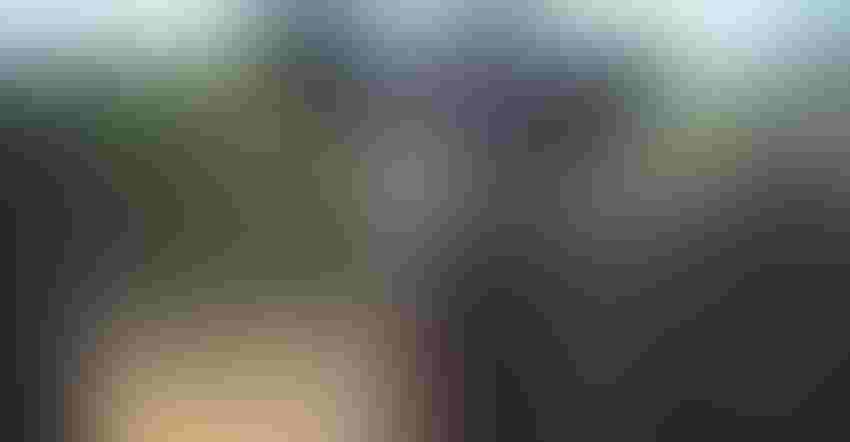 STAYING PUT: Cow-calf producers may have limited choices of where to go with calves through mid-2021. With feedlots and backgrounding operations reaching maximum capacity, beef calves are staying on the farm.
Mindy Ward
Essentially, there's a sign that says "no vacancy" at feedlots across the country, says Wesley Tucker, University of Missouri Extension ag business specialist.
Tucker, who tracks livestock trends for Missouri farmers, says that in recent months feedlots have seen higher placements of cattle, the same cattle that would have normally shown up in the spring but were turned out to grass instead. The larger numbers continue to back up the supply chain all the way to the farm gate.
"With more placements and higher feed costs, feedlots are not anxious to bring new calves in," Tucker explains. "Then the backgrounding yards that normally would be buying high-risk cattle, they don't have as much room either."
He says that although the cattle market looks better in 2021, it may be the second half of the year before we see significant improvement. Space in the feedyard will be at a premium as well.
"This goes all the way back to the direct impacts of COVID-19 this spring," Tucker says. But cattle producers can manage their herd for the future if they understand two things — the value and cost of gain.
How to calculate value of gain
"The last two months of the year and the first two months of the year are always our highest value of gain for those lighter calves," Tucker says.
Cattle producers often do not understand how to calculate value of gain. So, Tucker offers the following example:
With the going price for a 500-pound calf at $1.60 per pound, a beef cattle producer decides to keep the calf for an additional 100 pounds and then sell. When it is time to sell, if the 600-pound calf will bring $1.45 per pound, is the value of that gain the $1.60 per pound the animal is worth today, the $1.45 that it will sell for, the average of the two, or a really low number such as 70 cents? The reality is 500 x $1.60 = $800, and 600 x $1.45 = $870. The calf went up a 100 pounds, but it only increased $70 in value.
Tucker analyzed prices for calves from 2010 to 2019. "I went back historically for the last 10 years and tracked the difference between each weight category," he says. "For instance, the difference in a 350-pound calf in January and what it was worth as a 450-pound calf two months later in March. The market has typically paid $185 per hundredweight or $1.85 a pound for that 100 pounds."
The long-term trend points to the value of gain being higher for lighter weight calves. Tucker notes that with 450-pound calves in November, if retained to gain another 100 pounds to sell in January, the historical data shows the market paid $1.55 per pound to put on the extra weight.
If farmers keep that calf now weighing 550 pounds in January, retain it for another two months and sell in March, the total value of the calf has increased $275 for 200 pounds, or $1.38 per pound of gain. 
"That is extremely valuable," Tucker adds. However, he notes the value diminishes as the calves get bigger. Starting with a much heavier calf and trying to add on weight does not pay as well.
"What the markets are really encouraging is for us to get those calves to at least a representative target weight before moving on in the supply chain," he adds. 
Tucker encourages farmers to assess value of gain versus cost of gain.
Cost of putting on pounds
While the first two months offer the greatest value return for farmers, they also incur the greatest cost.
"For five years, we've had the luxury of really low corn prices," Tucker says. "The reality is, if you are a cattle producer and want to sell calves, the price of corn is a direct influence on what feedlot buyers can pay for your cattle. So as corn price went up, the feeder calf price went down."
However, he notes that farmers with extra forage not being used by the cow herd can put pounds on cheaper. Whether forage or grain, farmers must be able to put on the extra pounds or gain at less cost than the feedlot.
"If I can't buy feed cheaper than they can," Tucker says, "then farmers must add value to the calves by practices like weaning and vaccinations."
Today, Tucker says, feedyards are discounting unweaned, unvaccinated calves. The investment in a few management practices may pay off in the long run with higher prices. "Then maybe I can still compete, even if I can't do it cheaper than the feedlot," he adds. "It really comes down to the cost of gain versus the value of gain."
This type of analysis should be a part of an ongoing management plan to create flexibility, especially in areas that deal with drought.
"Most beef producers are overstocked with too many cows, and by this time of year are already running out of grass," Tucker says. "But with a few less cows, that extra grass could be used to keep calves on the farm longer and capture good returns at a time of year when the market rewards those gains more than at any other time of year."
About the Author(s) Editor, Missouri Ruralist
Mindy resides on a small farm just outside of Holstein, Mo, about 80 miles southwest of St. Louis.
After graduating from the University of Missouri-Columbia with a bachelor's degree in agricultural journalism, she worked briefly at a public relations firm in Kansas City. Her husband's career led the couple north to Minnesota.
There, she reported on large-scale production of corn, soybeans, sugar beets, and dairy, as well as, biofuels for The Land. After 10 years, the couple returned to Missouri and she began covering agriculture in the Show-Me State.
"In all my 15 years of writing about agriculture, I have found some of the most progressive thinkers are farmers," she says. "They are constantly searching for ways to do more with less, improve their land and leave their legacy to the next generation."
Mindy and her husband, Stacy, together with their daughters, Elisa and Cassidy, operate Showtime Farms in southern Warren County. The family spends a great deal of time caring for and showing Dorset, Oxford and crossbred sheep.
Subscribe to receive top agriculture news
Be informed daily with these free e-newsletters
You May Also Like
---