Winter rains, more surface water benefit SJV grower's crop prospects
Winter rains, more surface water benefit SJV grower's crop prospects
"Based on cluster counts and sizes the crop looks to be at least average in size. However, the younger vines, those planted three or four years ago, seem to be more fruitful than older ones."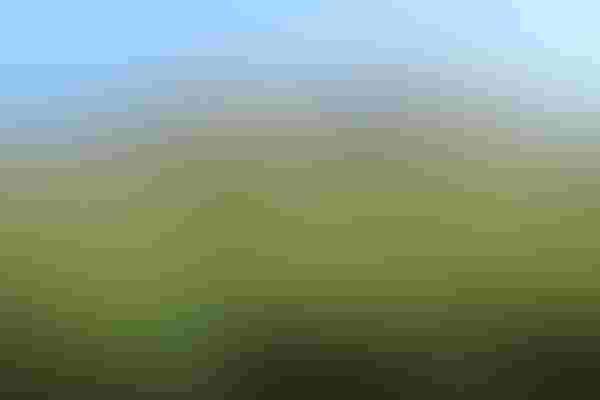 By mid-May the wine grape bloom in San Joaquin Valley grower J.R. Shannon's vineyards had finished.  That was about three weeks after it began with his French Colombard.
As operations manager of S-K Ranch Management LLC, he represents the fifth generation of the family business, which looks after its own and client-owned properties, ranging from wine grapes, tree nuts and citrus to row crops, beef and dairy operations.
Shannon manages the vineyards in Tulare County, part of a total of 5,000 acres of wine grapes that also include vineyards in the Stockton and Lodi areas of San Joaquin County.
The timing of this year's bloom was on track with last year, when the crop was developing about 10 to 12 days earlier than usual.
Winter rains have helped the vines recover from the past four years of drought, he reports. The bloom featured shower or rain about every seven to 10 days along with favorable temperatures.
"The vines look really healthy," Shannon says. "Based on cluster counts and sizes the crop looks to be at least average in size," Shannon says. "However, the younger vines, those planted three or four years ago, seem to be more fruitful than older ones."
Rotating dry sulfur applications about every two weeks with different fungicide sprays have prevented any flare-ups of powdery mildew in his vineyards, he says.
Shannon expects to begin seeing vine mealybugs, which have become an increasing problem over the past decade or so. "We're able to keep infestations in check with our spray program," he says. "However, because it's spread by anything that comes into contact with infested plants, including equipment and birds, trying to keep the vine mealybug out of clean vineyards has been very difficult."
However, at least one aspect of his grape production, promises to be much easier this season than it has been for the past several years. Deliveries of surface water for irrigating his vines are scheduled to total from 50 percent to 75 percent of his full allocation in some vineyards to as much as 100 percent in others.
"That's a big change from the past few years, including 2015 when we received anywhere from only 25 percent to none of our allotment. But we still need state officials to figure out a way to provide more reliable surface water resources to reduce pumping water from the ground for our crops."
At the same time, he adds, the cost of this water has dropped significantly. "The water we've been buying the past few years had gotten very expensive. This year water prices have fallen to much more reasonable levels and are just slightly higher than before the drought began."
As he and other growers have relied more and more on their pumps to provide water for their fields as the drought has progressed, ground water levels have dropped, he notes, adding his pumping levels dropped 20 to 30 feet in the past three years.
"Following the rains this winter, however, we're seeing the water table coming up in areas close to water ways which now have more water in them," he says. "It's really important to find ways of keeping our ditches and river flowing so that we can recharge our aquifers."
To reduce high pH and bicarbonate levels in his ground water, Shannon has been using an injection system to treat his irrigation water with acid. Meanwhile, like other California growers, Shannon continues seeking ways to use water more efficiently. That includes converting his remaining flood-irrigated fields to drip or micro-sprinkler systems as budgets allow and investing in more equipment for monitoring soil moisture to better match water application to actual vine requirements as their demand for water changes throughout the season.
Currently, he's been exploring the use of a new field-installed camera system that uses thermal imaging to gauge water needs of his vines.
"The cameras, which look down on the canopies, monitor the temperature of the vines to determine the amount of any water stress," Shannon says. "That way, once the temperature reaches a critical stress threshold, you'd start irrigating and continue until the vine temperature dropped back below that level. Unlike using aircraft to collect this information on a fixed or periodic schedule, this camera system tracks the vine's water status automatically 24/7."
Although Shannon's water worries have eased this season, is concern for the labor situation he and his neighbors face hasn't.
"Dealing with the cost and lack of good workers to produce and harvest a grape crop continues to be a struggle," he says. "When you consider the hourly wage plus health care insurance and any sick time for each worker comes out of our own pockets, growers are paying way more than minimum wage."
Like other growers, Shannon has mechanized as much of the vineyard work as he can. However, in some cases, like pruning, he still needs workers to touch up after the machine has gone down the row.
"And, we need good people to operate the equipment efficiently," he adds. "Getting them to show up every day or, during harvest, every night can be tough."
Subscribe to receive top agriculture news
Be informed daily with these free e-newsletters
You May Also Like
---