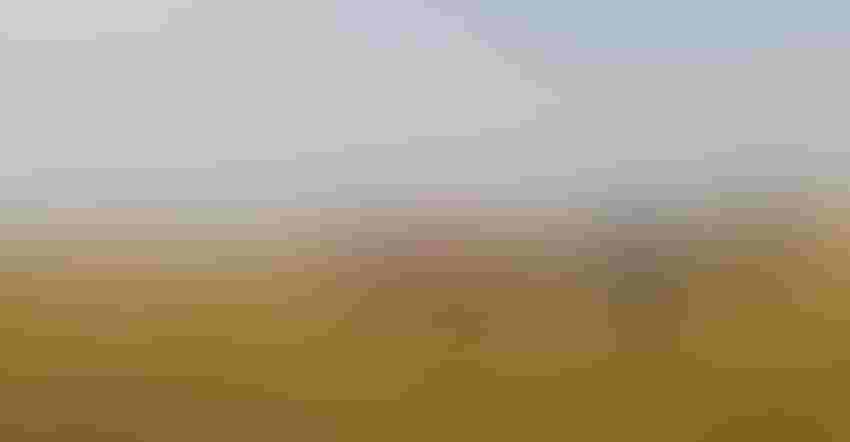 PRAIRIE WALK: Participants in a recent pasture walk at Pat and Julie Steffen's farm near Fordyce, Neb., scale a hill north of the farm to view cross-fencing and intensive grazing practices.
Curt Arens
It's been a few years since Nebraska grass producers and grazers walked pastures and swapped information in regularly scheduled pasture walks, led by the late Terry Gompert.
A longtime Nebraska Extension educator in Knox County and well-known grazing expert, Gompert died in 2011. Over his years in Knox County, he led scores of pasture walks in locations across the state and around the country.
These walks became a popular format for exchanging grazing expertise and on-farm research among livestock producers, national grazing experts and Nebraska Extension — who all were interested in soil health, grass production and grass-based livestock production systems.
This past summer, Nebraska Extension educator Ben Beckman resurrected Gompert's concept for a successful season of pasture walks once a month from June to September. The series finished this past summer season at Pat and Julie Steffen's farm near Fordyce in Cedar County.
It was a fitting finish, because the Steffen family has been working on grass-based cattle systems for 31 years and had become a frequent stop on Gompert's pasture walk tours.
"I wasn't fortunate enough to work with Terry," Beckman says. "But when I was working on my Master of Science degree project, I looked at mob grazing and animal production impacts on soil health and plants. The research on those topics was heavily influenced by what Terry had done in northeast Nebraska."
When Beckman came to the Nebraska Extension educator position in Cedar and Knox counties, he became interested in reassembling the community of producers that had developed during Gompert's tenure. He asked a few members of the group Gompert had worked with to a meeting in late winter and was able to establish a tour of pasture walks through this summer with that group's help.
"No one does their production in the same way," Beckman says. "Everyone on these walks is willing to listen, discuss and share what they've learned."
He says that the pasture walks grew over the summer, with some attendees participating in each session, and others joining the group when they could.
"Some of the participants were new to intensive grazing and holistic management techniques," Beckman says. "There were others who have been working on the regenerative process in their grass operations for decades."
The June session began at the Dave Hansen Ranch near Orchard. Other summer walks included the Clem Wagner Ranch near Center in July and the Ellis Schrunk Ranch at Bartlett in August, before concluding at the Steffen farm near Fordyce in September.
"We saw a lot of different operations and how different people are doing things," Beckman says. "We visited farms that were custom grazing, grass-finishing, and working on custom grazing dairy, and we had great open discussions about fly control, fencing, salt and mineral programs, and marketing."
For Beckman, the pasture walks offer a unique role for Nebraska Extension. "There is something very informative that happens when like-minded producers can get together, ask each other questions and have discussions, learning from each other," Beckman says. "Some of the host producers would tell the group what was working and what they needed help with. They would ask participants in the group for feedback."
Beckman was encouraged by the results of the walks this past summer and plans for another season of pasture walks next year. If you have ideas for pasture walk locations or would like input into the next season of walks, contact Beckman at [email protected].
Subscribe to receive top agriculture news
Be informed daily with these free e-newsletters
You May Also Like
---