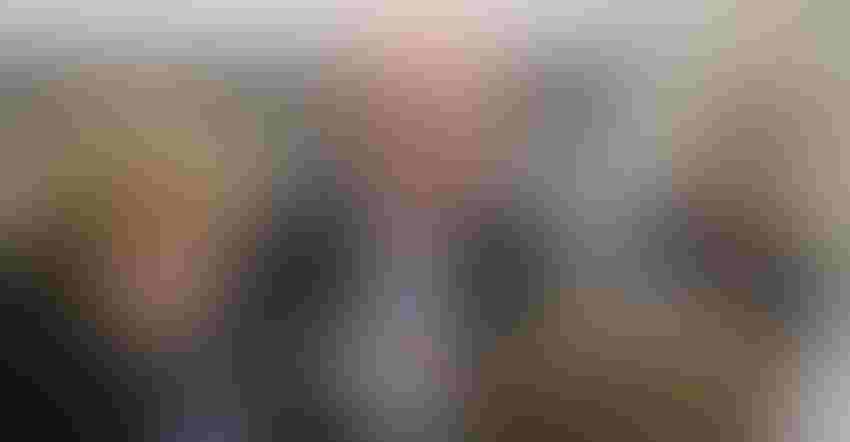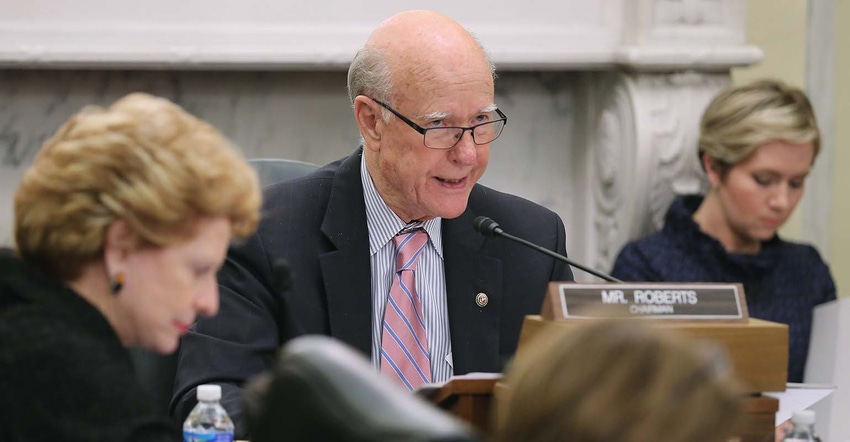 Senate Agriculture, Nutrition and Forestry Committee Chairman Pat Roberts, R-Kansas, delivers remarks during a hearing in Washington, D.C.
Chip Somodevilla/GettyImages
Senate Agriculture Committee chairman Pat Roberts, R-Kan., said he has a target date of June 6 to introduce the farm bill in the Senate, with full debate on the floor scheduled for the following week, according to comments Roberts made at a farm bill forum in Kansas Wednesday afternoon alongside Secretary of Agriculture Sonny Perdue and colleague Sen. Jerry Moran (R., Kan.).
When asked if he was optimistic that a bill could reach the President's desk before the current farm bill's expiration of Sept. 30, Roberts responded, "You bet."
Roberts said taking the House's approach of trying to do "welfare reform" would never fly in the Senate, where he said using that terminology would make hair start on fire for his "friends across the aisle." He said there are opportunities for some changes in the food stamp program, including some efficiencies on how things are administered. However, including work requirements for able-bodied workers as the House did would not allow the bill to get the 60 votes needed to pass on the Senate floor and may not even be able to get it out of the Senate Agriculture Committee.
He said he has received assurances from Senate leadership on both sides of the aisle that a full debate can occur on the Senate floor, and Senate minority leader Chuck Schumer (D., N.Y.) promised that he won't require a cloture vote, which will prevent the bill from jamming up on the floor.
Roberts offered no promises that everyone would be happy with the farm bill but said "no commodity group is hurt by the Senate bill." He added that there might not be as much funding for rural development as they'd like, but it is at an increased level.
He said he's doing his best to offer a fix for the Agriculture Risk Coverage (ARC) Title 1 program used predominantly by corn and soybean producers in the Midwest. However, he said it might not be as much as people might want. "It is necessary we don't have one section of farm country to do something at the expense of another section. Hang together, or hang separately," Roberts said of not pitting one industry's desires at another's.
He also emphatically said he does not plan to allow for a mandatory update of base acres, mainly as a way to boost ARC recipients. ARC pays out when revenues drop below an Olympic-average level, while the other Title 1 option of Price Loss Coverage offers straight payments. Roberts said there are ways to help ARC while continuing to allow farmers to plant for the market, not government supports.
Roberts said this "isn't our first rodeo" in response to the work he and committee ranking member Debbie Stabenow, D-Mich., will undertake in shepherding the bill across the Senate floor and to conference.
As in the past, the hope is to get the farm bill across the floor and get it to conference with the House. "Then, we'll get down to arm wrestling," Roberts said of how to reconcile the likely vast differences with the House.
Subscribe to receive top agriculture news
Be informed daily with these free e-newsletters
You May Also Like
---