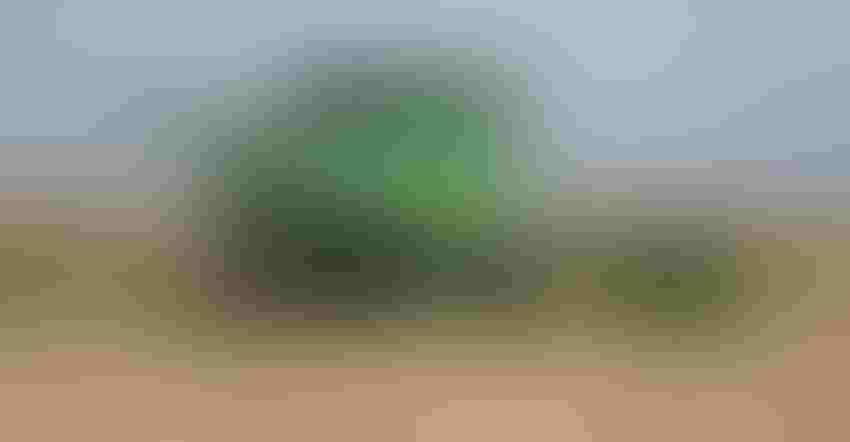 UNCERTAIN FUTURE: The largest component of increased farm income is coming from the federal government as projected government payments to producers exceed $37 billion for 2020.
Tyler Harris
In early September, the USDA Economic Research Service issued updated farm income estimates with a national forecast of $103 billion for 2020.
That is a substantial improvement from the $84 billion figure for 2019 and is actually $7 billion higher than the initial 2020 projection of $97 billion released in February before the COVID-19 pandemic was a factor.
The fact that aggregate farm income projections for 2020 are higher in spite of the challenges of COVID-19 is in part because of some ag market price recovery from improving China trade prospects and unfortunately also due to late-season production losses that could reduce expected supplies.
However, the largest component of increased farm income is coming not from the market, but from the federal government as projected payments to producers exceed $37 billion for 2020. That would be more than one-third of net farm income, the highest share since 2001.
Government payments to producers have spiked in the past three years due to ad hoc assistance for trade relief, agricultural disaster relief, and now COVID-19 relief. These ad hoc supports have provided important cash flow to producers and have helped buffer agriculture from production and market losses during the extended economic downturn.
However, there is a question as to how long these ad hoc supports will last. Looking at the government payments in detail provides a sense of the share coming from legislated farm bill programs relative to ad hoc legislative or administrative actions in the past three years.
Farm bill support
Here is a look at some of the farm bill programs:
Crop payments. Crop program payments include the Agricultural Risk Coverage program, the Price Loss Coverage program, their predecessors and related programs. Total payments in 2020 (for the 2019 crop) are projected at $5.7 billion, up from a low of $2.7 billion in 2019 and an average of $5.3 billion over the past five years.
The largest share of the payments are for PLC, and the largest share of those are for wheat, corn and seed cotton. Wheat and corn are looking at lower projected prices for the 2019 crop than for 2018 and also saw a substantial base acreage shift toward PLC during the 2019 crop enrollment period.
Cotton was added back to the ARC and PLC program in 2018 as seed cotton after being eliminated in 2014, and also saw substantially lower prices and higher PLC payment rates for the 2019 crop paid in 2020.
In contrast to PLC, ARC payments are projected at only $103 million in 2020. There are some counties for which ARC-CO (ARC at the county level) will provide substantial payments on enrolled acres, but a significant share of the ARC payments will likely be for ARC-IC (ARC at the individual coverage or farm level).
ARC-IC was almost a nonfactor in the previous farm bill, but it was an attractive choice in 2019 for farms facing poor production or prevented planting conditions that ultimately led to large farm-level losses covered by the ARC-IC program.
Beyond ARC and PLC, the rest of the projected crop payments, more than $900 million, come from projected marketing loan benefits, most of which are expected to accrue to seed cotton.
Dairy programs. Farm bill programs for dairy were strengthened in appropriations legislation in early 2018 and were then revised in the 2018 Farm Bill as the Dairy Margin Coverage program. The dairy programs have provided about $200 million to $300 million per year in support over the 2018-20 period, substantially more than the years prior.
Supplemental assistance. A small portfolio of disaster assistance programs is also part of the farm bill safety net, given permanent authorization and funding in the 2014 Farm Bill. These programs include the Livestock Indemnity Program and the Livestock Forage Program among others, with the LFP likely to make substantial payments this year on grazing losses because of drought conditions, although an exact estimate is not yet available.
Altogether, farm bill programs are projected to provide $6 billion plus in support to producers for 2020, more than in recent years primarily because of the growth in PLC payments.
Ad hoc support
Here is a look at ad hoc assistance to producers:
Agricultural disaster assistance. Ad hoc ag disaster assistance was passed by Congress in 2018 and again in 2019, providing relief to producers in the form of the Wildfire and Hurricanes Indemnity Program (WHIP) for 2017 losses or the expanded WHIP+ for 2018-19 losses. The WHIP and WHIP+ programs have provided several billion in assistance since 2018.
Trade assistance. The Market Facilitation Program was implemented by the Secretary of Agriculture out of existing USDA authority to provide direct payments to producers facing trade losses due to the trade conflict with China and other countries. Two separate MFP programs in 2018 and 2019 provided about $8.6 billion for 2018 crops and $14.5 billion for 2019 crops.
COVID-19 assistance. The Coronavirus Aid, Relief, and Economic Security Act approved in March provided $2 trillion in assistance across the country, including $16 billion for direct support to agricultural producers. To date, about $9.4 billion has been paid out to crop and livestock producers through the Coronavirus Food Assistance Program (CFAP) for market losses and disruptions during the Jan. 1 to April 15 period due to COVID-19.
Recent comments from the Secretary of Agriculture indicate the rest of the funding (about $6.6 billion) is expected to be paid out through a new round of payments (CFAP2) for losses largely accruing since April 15. The Economic Research Service estimates of farm program payments include all $16 billion paid out in 2020.
The ERS projections also include an estimated $5.8 billion for Paycheck Protection Program loans distributed to agricultural producers through the U.S. Small Business Administration under CARES Act provisions. While these are technically loans to be forgiven at maturity if qualifying conditions are met, they add to cash flow now and were included in the income projections presuming they would eventually be forgiven.
In total, the ERS projects supplemental and ad hoc assistance in 2020 at $27.2 billion, or nearly $27 billion in ad hoc support if the relatively small amount of supplemental disaster assistance is properly accounted for in the farm bill programs. As noted, that assumes the CARES Act funds are fully expended, but does not assume further support from Congress where discussions have been ongoing.
Future directions
Comparing the two categories above, farm income safety net programs legislated through farm bill deliberations will provide $6 billion plus in support to producers this year, while ad hoc programs will provide nearly $27 billion in support (assuming no further congressional action). Add in just over $4 billion in conservation payments to producers and landowners and you get the projected total of $37.2 billion for 2020, or more than one-third of projected net farm income.
Looking forward, farm program payments, particularly for PLC, are expected to grow in 2021 as 2020 crop prices remain lower. But the future of ad hoc support is a major question. It will depend on political priorities after the election regardless of which candidate and party win control in Washington.
It also will depend on the time it takes to hopefully reach the end of the COVID-19 pandemic and see progress for global economic recovery and agricultural trade. It also will depend on whether Congress returns its attention to the federal budget deficit, and federal debt constrains future spending decisions. The budget mattered when the 2014 and 2018 farm bills were written. It doesn't seemingly matter at the moment in the midst of the war on COVID-19, but it may again by the time any additional assistance for ag is considered.
There is no promise that ad hoc assistance will outlast the current economic challenges and lower commodity prices. Total federal support will drop drastically in 2021 barring further ad hoc efforts or legislative activity to open the farm bill before its scheduled 2023 expiration.
Producers will be faced with continued income and cash flow challenges and may need to prepare for a sharp adjustment as the extra assistance of recent years could quickly disappear.
Lubben is an Extension policy specialist at the University of Nebraska-Lincoln.
Subscribe to receive top agriculture news
Be informed daily with these free e-newsletters
You May Also Like
---