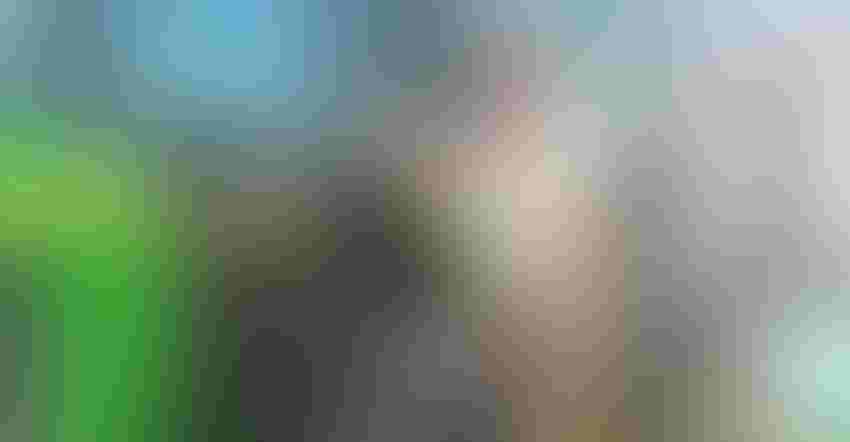 MEETING THE LOCAL NEED: The success of this farm supply store helped enable Biddle to grow his own farming enterprise.
Jim Biddle is thankful his father challenged him to prove he could be a farmer. He also knows what it's like to start with zero farm assets and equity.
After farming with his parents, then earning an ag engineering degree at Penn State in 1979, he purchased a feed, crops and farm and garden supply business from Agway in 1980. That business continues today as Mill Hill Farm Supply. It prospered, allowing expansion with a warehouse and purchase of a second store and feed mill.
Growth of that business enabled Biddle to begin growing his own Mill Hill Farms LLC in 2000. It has grown to today's 790-acre cropping operation with a 330-cow Holstein milking herd averaging 26,500 pounds of annual milk production.
Biddle is president and CEO of Mill Hill Farm Supply. He also has chief responsibility for cropping and financial oversight of the farm. Son Josh is in charge of the dairy enterprise. The Biddles also provide custom square baling services.
Biddle and Josh share cropping responsibilities. "The dairy is Josh's," emphasizes this Blair County businessman. "We've given our next generation both responsibility and power to make decisions."
Growing farm's sustainability
Biddle's certified crop adviser skills helped develop environmentally and economically sustainable production on his own farm. Result: higher per-acre and per-cow productivity.

OFFICE WITH WHEELS:

During the growing and harvest seasons, most of Biddle's business is conducted via smartphone from his tractor cab.

Every acre of corn, soybeans and small grains is no-tilled and cover-cropped with multispecies mixes. "Enhanced soil health increases yields due to additional biological activity," he explains. "It increases the usable carbon in our soils and our organic matter now ranges from 5% to 6%." That was documented via a continuing Natural Resources Conservation Service soil health study on the farm.

Five years ago, Mill Hill Farms began double-cropping triticale as a spring forage, followed by corn silage. Triticale yields averaged 7 to 9 tons per acre. Double-cropped corn silage yields averaged less than 1 ton per acre lower than full-season corn silage.

The dairy facilities has been steadily upgraded with milking equipment technologies, bedded pack freestall facilities, two heifer barns and concrete liquid manure storage. Those upgrades helped drop somatic cell counts under 100,000, resulting in a fivefold increase in milk quality bonuses.

The latest renovation involved converting a double-six herringbone parlor into to double-10 parabone — all while milking three times a day. It's part of a stepped expansion plan, guided by Red Barn Consulting and AgChoice.

Biddle's work with NRCS, Blair County Conservation District and Penn State Extension, plus the farm's conservation focus, earned Blair County's 2008 Ag Community Excellence Award and the 2010 Chesapeake Bay Clean Water Farm Award.

 
Jim Biddle at a glance
Location:

Williamsburg, Blair County, Pa.

Family: Biddle and wife Carol have four grown children: daughter Sarrah and sons Matt, Josh and Zach. Sarrah and Josh plus their spouses are involved in the Mill Hill enterprises.

Education: Ag engineering degree from Penn State University.

Leadership roles: Biddle has been a director of the Maryland &Virginia Milk Producers Cooperative, American Dairy Council Northeast, Blair County Conservation District, PennAg Industries insurance group. He's also served on AgChoice Farm Credit's Leadership Advisory Council, Penn State Extension's county board, and on advisory committees to the Western Pennsylvania Conservancy and Willamsburg FFA.

Notable: Farm has achieved rapid equity growth since 2000 when he officially began ownership of the family farm. Developing the farm supply/services agribusiness and becoming a certified crop adviser improved his cropping operation and services for other farms.
About the Author(s) Editor, American Agriculturist
For more than 38 years, John Vogel has been a Farm Progress editor writing for farmers from the Dakota prairies to the Eastern shores. Since 1985, he's been the editor of American Agriculturist – successor of three other Northeast magazines.
Raised on a grain and beef farm, he double-majored in Animal Science and Ag Journalism at Iowa State. His passion for helping farmers and farm management skills led to his family farm's first 209-bushel corn yield average in 1989.
John's personal and professional missions are an integral part of American Agriculturist's mission: To anticipate and explore tomorrow's farming needs and encourage positive change to keep family, profit and pride in farming.
John co-founded Pennsylvania Farm Link, a non-profit dedicated to helping young farmers start farming. It was responsible for creating three innovative state-supported low-interest loan programs and two "Farms for the Future" conferences.
His publications have received countless awards, including the 2000 Folio "Gold Award" for editorial excellence, the 2001 and 2008 National Association of Ag Journalists' Mackiewicz Award, several American Agricultural Editors' "Oscars" plus many ag media awards from the New York State Agricultural Society.
Vogel is a three-time winner of the Northeast Farm Communicators' Farm Communicator of the Year award. He's a National 4-H Foundation Distinguished Alumni and an honorary member of Alpha Zeta, and board member of Christian Farmers Outreach.
Subscribe to receive top agriculture news
Be informed daily with these free e-newsletters
You May Also Like
---