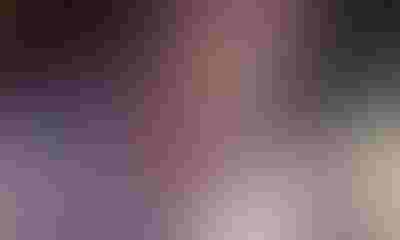 Extension specialists in the Upper Midwest are reminding farmers to practice safety first as they check bins this winter for grain out of condition.
Grain that goes out of condition may clump together, resulting in bridging, and uneven or reduced grain flow. Farmers in a hurry to fill a truck may enter a grain bin thinking they simply have to clear an obstruction, only to become caught in shifting grain, says Stephen Kells, University of Minnesota Extension Entomologist.

Like 'cement.' Paula Mohr, editor of The Farmer, was a participant in a simulated grain bin rescue. The 'grain' held her fast until she was ankle-deep.
"Stop and think before you enter!" he writes in a recent blog. "Even a seemingly small amount of grain can cause problems. Now is the time to review your procedures for safely entering grain bins. Understanding how to avoid getting caught in the grain and how to get help in the case of entrapment can prevent unnecessary tragedies."
A North Dakota State University publication, "Caught in the Grain," describes the three different ways a person can become trapped in grain and offers safety precautions to avoid accidents and rescue procedures if an accident does occur.
National Corn Growers and Purdue University have a grain bin safety video available.
And in the January issue of The Farmer, we featured a story on grain bin safety that included a sidebar on editor Paula Mohr's experience with a simulated grain bin entrapment. View her stories on page 8.
Kells points out that regular monitoring of grain during these cold months will help maintain grain quality and weight. Monitoring will also help you avoid costly dockage or load rejection issues. Inspect and probe for crusting, pockets of high moisture and heating, and insect infestations. Sit down and prepare a schedule for when you want to check storage conditions.
Subscribe to receive top agriculture news
Be informed daily with these free e-newsletters
You May Also Like
---