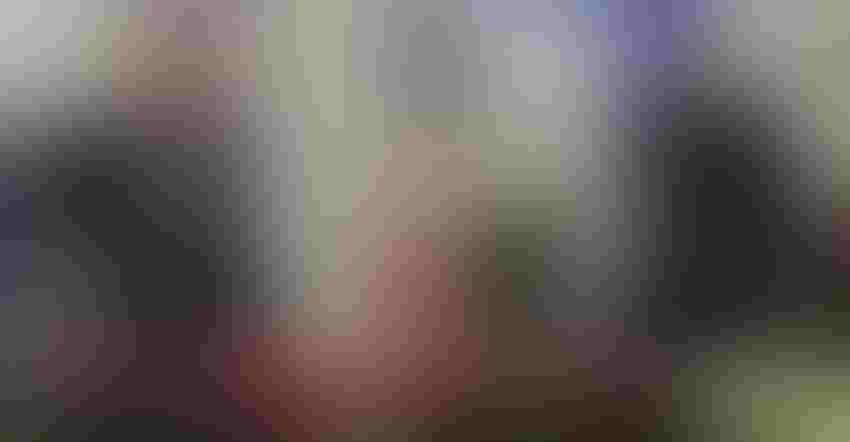 GOODBYE: It appears his missteps finally caught up with EPA's Scott Pruitt (left), who apparently thought that RFS stood for "Refinery First Strategy."
The Iowa Corn Growers Association isn't shedding any tears over the resignation last week of Scott Pruitt, administrator of the Environmental Protection Agency. "We're not sad to see him go. He's been real hard on the Renewable Fuel Standard," said ICGA Vice President Curt Mether, a Harrison County farmer.
"We're looking forward to working with the new acting administrator, Andrew Wheeler. In fact, we've invited him to come to Iowa and discuss ethanol and the farm economy," Mether said. "We want him to see and hear how important ethanol is to Iowa. We hope we can do some good with Mr. Wheeler."
A former coal industry lobbyist, Wheeler is a lawyer who was the No. 2 official at EPA.
Mether said corn growers are hopeful the next head of EPA, whether it ends up being Wheeler or someone else, will be friendlier to the RFS and to ethanol. The RFS is a federal mandate requiring a certain amount of ethanol and biodiesel be blended into the nation's fuel supply each year.
"Ethanol is very important to farmers and to the ag economy, which is slow right now," Mether said. "Ethanol is a really good product, and we need all the ethanol we can make."
Political leaders applaud Pruitt's exit
In addition to corn growers, Iowa political leaders also cheered the resignation of Pruitt as head of EPA. "Scott Pruitt's departure is long overdue," Rep. David Young, R-Van Meter, said in a statement. "Mr. Pruitt's actions as EPA administrator not only raised serious ethical concerns, but hurt Iowa farmers by recklessly undercutting the RFS. Hopefully, acting Administrator Wheeler will uphold President Trump's commitment to the RFS and get the EPA back on track."
President Donald Trump tweeted July 5 that Pruitt had resigned. He didn't criticize Pruitt. There were numerous ethical complaints against Pruitt. But Pruitt's bigger sin, at least in Iowa, was his lack of support for renewable fuel: ethanol and biodiesel.
Iowa is the nation's largest producer of ethanol and biodiesel. U.S. Sen. Chuck Grassley, R-Iowa, said Trump "made the right decision" to accept Pruitt's resignation.
"Administrator Pruitt's ethical scandals and his undermining of the president's commitment to biofuels and Midwest farmers were distracting from the agency's otherwise strong progress to free the nation of burdensome and harmful government regulations," Grassley said. "Fewer things are more important for government officials than maintaining public trust. Pruitt, through his own actions, lost that trust. I hope acting Administrator Wheeler views this as an opportunity to restore this administration's standing with farmers and the biofuels industry. I look forward to working with acting Administrator Wheeler to do just that."
Need to honor commitment to RFS
Iowa Gov. Kim Reynolds said, "The resignation of Administrator Pruitt must result in new EPA leadership that will honor the president's commitment to the RFS. I will continue to fight for a robust RFS by working with our federal delegation in Washington, D.C., to hold the administration to this promise. Iowa farmers deserve nothing less."
Fred Hubbell, Democrat candidate for governor, tweeted he's happy to see Pruitt go if it means "less scandal and a brighter future for Iowa farmers."
Democratic nominee for Iowa secretary of agriculture, Tim Gannon, released a statement saying: "I hope Scott Pruitt's replacement at EPA will bring an immediate end to the issuing of RFS waivers for profitable oil refineries, waivers that destroy demand for ethanol and drag the price of corn and soybeans down. Iowa ethanol and biodiesel producers, and the farmers who supply them, deserve to have the RFS implemented as Congress intended, so Americans have more options for using clean, renewable, American-made fuel."
Corn farmers frustrated with Pruitt
Iowa Corn Growers President Mark Recker said farmers were frustrated with Pruitt, who was handing out the RFS waivers to big oil companies, so their refineries didn't have to blend as much ethanol into gasoline. In doing so, Pruitt drove a wedge between Trump and his supporters in the Midwest.
Recker emphasizes that even with this leadership change at EPA, policies of the Iowa Corn Growers and the National Corn Growers Association don't change. ICGA and NCGA will continue to push EPA to stop granting unjustified waivers. They'll also ask EPA to follow through on Trump's commitment to remove outdated regulations and allow higher blends of ethanol like E15 to be sold year-around.
Hopefully, Wheeler will work with America's corn farmers to give consumers more options at the pump to save them money and reduce emissions, and provide farmers with certainty in the marketplace that comes with RFS integrity.
Grassley: Ensure law followed
The RFS needs to be enforced especially when it comes to the waivers. Even though Wheeler is in place, Grassley said he's not going to wait around and see what Wheeler does. Grassley said the U.S. Senate Judiciary Committee, which he chairs, will try to make sure the law is followed.
"These EPA decisions need to follow the Administrative Procedures Act of 1946," Grassley said. "We're now researching that legal question, so I can't tell you yet whether we've got much leverage there or not, but that's what I'm having my staff work on."
Look for some news on this issue in the next few weeks. Grassley noted that everyone in agriculture seems to be on edge these days, not only with the tariff situation between the U.S. and other countries affecting world trade in farm products, but also with Pruitt's demand destruction of corn ethanol that has taken place.
Subscribe to receive top agriculture news
Be informed daily with these free e-newsletters
You May Also Like
---