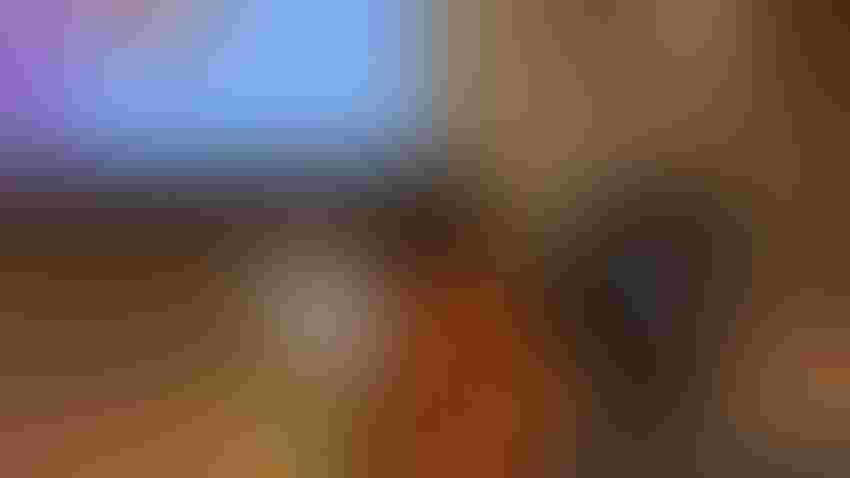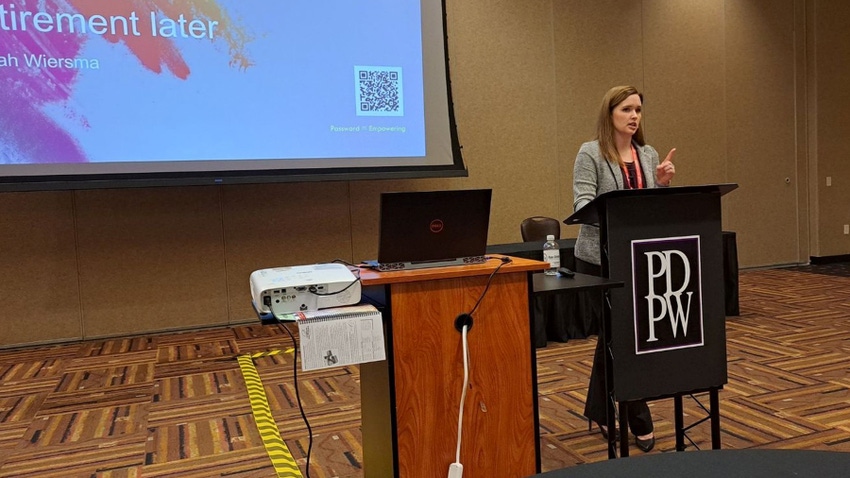 START PLANNING: Financial adviser Sarah Wiersma recommends you think about your retirement goals and discuss them with your partner, no matter your age.
Fran O'Leary
According to Sarah Wiersma, planning for retirement is often seen as something to consider later in life, but the sooner you start, the better. Regardless of your age, if you haven't started planning yet, it's not too late. Wiersma spoke recently during a Professional Dairy Producers conference at Wisconsin Dells, Wis.
Wiersma is an Ameriprise financial adviser and graduated from the University of Wisconsin-Whitewater with a bachelor's degree in finance. She said planning and investing for retirement is very personal.
"Many farmers say their farm is their retirement plan," Wiersma told the audience of farmers and ag professionals. "Some want to help the next generation. With rising interest rates, I don't even want a loan for a car right now."
Wiersma said when people are thinking about retirement, there are a lot of options. Couples who make less than $136,000 per year and individuals who make less than $83,000 can contribute to a traditional individual retirement account. Those under 50 years old can also contribute up to $22,500 a year to a 401(k). If you are over 50, you can contribute up to $30,000 per year to an IRA.
"With all of these options, you need to decide what you want to do," Wiersma said.
Wiersma recommended that those without a financial adviser should talk to a few advisers before selecting one.
"You want to work with someone who is easy to talk to who you can trust, and you feel comfortable with," she said. She also recommended finding an accountant you can talk to and trust.
Wiersma said investing for your future is all about your personal preferences.
"You have to decide what is best for you and what you're comfortable with," she said. "Can you handle risk?"
She recommended that you think about your goals and discuss them with your partner.
"When I retire, I hope to travel more than I am doing now with two small children," she said. "Do you want to retire at 55, or do you plan to work until you are 80?"
Wiersma explained that with a Roth IRA, you pay taxes upfront.
"With traditional IRAs, you pay taxes when you are retired and start taking distributions at 73," she said. "With investing, things are always changing. In 10 years, distributions will begin at age 75. That's what I mean, that things are always changing."
Life insurance
Wiersma said when it comes to life insurance, think term policies instead of whole life.
"You can get five times the coverage with a term policy vs. whole life for the same price," she said. "You may consider leaving the farm to a child who runs the farm and leave life insurance to your other children."
Wiersma said she likes to cover any debt with life insurance. "Anything over that is your choice," she added.
Following is a list of things to consider and discuss with your partner:
Is your net worth tied up in the farm?

Where do you plan to live upon retirement?

What happens if you go into a nursing home?

Do you have enough money to pay for a nursing home?
Wiersma said the unexpected can happen, and having a plan in place will guide you. Taking steps now to plan your retirement can help you retire while the farm continues to prosper.
If you would like to talk to Wiersma, email her at [email protected].
Subscribe to receive top agriculture news
Be informed daily with these free e-newsletters
You May Also Like
---