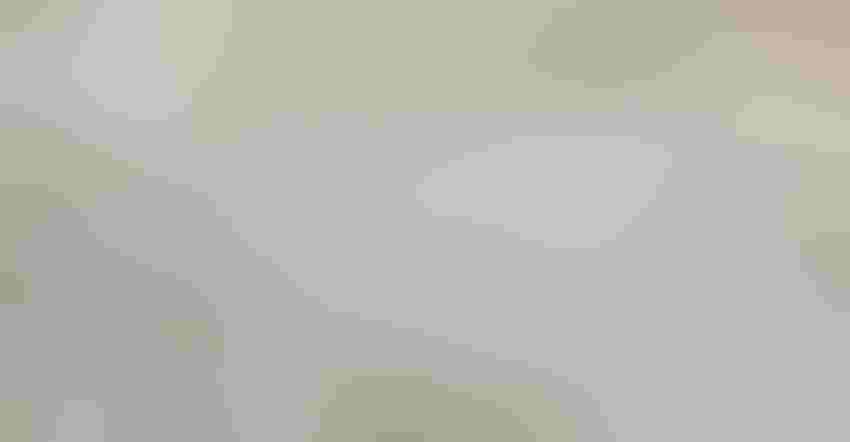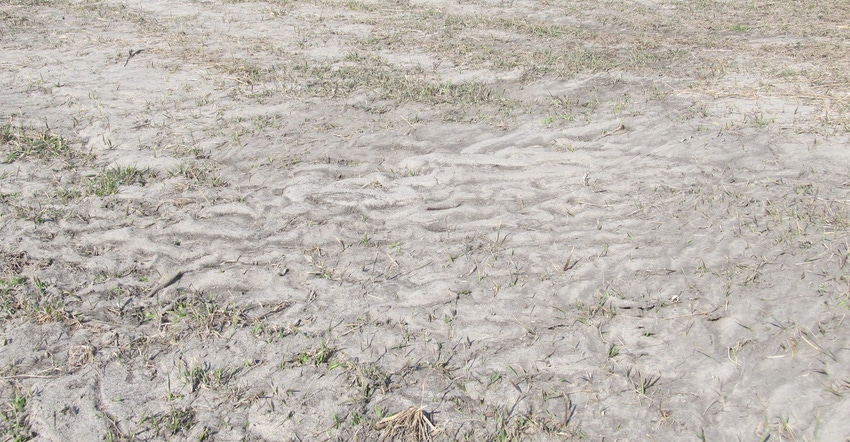 SANDY SITUATION: River flooding in western Iowa this spring has washed sand and debris onto farmland and pastures.
ISU
As flood waters recede, the renovation of flooded pastures is just beginning. Now is a good time to check pasture plants for survival.
"Forage production is a function of the plant species, and their density and growth," says Beth Doran, Iowa State University Extension livestock specialist in northwest Iowa. "Evaluate live plants for plant vigor, plant density and desirable species versus weeds."
She says you should look for three things in your assessment: 
debris and sand on the land

thinned or dead forage plants.
Flooding can flush certain nutrients necessary for plant growth out of the soil. If there is adequate ground cover of desirable species, try boosting production with the application of 50 to 80 pounds of nitrogen per acre, advises Joel DeJong, ISU field agronomist. Grasses usually respond the most to nitrogen fertilization, but soil sampling will reveal if other nutrients were removed from the soil and need to be replaced.
Handling excessive sediment deposits
Another impact of flooding on grass pastures may be excessive sediment deposits. Most perennial forages can produce new shoots and tillers if sediment deposits are less than 2 inches, DeJong says. In this case, crusting may occur, and light tillage will level sediment and enhance recovery. With deeper sediment, plants can suffocate and result in substantial stand loss. In these areas, mechanical removal of the sediment is preferred to reduce plant loss and reduce the need for reseeding.
With thinner stands, interseeding with a no-till drill may be the best approach, he notes. "If the stand is too thin, then complete renovation or reseeding may be needed. If interseeding, consider what species to include in the seed mixture to improve pasture performance. For example, species tolerant of wetter or drier conditions, close grazing or rotational grazing, or more tolerant of summer slump might be appropriate choices."
Establishing legume-grass pasture
The ISU Extension publication Selecting Forage Species could help with this decision. Also, the publication Steps to Establish and Maintain Legume-Grass Pastures might be of interest to producers who are considering establishing and maintaining legume-grass pastures. Both publications can be downloaded at no charge from the online store or made available by the ISU Extension county offices.
The best way to start a new pasture is to treat it like a hay stand in the establishment year, if the terrain allows for a hay harvest, says Brian Lang, ISU Extension field agronomist in northeast Iowa. Two hay cuttings provide time to establish strong root systems, and then include the area into your normal grazing system.
Helping new seedings
With rougher terrain, Lang recommends interseeding an improved forage species and occasionally using a mower or a light flash grazing to reduce competition from weeds and established forage plants. Do your best to give the new seedlings a chance to establish a deep root system before incorporating the pasture into your normal grazing system.
Weeds also can be a problem in flooded pastures. "Broadleaf herbicides can be applied to grass pastures," DeJong says. "However, some herbicides have restrictions regarding new seedlings. In those cases, periodic mowing may be the best weed control option in the interseeded stands, until the new seedlings are established."
Also, he suggests you consider use of a sacrifice pasture while new stands are being established, the use of summer annuals, or fall grazing of cover crops. ISU Extension beef specialists and field agronomists are ready to help with questions and concerns on renovating pastures and establishing grazing systems.
Source: ISU is responsible for the information provided and is wholly owned by the source. Informa Business Media and subsidiaries aren't responsible for any content in this information asset.
Subscribe to receive top agriculture news
Be informed daily with these free e-newsletters
You May Also Like
---