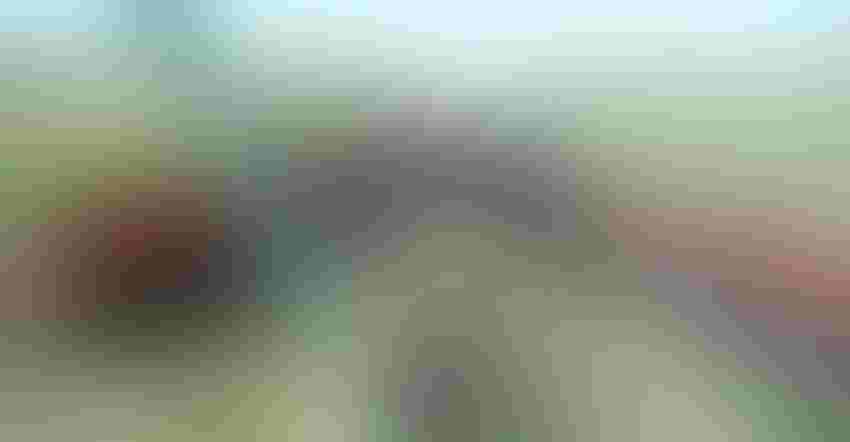 PLANTER UNFOLDS: Paul Branch monitors the unfolding of the corn planting he was driving for Kent Ott on a Sumner County field that was in a cover crop of wheat for the winter.
It's been a challenging start to the 2018 farming season. First, the winter was so dry that much of the winter wheat crop is in trouble.
Then came unseasonably cold weather at planting time, with temperatures dipping into the teens, and snow and ice storms hitting well into April.
"What we need is rain and warmer days," says Sumner County farmer Kent Ott, who was continuing to try to get a corn crop in the ground in mid-April. His hired hand, Paul Branch, was running the planter and "dusting" the corn seed a day ahead of a forecast for widespread rain — a forecast that proved correct, with much of the state getting an inch or more of nice, slow rain.
CHECKING SEEDLING: Sumner County farmer Kent Ott and Mycogen Seeds agronomist Brook Mitchell check corn seedlings for signs of damage from cold soil conditions. Mitchell said he found that seedlings in the field are emerging in good shape.
That rainfall could well be the difference between abandoned wheat and hope for a crop that was rated 49% poor to very poor in the April 23 Crop Progress report from USDA.
Ott and Mycogen agronomist Brook Mitchell moved on to another dryland field that was planted at the end of March, checking the emerging plants for signs of damage from cold.
"Good news," Mitchell told Ott, "This field looks like it will produce a pretty good stand if we get that rain on the weekend. The seedlings are coming up pretty good and I don't see any sign of the swelling that you'd see with damage from the cold soil."
Ott says he has the option to turn on the pivots if rainfall in April is not sufficient to get good germination of seed, but there's not much he can do about soil temperatures that are well below the minimum 55 degrees F needed.
Ott believes the jury is still out on whether the arrival of spring rains was enough to save the winter wheat crop, and whether or not temperatures well below freezing caused damage to that crop as well.
"We're lucky in that the crop is pretty far behind where it would normally be going into May," he says. "We've probably only got half the crop at jointing, where this time last year, we had some that was heading out. The longer it stays cold, the later harvest is going to be. But with the poor condition going into spring, that's a good thing. With rain and cool temperatures, we get more time for it to recover from the drought damage.
Ott says he will be watching his corn fields for signs of poor emergence. "I've got a couple of fields that were planted on March 29, and I'm really worried about what I'm going to see there."
Subscribe to receive top agriculture news
Be informed daily with these free e-newsletters
You May Also Like
---