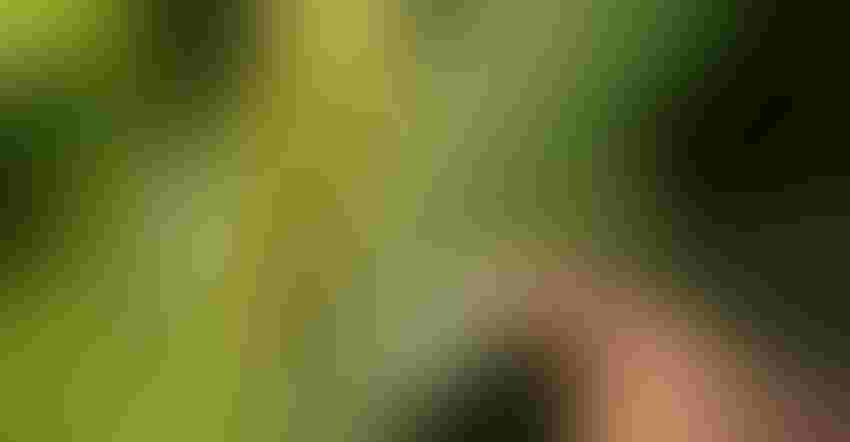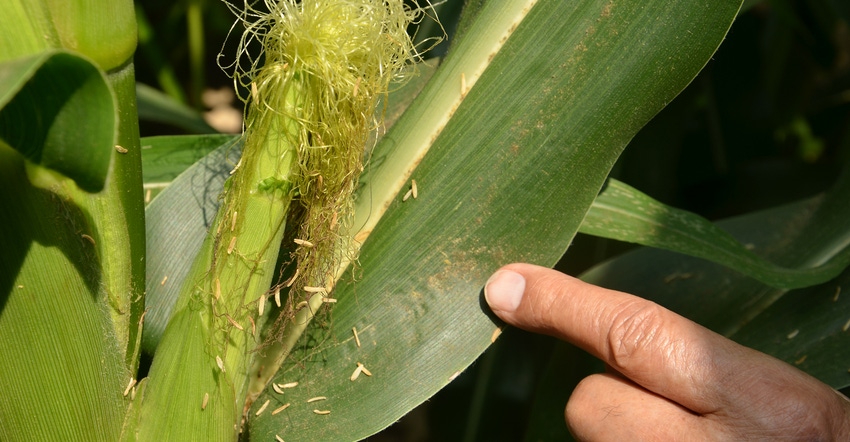 CRITICAL STAGE: Pollination is a key time to know what's happening in your fields. Is pollination occurring with insect interference? Are diseases present on leaves?
Tom J. Bechman
The 2020 corn planting season was good overall through most of the Corn Belt, but many areas were hit by excessive rains after planting. This caused some flooding and replanting.
In early-planted fields, 3% to 4% of seedlings were affected by seedling diseases like pythium, due to cool and wet conditions, resulting in plant death. Some fields showed nitrogen loss. If more nitrogen wasn't applied, that affected pollination, with poor ear-tip fills.
How will grain fill be affected by events so far? Will impacts be different if foliar fungicides weren't used or applied on time? These are crucial questions to consider as corn moves through the most critical stages of the season: pollination and grain fill.
Pollination success
The pollination period is the most critical time for getting good kernel set. For the grain fill period, it takes 50 to 60 days after pollination is complete to reach physiological maturity, or black layer, depending on relative maturity of the hybrid and temperatures prevalent in the area. This is payoff time for the corn plant, when the primary focus is to fully develop kernels. The plant's goal is developing as many progeny as possible. If it's successful, you also rake in the most gross revenue possible.
If pollination of some ovules isn't successful due to stress, it could result in incomplete kernel set. Certain insects like Japanese beetles or corn rootworm beetles that feed on pollen on silks can interfere in the pollination process and reduce kernel set.
Heat and drought stress can delay silk emergence and cause pollination problems. Late-emerging silks may not have any pollen left in the field for fertilization.
The first silks to emerge come from the butt, and the last silks emerge from the tip of the ear. So, kernels near the tip are more prone to be left out of the pollination process. That's why some growers plant cornfields with hybrid pairs in alternate strips that are two to three days apart in their pollen-shed dates.
When pairing hybrids in various fields, try to use two hybrids from the same seed company, if possible, to make sure they differ in days to pollen shed. Sometimes hybrids from various companies with different relative maturity ratings may be similar in days to pollen-shed.    
Corn likes cooler temperatures and sufficient water during this critical period for optimum yields. Any stresses during pollination and grain fill will have a negative effect on yield.
Grain fill counts
If there is stress during grain fill from foliar diseases, lack of nitrogen or too little moisture, plants abort the youngest kernels, causing tip dieback, so remaining kernels fully develop. The physiologic maturity or black layer occurs at 32% to 35% grain moisture, depending on the hybrid. Stress before this period can cause kernel abortion and light test weight.
If there is severe heat, lack of moisture or disease stress during grain fill, plants may cannibalize their stalks and leaves to fulfill the growing needs of their progeny.
If plants divert nutrients from stalks to "feed" the kernels, it can lead to premature death and susceptibility to stalk rot diseases. Careful scouting is required at that point to determine which fields to harvest first. Favorable weather during grain fill is crucial for maximizing yields.
Nanda is director of genetics for Seed Genetics Direct, Jeffersonville, Ohio. Email him at [email protected] or call 317-910-9876.
About the Author(s)
Subscribe to receive top agriculture news
Be informed daily with these free e-newsletters
You May Also Like
---