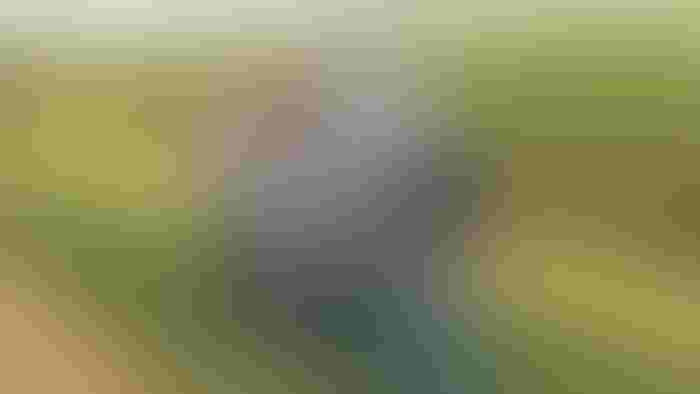 Brent Clark grew up around livestock and showed in 4-H, but eventually his family moved away from livestock production to focus on grain farming.
"I wanted to get back in the cattle business and to have a diverse operation with both crops and livestock," says Brent, who farms in Miami County, Ohio, with his dad, Russ Clark, and brother-in-law, Randy Hollowell, with his share of the operation raising more than 1,100 acres of corn and soybeans.
Backing up to 2010, at age 28, he married Jenna (Duff), and they purchased her great-grandfather's (Floyd Resler) 170-acre farm and moved to Conover. There, Brent, a sixth-generation farmer, went to work purchasing feeder cattle. He found opportunity in backgrounding feeder cattle, which is the middle stage between a cow-calf operator and the feedlot. "I saw it as an opportunity to sell most of my grain, because backgrounding feeder cattle uses less corn in their rations," he says. "I could put cheaper gain on cattle without using corn."
The farm has a one-time capacity of about 700 head and an annual turnover of about 2,000. Calves come in almost weekly from Kentucky, weighing between 450 and 650 pounds, and it's Brent's job to wean them and get them eating, as well as vaccinate and castrate.
"They are typically on the farm 90-120 days, and when they reach approximately 850 pounds, they are sorted into semi load lots containing about 60 head of cattle," he says. "We then market the cattle to customers in primarily Ohio, Iowa and Nebraska."
Clean water, no erosion
Brent has 45 acres of pasture. In developing his grazing management plan, some of the first conservation practices implemented on the home farm included fencing off the creeks to prevent cattle from eroding the creek banks.
They also installed automatic water fountains and lines to provide fresh drinking water, creek crossings and heavy use pads. In the past two years, he's added a covered dry stack manure-compost building.
"It allows us the capacity to store approximately six months of manure," Brent says. "After the crops are harvested, we can apply the manure replacing the nutrients the crops have used."
Grass strips have been installed to border woodlands, and owned farmland has been systematically tiled to maximize crop production of this acreage. They use primarily minimum till and no-till.
On his owned, rented and share-crop farmland, there are eight farms that have waterways. "Some have existing waterways, and we have added new waterways to some of the farms that did not have any," Brent says.
Brent is planting triticale after corn silage is harvested on about 50 acres, letting it grow and then chopping it for feed in early spring.
"I'm kind of in a unique situation where I'm able to grow the forage, replace it with manure, and then follow with row crop production," he says. "I'm trying to get more tons of feed per acre and better use of land closest to the cattle operation."
Welcoming the next generation
When talking about the future of the farm, Brent can't help but look at his three sons, Baine, 11, Beckett, 8, and Baylor, 6. "For their ages, they are heavily involved and show a lot of interest, much like I did at their age," he says.
Recognizing the difficulty in getting started in farming, Brent says his goal is to have a diverse operation and add acreage and cattle as his sons grow, allowing them to have an opportunity to be part of the farm operation.
Jenna works as a neonatal nurse practitioner. "And she raises boys," Brent chimes in. "She's outside on the farm every day and heavily involved with the boys' 4-H projects."
With heavy competition for land, Brent says cattle provide some certainty. "I enjoy the cattle and trying to make our farming operation the best it can be. These conservation programs, with the help of the Miami County Soil and Water Conservation District and NRCS, have helped me implement practices to protect and improve the land and environment."
Conservation is "our duty as farmers to take care of the land, whether it's owned or rented," Brent says. "I was taught by my dad and grandpa to take care of the land, and it will take care of you."
Subscribe to receive top agriculture news
Be informed daily with these free e-newsletters
You May Also Like
---