Over many years I've asked graziers during interviews how long they graze their paddocks, how long they let them recover, and how many times a year they graze a pasture.
I frequently put this information in my feature articles, yet all this emphasis on time can confuse a soul. It's an issue I need to address.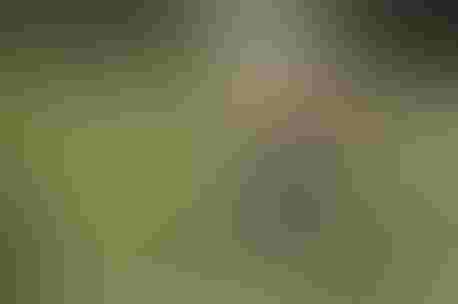 Mark Brownlee is a grazier who uses full recovery on his forage in Missouri. Here, during drought, you can see Eastern gamagrass and other quality forages thriving.
The amount of time the forage and soil is exposed to cattle, and vice versa, is important because all possible choices/decisions have consequences. Just as important, the way a grazier answers these questions indicates a great deal about how that person is managing the cattle-grass-soil interaction and whether he or she is making progress in soil health, therefore building grazing quality, forage quantity, drought resistance and profitability.
A straight-up answer that someone provides 30 days rest in the spring during fast growth and 90 days rest in the summer under slow growth, with perhaps a different grazing plan in the winter, shows a lack of understanding.
First, let's dispense with the term "rest." I have written of this before, but I'll reiterate now that grass does not need rest. Rest is just a break from work. Recovery is healing and repairing.
Forage needs recovery, both above ground and below. Adequate recovery -- and dare I say "longer recovery" -- is what builds deep root systems, encourages the best forage species, and actually builds soil health and soil organic matter.
I'll even go so far as too say it's hard to give forage too much recovery time. In the earlier years of managed grazing most of us had the idea you needed to graze forage at that just-right stage of growth before it went reproductive but after it made an initial recover from grazing such that it was not growing on root reserves. This typically was called phase II growth. It was basically a logical idea, but was functionally incorrect.
It assumed there was only one species of forage in a paddock, which is not smart management. We know now that biodiversity provides more forage quality over a longer period and builds soil much better.
The phase II idea also lacked the understanding that even when we manage forage for more complete recovery (longer), the cattle can still select a lot of quality. Further, if we use very-high-stock-density grazing, the remaining forage will be largely trampled, which is a pretty good leveller of most plant species, along with the increased grazing pressure and decreased grazing selectivity.
Jim Elizondo, a rancher from Florida and Mexico, uses a novel way to stockpile part of the ranch for winter grazing all through the growing season and grazes the rest with a more frequent defoliation to capture quality. Then he switches those areas from year to year
Doug Peterson, the Missouri grazier and soil health proponent, also addressed the issue of full recovery and good forage management in our soil health issue last year.
So when you're thinking about grazing management, think about how to give your plants the fullest possible recovery, allowing them to grow the deepest and fullest root systems, and how to balance that with livestock performance.
It takes some planning and replanning, but you really can do it.
Subscribe to receive top agriculture news
Be informed daily with these free e-newsletters
You May Also Like
---