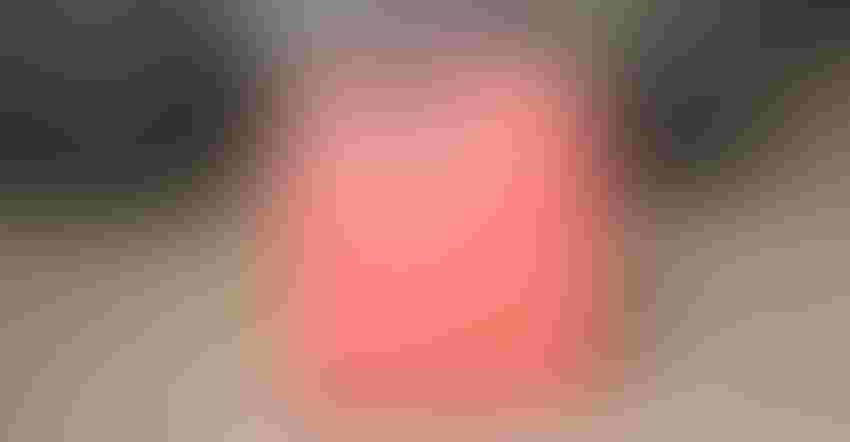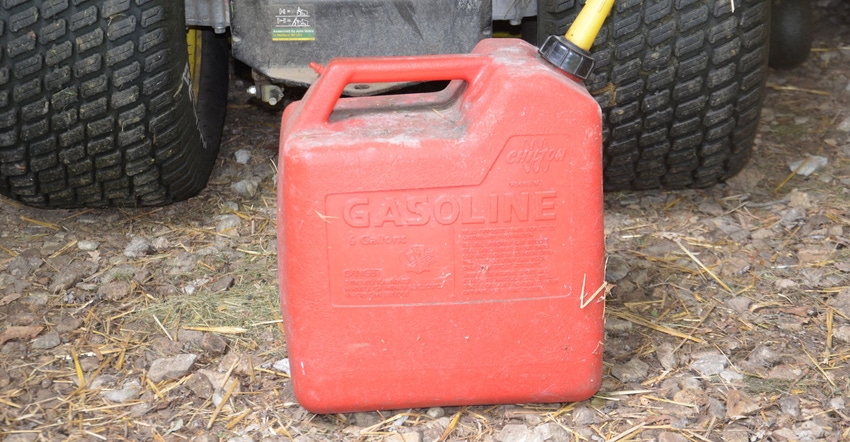 USE RIGHT CONTAINER: Farm safety specialist Bill Field stresses using an approved container, not glass jars, to transport gas. Ideally, the container pictured should be replaced with a new one with a cap for the spout.
Tom J. Bechman
Perhaps no one "practices what they preach" every second. I certainly don't — I'm human. I believe in safety, yet I did a silly thing a few years ago that could have left me horribly burned or worse.
I've told the story before, but the short version is, I was trying to set my brush pile on fire on a foggy November morning. Newspaper and straw weren't even taking off. So, I took a cup of gasoline, stood back nearly 10 feet, and threw it at the puny flames.
Woosh! Flames and heat shot out at me, and I felt it inside my insulated coveralls. It's the only reminder I will ever need. What was disturbing when I wrote about it was that I actually got responses saying, "You just didn't know how to do it right. It's really safe."
There is a young mother in Iowa who would vehemently disagree, but I'm getting ahead of the story. That's up to Bill Field, Purdue University Extension farm safety specialist, to tell. Field spent two hours talking to her recently.
More people are likely doing yardwork this summer because they have time on their hands due to COVID-19. Field first realized it might be time for a safety reminder about handling volatile liquids such as gasoline when he saw a young man pumping gasoline into glass jars at a gas station. There are warnings all over the pump to only dispense gasoline into approved containers.
Tragic story
You can find Field's full commentary online. He included this chilling story, which he tells in his own words:
"Jane Allsup, an Iowa farm wife, shared with me recently how her 10-year-old son Christopher tried to rekindle their fire pit from a fire the night before using gasoline," Field begins. "It was early morning, and he went out to probably extend the good times he had experienced around the fire.
"He brought out the standard red plastic container and poured some of its contents on the smoldering fire. The vapors were ignited, causing the container to rupture into a ball of fire. Christopher was burned over 90% of his body and died later from his injuries.
"According to the American Burn Association, an estimated 13,000 to 15,000 people are treated annually from gasoline-related burns. My concern is that the general lack of knowledge regarding the hazards of gasoline, the expanded use of outdoor power equipment and the resulting need to handle small quantities of gasoline will increase this number.
"Jane Allsup has been promoting several suggestions that she hopes will prevent others from experiencing what her family has gone through. These include:
Don't store gasoline in the house or garage.

Always store gasoline in a cool, well-ventilated area.

Keep gasoline away from any source of heat or sparks such as water heaters, furnaces, electric motors, car engines or the smoker at the fuel pump.

Have a Class B fire extinguisher located where fuel is stored.

Consider replacing your old plastic gasoline container with one equipped with a flame arrestor.

Always keep gasoline out of reach of children.
"Thank you, Jane, for sharing your story and helping promote safe use of gasoline," Field concludes.
 And thank you, Bill, for reminding us about a safety hazard that's often ignored.
Comments? Email [email protected].
Subscribe to receive top agriculture news
Be informed daily with these free e-newsletters
You May Also Like
---