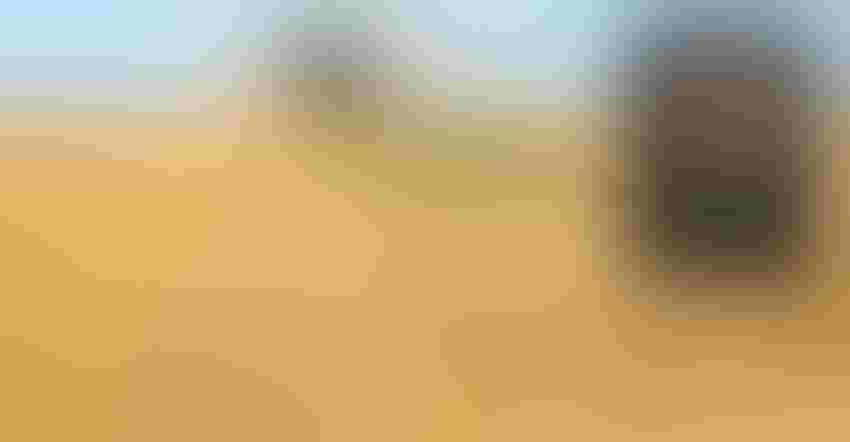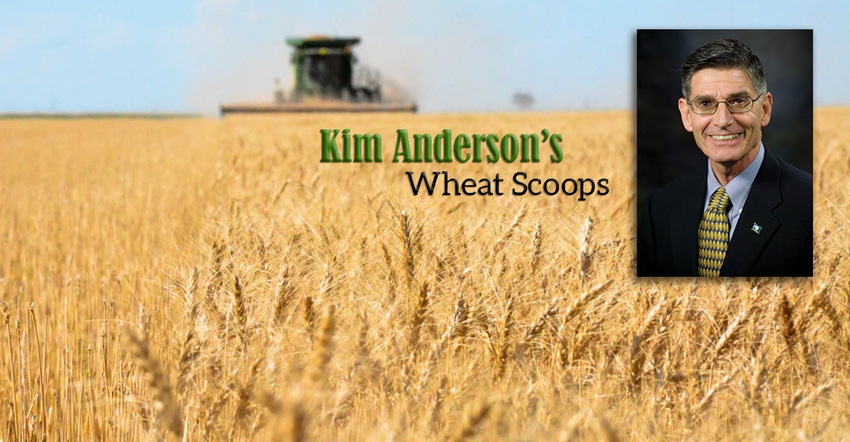 At this writing, wheat may be sold in Medford, Okla., for $8.22 and for $8.68 in Perryton, Texas. These prices are up from $6.87 and $7.15 on Oct. 13. The 2022 wheat harvest forward contract price is $8.11 in Medford and $8.09 in Perryton. However, what the market giveth, the market can take away.  
Wheat prices have increased because the world's wheat stocks continue to tighten. When the 2021/22 wheat market year started (June 1, 2021), the WASDE (World Agricultural Supply and Demand Estimates) projected 2021/22 wheat marketing-year ending stocks (May 31, 2022) to be 10.9 billion bushels. The November 2021 WASDE projects 2021/22 wheat marketing-year ending stocks to be 10.1 billion bushels.  
World wheat production, for the 2021/22 marketing-year, is projected to be a record 28.486 billion bushels. The 2021/22 wheat production is essentially the same as the 2020/21 production of 28.464 billion bushels. The world's five-year average production is 26.9 billion bushels. 
The 2021/22 wheat marketing-year world wheat consumption is projected to be a record 28.9 billion bushels. The five-year average is 27.5 billion bushels.  
World wheat exports have dramatically increased. For the five marketing years, 2014/15 through 2018/19, world wheat exports averaged 6.44 billion bushels. The range of exports was from 6.03 billion bushels in 2014/15 to 6.74 billion bushels in 2017/18. 
For the last three wheat marketing years (2019/20 through 2021/22), world wheat exports have averaged 7.35 billion bushels, and the last two years' exports have been 7.43 billion bushels and 7.47 billion bushels.  
Increased world wheat exports were driven by an increase in world wheat consumption. The dramatic increase in wheat consumption resulted in a decrease in wheat stocks during a time of record world wheat production. Why the dramatic increase in consumption? Are people eating more wheat flour products? 
One hypothesis is that shortages during the COVID period (January 2019 through the present) resulted in the hoarding of flour. Hoarding would result in a reported increase in consumption when there may not have been an increase in actual use. 
There were reports about countries increasing wheat stocks. Russia put an import tax on wheat to reduce exports and increase wheat stocks. There is no evidence that Russian wheat stocks have increased. 
See, COTTON SPIN: Black swans and turkeys 
Russian 2021/22 wheat ending stocks are projected to be 367 million bushels compared to a five-year average of 366 million bushels and a 10-year average of 380 million bushels. 
Ending wheat stocks of the major wheat importers are essentially the same as during the 2017/18 wheat marketing year.  
The implication is that either wheat consumption has increased or that wheat flour is being hoarded. If hoarding is the major cause of tighter wheat stocks, two things may happen. First, consumption will decline. To meet hoarding demand, more wheat had to be milled, thus increasing consumption. If consumers have sufficient flour in storage, then wheat use for flour may decline relative to the last few years. 
Second, if consumers become comfortable with the marketing system's ability to supply flour, flour in storage may be used rather than replacing flour in storage. The result is a lower demand for wheat. 
During the last few years, changes in demand and in the wheat market have resulted in tight wheat stocks and relatively high wheat prices. As things get back to normal, wheat stocks will increase, and wheat prices will come down. 
The market giveth and the market taketh away. Manage the giving and prepare for the taking away.  
About the Author(s)
Subscribe to receive top agriculture news
Be informed daily with these free e-newsletters
You May Also Like
---