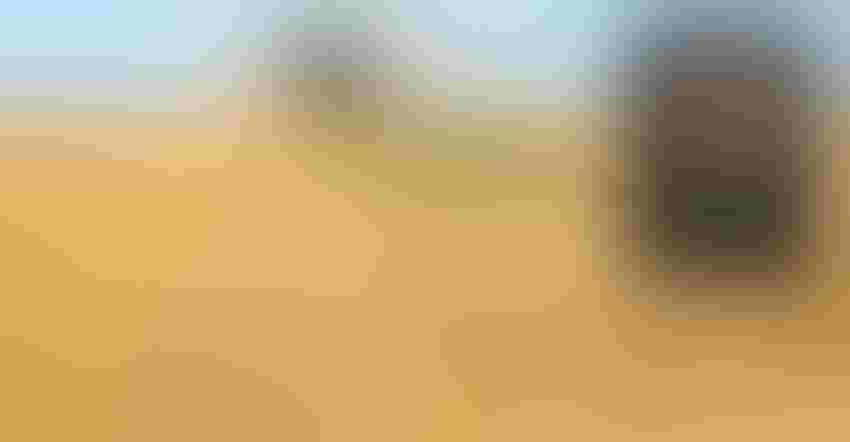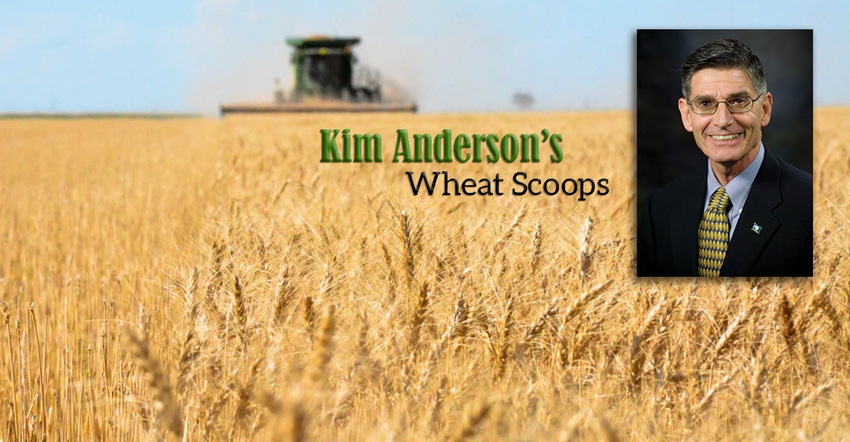 Feb. 24, 2021, in Medford, Okla., wheat could be forward contracted for harvest delivery for $6.51. April 7, the Medford forward contract price had dropped to $5.47. At this writing, wheat may be forward contracted for $6.07. The basis between Feb. 24 and mid-April was minus 15 cents off the KC July '21 wheat contract price. 
In mid-April 2020, the Medford wheat forward contract price was $4.75 and the July 1, 2020, cash wheat price was $4.10. The 2020 harvest basis, on April 19, 2020, was minus 11 cents. The July 1, 2020, wheat basis at Medford was minus 33 cents. The lower basis contributed to the 22 cents of the 65-cent price decline ($4.75 to $4.10). 
The monthly average Oklahoma June 2020 wheat price was $4.26 (Texas Panhandle prices were 8 cents higher than Oklahoma prices). The average Oklahoma July price was $4.21. The average Oklahoma August 2020 price was $4.20. Monthly average wheat prices increased to $4.52 for September, to $5.01 for October and to $5.96 for January 2021.  
At this writing, the yield impact from the April 19 through 21 freezing weather is unknown. Also, if the National Weather Service's 90-day forecast for above average temperatures and below average precipitation is correct, what will be the weather's impact on U.S. hard red winter (HRW) wheat production and prices? 
The place to start is the current market situation. United States' wheat ending stocks are projected to be 852 million bushels, which is down from one billion bushels last year and is below the 5-year average. HRW wheat ending stocks are also well below last year's level and below average. 
Potentially offsetting lower U.S. wheat stocks is the projection of near record world wheat ending stocks and increased production. The International Grains Council projects 2021/22 wheat marketing year world wheat production to be a record 29.1 billion bushels compared to 28.5 billion in 2020/21. 
The world supply of wheat for the 2021/22 marketing year is expected to increase and be more than adequate to meet 2021/22 wheat marketing year demand. 
The USDA reports the U.S. winter wheat crop condition to be about the same as last year. Fifty-three percent of the winter wheat crop is good to excellent compared to 62% last year. Sixteen percent is classified as poor to very poor compared to 10% last year. 
Oklahoma has the highest rated wheat crop with 70% good to excellent (75% last year), Kansas has 55% good to excellent (50% last year) and 16% poor to very poor (15% last year). Only 28% of the Texas wheat crop is rated good to excellent (66% last year).  
A problem is that most of the HRW wheat area is under drought conditions, which may be one reason wheat prices are relatively high when compared to last year's prices. Most of Oklahoma and Kansas are not in drought conditions. A 7% increase in hard red winter wheat planted acres and a 5% increase in all U.S. wheat acres implies that U.S. wheat production is projected to be slightly higher than last year. 
Black sea (Kazakhstan, Russia, and Ukraine) 2021 wheat production is projected to be about the same as 2020 production. The good news is that Russia placed a $1.60 per bushel tax on wheat exports. The tax, at some level, is expected to continue into the 2021/22 wheat marketing year. 
The current market situation implies that Oklahoma and Texas wheat prices may be relatively high during harvest. A record 2021/22 wheat crop could lead to lower prices during the September through December time period. 
About the Author(s)
Subscribe to receive top agriculture news
Be informed daily with these free e-newsletters
You May Also Like
---