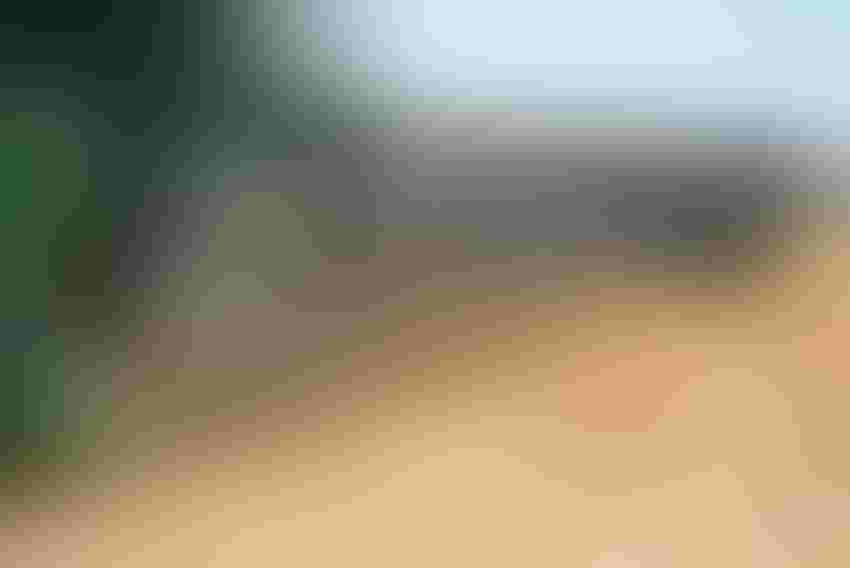 While low wheat prices have forced producers to grow other commodities the past couple of years some growers may be returning to wheat this fall. "Prices for wheat have steadily crept up recently," says Dr. Clark Neely, Texas A&M AgriLife Extension small grains and oilseed specialist at College Station. "Plus, I suspect some producers who pulled wheat out of the rotation are kind of itching to put it back in."
Another component that may nudge growers toward wheat is a potential weather system change. "Forecasters are calling for El Niño to kick in this fall," he says, "and they predict it will last through the winter. That means better than average rainfall for Texas, and that's always beneficial for a wheat crop."
U.S. winter wheat production is forecast at 1.19 billion bushels this year, with 55 million bushels expected in Oklahoma and 55.8 million bushels in Texas, according to the USDA National Agricultural Statistics Service.
On the Southern High Plains, September is the second wettest month of the year, says Dr. Calvin Trostle, Texas A&M AgriLife Extension agronomist, and the wettest month for the counties along the New Mexico line. "So, we've got a chance to get some soil moisture to get us into the winter."
See, In June 2019: $5.50-plus wheat prices
But a lack of rainfall in much of Texas and southwest Oklahoma the last nine months puts producers in a tough position when it comes to planting wheat this fall, says Neely. "Because of the drought, we're going to have very little subsoil moisture, so the crop is going to be living off of whatever comes out of the sky — which is not a good place to be, living from rain to rain, because we know how inconsistent that can be."
DEEP SUBSOIL MOISTURE
While growers battled drought this past season, their subsoil moisture scenario at planting time was much different, highlighting the value of deep subsoil moisture, Neely says. "We had great sub moisture, which is what we lived off of basically all season in much of the High Plains."
In Castro County, on one of Extension's dryland wheat variety trials, the crop was planted in early November and only received two inches of rainfall for the season, and yet it averaged 32 bushels an acre. "That couldn't have been a better example of the value of deep soil moisture when you plant," says Trostle. "We don't always have that — it's a luxury in west Texas."
Management practices, such as leaving stubble from the previous crop and a grower's approach to tillage, can preserve as much as an inch or more in the soil profile, he says. Field stubble catches water, keeping it on the surface, and slows possible runoff,
As for tillage, Trostle says, putting a shiny steel shank in the field represents some moisture loss. "A farmer who's gone to reduced tillage, and has some stubble or roughness on that land, is able to store an inch or inch-and-a-half or more than the field across the road that's been tilled. In some years, the difference is going to be pronounced."
But for 2018, Neely says, "We're going to be very reliant on El Niño to kick in and get the crop up and keep it going. Hopefully, we'll get enough rain to begin to recharge the subsoil over the winter."
BEFORE YOU PLANT
As growers begin preparations for planting winter wheat, Neely says the most important decision they can make, one with the greatest implications as far as yield potential and input costs, is variety selection.
Neely and Trostle suggest that growers (1) check a variety's characteristics, particularly disease pressure; (2) select a variety to address the biggest issues on the farm (for example, in the Blacklands the issue may be rust, whereas on the High Plains the areas of concern may be wheat streak mosaic virus and wheat curl mite; and (3) carefully consider seed quality: germination percentage, vigor, and test weight.
If a grower harvests his own seed, he should have the seed tested for quality and germination by a certified testing lab to ensure viability. With only limited testing at Texas Department of Agriculture, there are public seed test labs in all four adjacent states that are approved to handle Texas samples.  There is also a certified, private lab in New Deal, Texas (near Lubbock).
PLANTING TIPS
When it comes to planting wheat, input costs are a big concern for growers. Neely and Trostle recommend the following, to help cut costs without taking a hit on yield:
Back off the seeding rate.
"We've done replicated trials and we've probably got eight or ten site-years of data. For the most part, we're in agreement, we don't see a significant yield bump going up above 50 pounds per acre," Neely says.  High Plains irrigated fields generally target 60 lbs./A unless planting late when seeding rates should be increased.
Plant seeds on a seed per acre basis rather than pounds per acre.
"Seed size can range wildly from 10,000 seeds per pound to 18,000 to 19,000 seeds per pound, so you can have a doubling of seed size. Planting on a pounds per acre basis you could be doubling or halving the amount of seed you're actually putting in the ground. You may or may not not see a difference in yield by planting on a pounds per acre basis, but in some cases you could save money by reducing your overall seeds planted by going on a seed per acre basis," says Neely.
See, Texas A&M 2018 Wheat Picks List released
Apply one-third of your nitrogen in the fall.
"In general, it's better to put a third of your nitrogen out in the fall. The wheat is not going to use most of the nitrogen until the spring. But you want to put an application out, so the crop has what it needs to promote early fall tillering, which are your most productive tillers and contribute the most to yield. Anything you can do to promote tillering in the fall is going to be beneficial for the crop as a whole and help promote root growth which will help in dry periods. More roots mean it can access more soil, more moisture and more nutrients," Neely says.
On the Southern High Plains, Trostle recommends top-dressing a late-winter Nitrogen application, in late February to early March.
Band phosphorus applications.
"Work done by Travis Miller in the 80s and 90s, showed banding phosphorus improved yields as much as 50% over broadcasting. Alternatively, one could cut phosphorus rates back and maintain yield by banding in order to save on input costs. When you band it, plants can utilize it much more efficiently by placing in or near the root zone. The benefit is more pronounced on a dry year than on a wet year," says Neely. Phosphorus is applied in the fall and not split up like the nitrogen applications listed above.
       5. Timely planting
Rolling Plains: late October, beginning of November

Blacklands: early to mid-November

South Texas: mid-November unless planting spring wheat, then it's mid-December
Subscribe to receive top agriculture news
Be informed daily with these free e-newsletters
You May Also Like
---