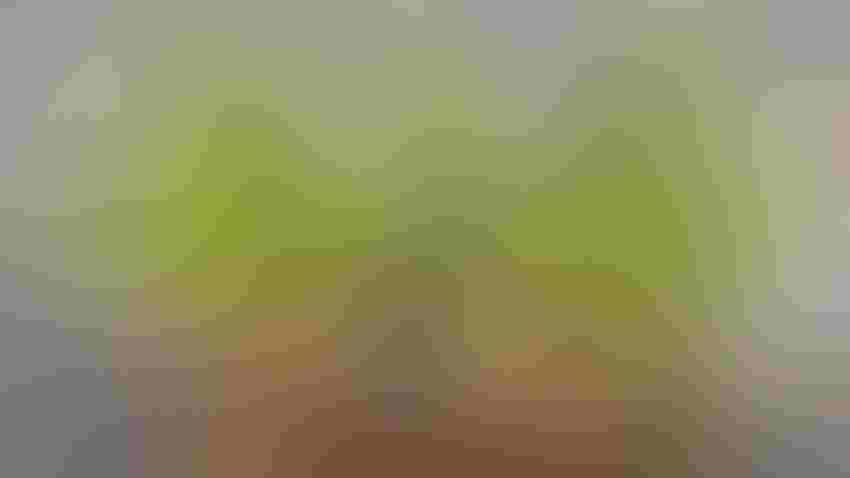 TOP WHEAT VIRUS: This wheat sample shows symptoms of wheat spindle streak mosaic virus. Yellow lesions run parallel to the leaf veins, leaving spindle-shaped markings on some leaves. This was the most common Missouri wheat virus in the 2022 test.
Peng Tian
Peng Tian wants to know which virus is the most prevalent in Missouri wheat acres, and he is willing to test plants for free.
The University of Missouri Plant Diagnostic Clinic director says that last year wheat samples tested positive for wheat spindle streak mosaic virus. He also found wheat streak mosaic virus, barley yellow dwarf virus, and cereal yellow dwarf virus. However, the total number of plant submissions was "very low," Tian says.
As an incentive for farmers to participate in the testing program, MU Extension's Integrated Pest Management and Field Crop Pathology programs partnered to waive the typical fee of $65 per sample. The results are not only for Tian's benefit, but also for all of the state's wheat growers.
"With this service," Tian says, "we hope to collect both wheat variety and location data of current incidences of wheat virus in Missouri to better understand the disease severity and help growers better prepare for controlling detected diseases in the next season."
Testing for trouble
The MU Plant Diagnostic Clinic is offering this free screening for five of the most common wheat viruses affecting the Midwest crop, Tian notes.
Here are the wheat viruses and general symptoms from University of Nebraska Extension:
Wheat streak mosaic virus (WSMV). A soilborne virus, leaves of infected plants show a yellowed mosaic pattern of parallel irregular streaks. As symptoms progress, the leaves become mottled yellow. Plants infected before early tillering are stunted, discolored and rosetted. The extent of stunting and rosetting in a field can help determine the severity of the disease and ultimate yield loss.
Wheat spindle streak mosaic virus (WSSMV). Another soilborne virus, this one is transmitted by a fungus. Symptoms of WSSMV consist of light green to yellow streaks or dashes that are parallel to the veins and usually are tapered, giving the appearance of spindles.
Soilborne wheat mosaic virus (SBWMV). This virus infects the root hairs of the host plant. Leaves appear a yellow or pale green mosaic with mottling and streaking. Infected plants are stunted to varying degrees. Leaf symptoms first appear in early spring, persist until warmer weather and then diminish. Field symptoms appear as irregular patches of yellow or pale green wheat.
Barley yellow dwarf virus (BYDV). Barley yellow dwarf does not produce a distinct mosaic pattern as do wheat streak mosaic or soilborne mosaic. The pale yellowing of older leaf tips is typical. During cool temperatures, the tips can sometimes become a reddish-purple. In years with high aphid activity, patches of BYDV-infected plants are greater in fields.
Cereal yellow dwarf virus (CYDV). This is another yellow dwarf virus that affects wheat with symptoms like BYDV — faint yellowish green blotches, usually near the leaf tip. It appears in cereal crops such as oats, barley and wheat.
When to test for wheat viruses
According to Tian, although farmers planted wheat last fall, most viral symptoms typically don't appear until spring.
If the symptoms show up right after planting, he explains, there is often a high level of infection and disease. "I recommend farmers test their wheat any time they see suspected viral symptoms in the field," he adds. These are early indicators of potential yield loss.
Tian suggests that wheat growers include GPS location data and variety information for each sample when collecting samples in the field. "It is important to follow the guidelines to ensure sample quality," Tian says. He put together a guideline for collecting and submitting wheat samples for farmers.
Because there is no cure for these diseases, Tian says there is no urgency to manage them.
"It is never too late to test," he adds. "I plan to provide this service from March to harvesttime. This will help the growers and farmers to be aware of the presence of disease and get ready for the wheat growing next season."
Subscribe to receive top agriculture news
Be informed daily with these free e-newsletters
You May Also Like
---