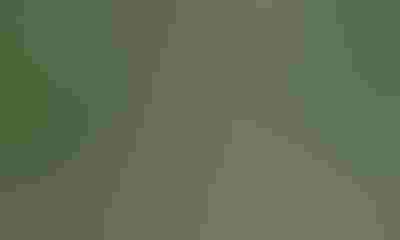 In the northwest corner of Iowa last week it was, once again, a wet week. There were localized downpours that reached as much as 6 inches total rainfall for the week, although most of the area received significantly less.
Getting back to corn and soybean planting, "it has been difficult this spring, and we are lagging the rest of the state in planting progress. We aren't used to that in this part of Iowa. However, the alfalfa keeps growing," observes Joel DeJong, Iowa State University Extension field agronomist. Based at Le Mars, he works with farmers in northwest Iowa.

WHEN TO CUT: Calendar date is not a good decision tool to best determine when to harvest the first crop of alfalfa, as weather variations impact alfalfa growth and development. The PEAQ method is a better way to make that decision.
The alfalfa in the fields in Plymouth County that he has been measuring is now about 25 inches tall and small buds can be found.
Using the PEAQ quality assessment model which you can find by clicking here, that alfalfa would have a Relative Feed Value of 176, says DeJong. Making haylage reduces the final RFV by 15 units, or making dry hay would cost about 25 RFV units. In general, it is recommended that you try to harvest alfalfa at about 150 RFV for milking dairy herds and 125 RFV for heifers, stocker cattle and lactating beef cattle.
First crop alfalfa standing in the field can drop three to five points of RFV per day, he says. A one-week delay of first crop harvest could cost at least 20 RFV points in feed quality. DeJong is checking these fields every three or four days to monitor progress. Results from around Iowa can be found by clicking on this web page. "With weather conditions, and the need to plant other crops, the quality of hay from the first crop might suffer this year," he adds. 
Advice for managing alfalfa weevil infestations
DeJong says there is some evidence that alfalfa weevils are starting to feed in alfalfa fields in his area of northwest Iowa. Click on this 2014 ICM News article for alfalfa weevil management advice.
It is always tough to make good "dairy quality" hay with the first cutting. "The weather rarely cooperates, and other work seems to get in the way," he notes. "I do work with a Sioux County alfalfa producer who harvests with a different system (he makes baleage) than most farmers, and sells the hay to a dairy operation. He has a good YouTube video, taken from his UAV, on the process of cutting to harvest in a 24-hour period. It is called "Making Hay the Ronsiek Way." Take a look!
Making first cut decisions using the PEAQ method
Here's what another ISU Extension field agronomist has to say about using PEAQ. Brian Lang, ISU field agronomist at Decorah in northeast Iowa, notes: "Calendar date is not a good decision tool to best determine when to harvest the first crop of alfalfa due to climatic variations impacting alfalfa growth and development."
He says the PEAQ method (Predictive Equations for Alfalfa Quality) developed by the University of Wisconsin takes climate variations into account to roughly estimate relative feed value (RFV) of standing alfalfa in the field to estimate the best time to harvest the first cutting.  ISU Extension is monitoring some alfalfa fields across Iowa using PEAQ, and posting these readings at extension.iastate.edu/dairyteam/peaq/.
"You are welcome to follow the progress of these reports, but I strongly encourage you to use PEAQ in your own fields to best estimate first crop harvest to help target the quality of forage you wish to achieve," says Lang. The PEAQ website includes a fact sheet that explains the method. A critical step with the PEAQ method is to understand that the reading from the field represents standing crop quality. You need to adjust this reading to account for harvest losses, says Lang.
Harvest losses equal about 15 RFV units for haylage, and about 25 RFV units for hay. "Therefore, if you wanted to target 150 RFV alfalfa, it is recommended to harvest haylage when PEAQ measurements predict  about 165 RFV for the standing alfalfa in the field; or to harvest hay when PEAQ measurements predict about 175 RFV for the standing alfalfa in the field."
Subscribe to receive top agriculture news
Be informed daily with these free e-newsletters
You May Also Like
---