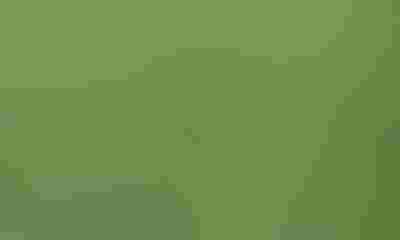 The rains of mid-April and early May were welcome in south central  Kansas after months of drought conditions and radical temperature fluctuations had left the 2015 hard red winter wheat crop in sad shape.
The continuing rains coming almost daily through the month of May were not so welcome. They swelled creeks and rivers, flooded low-lying areas and left wheat fields standing in water.
"I have wheat that has seriously gone backward in the last week to 10 days," says Cowley County farmer Martin Ray.
Ray said some of his wheat is dying prematurely and the 600 acres he hopes to plant to cotton is still too wet to plant.

GOOD, THEN NOT: Rains initially helped the wheat crop recover from freeze and drought stress, but too much rain has caused its own damage and a bumper crop of weeds is coming on strong.
Another challenge for many wheat farmers is the huge crop of weeds that has sprung up in the wet conditions of spring. Controlling those weeds before harvest will be problematic.
John Fietsam, wheat technical product lead with Monsanto, says that most of the Kansas winter wheat crop is well into grain fill, leaving limited options for weed control.
"It's really time for farmers to start thinking of what they can do and how to keep a problem from getting out of hand," Fietsam said.
One problem is that wheat stands were thin from winterkill, freeze and drought stress, giving weeds plenty of light and heat to germinate and get growing.
He said if weeds grow taller than the wheat, an option may be pre-harvest application of glyphosate or dicamba. Farmers should wait until the wheat is a hard dough stage, with moisture at 30% or less, before applying a 22-oounce application of herbicide. If weeds are large, it may take as long as two weeks from them to dry down enoughto harvest the wheat. A pre-harvest interval of at least 7 days is required.
A better option, he said, is to manage harvest carefully, leaving excessively weedy fields for last and making sure to clean out the combine completely to avoid spreading weed seed from one field to another.
"If you can get the winter wheat harvest done first, there are more options for handling a weedy field before planting a double crop of soybeans or milo or corn.
Ryan Rector, technology development manager who is a native of Hillsboro, said he recommends allowing weeds that are clipped by the combine during winter wheat harvest  to get some growth back before treating a field to ensure they have enough leaf area for good control.
"There are a lot of mixes that contain atrazine that are good for double-cropping," he said. "But if you are going to plant sorghum, make sure you use seed that has been treated for herbicide use."
It is critical to get good control before planting milo, he said, because few herbicides are available to use post-emergence.
"You want to use something with good residual control," he said. "You need an acetochlor or metochlor mode of action. If you can get the wheat crop off and get the residual product down, the soil moisture profile will help activate the herbicide and you should get all season weed control.
For more recommendations on herbicides for corn or soybeans, growers can check www.roundupreadyplus.com
Subscribe to receive top agriculture news
Be informed daily with these free e-newsletters
You May Also Like
---