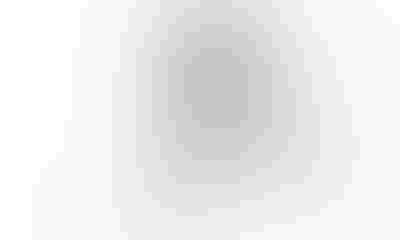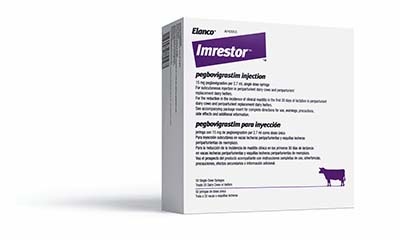 Human medicine has products touted to boost immune responses to diseases such as cancer. Now, the dairy industry has its first non-antibiotic product that boosts immune system response against mastitis. As Jeff Simmons, president of Elanco Animal Health, puts it: "This is a new technology door to help all sizes of dairies."
Imrestor, the first of its kind modified bovine granulocyte protein called pegbovigrastim, has been approved by the U.S. Food and Drug Administration. It's labeled as a two-dose injectable for reducing incidence of clinical mastitis during the first 30 days of lactation – as a preventive, not a treatment.

IMMUNITY BOOSTER: Imrestor is the first diary animal health care product designed to boost or restore immunity levels against mastitis bacteria at calving time.
It's a protein that boosts the dairy cow's natural immune system during the critical time around calving, when she's most vulnerable, explains Dr. Paul Rapnicki, Elanco Animal Health technical advisor. It's not specific to gram-negative or gram-positive bacteria.
How it works
As heifers and cows approach calving, the numbers of white blood cells (neutrophils) naturally decline 25% to 40% into the first week after calving. These are the cells that attack and suppress bacteria. Like a flu vaccine that protects against viruses, Imrestor spurs the mother's immune response by increasing those neutrophils.
Efficacy studies conducted for FDA approval showed a 28% reduction in clinical mastitis incidence among cows and heifers receiving Imrestor compared to control animals. It's a proactive approach "that can help keep cows healthy and help reduce the frustration, financial strain and stress associated with treating mastitis," adds Rapnicki.
It has no effect on somatic cell counts, and no impact on estrus, components or milk production. Yet, it will decrease milk discarded due to mastitis.
The launch is aligned with Elanco's eight-point antibiotic stewardship plan that reduces shared-class antibiotic use and replaces antibiotics with alternatives. Available in pre-filled, single-dose syringes, it's administered with two injections – one about seven days before anticipated calving date; the other within 24 hours after calving. Imrestor is not labeled for treating cows with clinical mastitis.
It's available only by veterinary prescription, and requires no meat or milk withdrawal period. It's available in 10-, 50- and 100-dose packs.
Subscribe to receive top agriculture news
Be informed daily with these free e-newsletters
You May Also Like
---