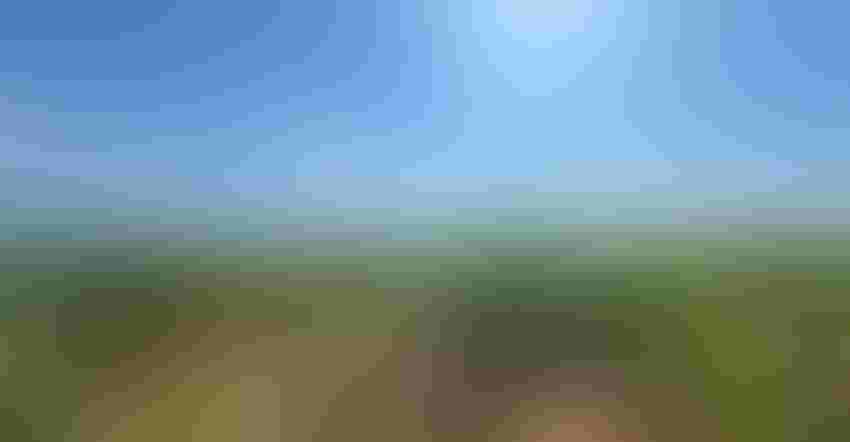 Late October rains provide relief for dry-seeded grain crops in most of Oklahoma.
Shelley E. Huguley
Recent rainfall came in the nick of time for Oklahoma grain producers, many of whom dry seeded their crop in hopes of a break in the state's persisting drought. "This is what we call a billion-dollar rain, especially for grain production," says Amanda de Oliveira Silva, Oklahoma State University Small Grains specialist, on the university's recent SUNUPTV.
"As far as forage, it will definitely help to have this rain. When we look at our fields planted so far, none of them were planted into moisture except for two locations, Chickasha and Apache," she says.
With this moisture coupled with warmer weather, producers should expect wheat growth and development, Silva says
Varying amounts
The two-day event dropped various rain amounts throughout the state, "in all but the far northwest and Panhandle regions," according to Wes Lee, Oklahoma Mesonet agriculture coordinator, in a recent Mesonet Weather Report. "One-to-two-inch totals were common elsewhere and a strip, from Latimer to Adair counties, received 4 to 5 inches. This improved our soil moisture levels tremendously in the shallower zones and it helped some at even deeper depths."
Where a lot of rain was received and depending on the soil type, fields with more clay could have soil crusting, which can be an issue with emergence, and maybe in some cases require reseeding, Silva says. "It will depend."
For those who missed the recent rainfall, the grain planting window hasn't passed, Silva assures, adding it depends on the location. "Producers in Southwest Oklahoma, still have time for planting, actually in most of Oklahoma, except for the Panhandle, we're still fine with the time we have."
Some of the research Silva and her team are conducting focuses on late planting dates and adaption for late planting. "If we were to get a lot of rain right now, it would take us out of the field for a long time, pushing us to that end of November-type thing, so that's the kind of research we are doing, looking at management practices and varieties that could be adapted for that very late planting scenario.
See, Ag equipment strategies in post-pandemic world
"But right now, we are still good. We are just thankful for this rain. That's really what we need at this stage."
Before the recent rains, Oklahoma producers were not too far behind USDA's planting dates, she says, "especially because a lot of people dusted in trying to get into that insurance window. But when you look at emergence, we are really behind on that long-term average. And that is because we did not have any moisture at all to drive germination."
Delayed emergence results in a later effective planting date. "That crop will have less time, especially for forage production, to accumulate biomass and have enough forage to feed cattle in the winter months. That is extremely important in dual purpose systems or forage only systems," Silva says.
Drought update
The late-October rainfall improved drought conditions across the southwest and in far eastern Oklahoma, says State Climatologist Gary McManus, on SUNUPTV. It also reduced drought intensity across Central Oklahoma down into the south-central region.
"But up into northwestern Oklahoma and the Panhandle, unfortunately, we saw more intensification, so more of that D-3, D-4, extreme to exceptional drought," McManus says. "It just depends on where you were. Where it rained pretty good, it certainly helped. If you didn't get much rain, the drought got a little bit worse."
Prior to the recent rainfall and according to the Mesonet rainfall map, "Consecutive Days with less than .25 inch of Rainfall," the following regions went 50 to 52 days without a quarter inch of rain: parts of northwestern North, central Oklahoma over into northeast Oklahoma, far southwestern Oklahoma and other parts of the state. "Some parts of Northwest Oklahoma up to 85 days," McManus says.
"After that rainfall, the map looks incredibly different. Much of the southeastern, let's say four-fifths of the state, is in good shape, that got at least a quarter inch of rainfall. But that northwest corner, up into the Panhandle, still going on, 40, 50, 60 days, even in some cases up above 80 days, those are the areas that missed out on that rain."
McManus also points to the vast differences in the maps depicting the percent of normal rainfall, Sept. 24-Oct. 23, 2022. "Again, we see much of the state, less than 25% of normal rainfall in that 30-day period, and in many cases, less than 10% of normal in that period. So, not too good."
After the rainfall event, "much of the state from I-40 south in Southwest Oklahoma over in parts of eastern Oklahoma, we are upping those numbers to above normal rainfall and then much of the state to areas outside of that, we see getting a little bit closer to normal, 100%.
"We have a few more chances of rain coming up and then it's, what are we going to get after that? That's the key in ending this drought, but also stopping it in its tracks in northwest Oklahoma."
Subscribe to receive top agriculture news
Be informed daily with these free e-newsletters
You May Also Like
---