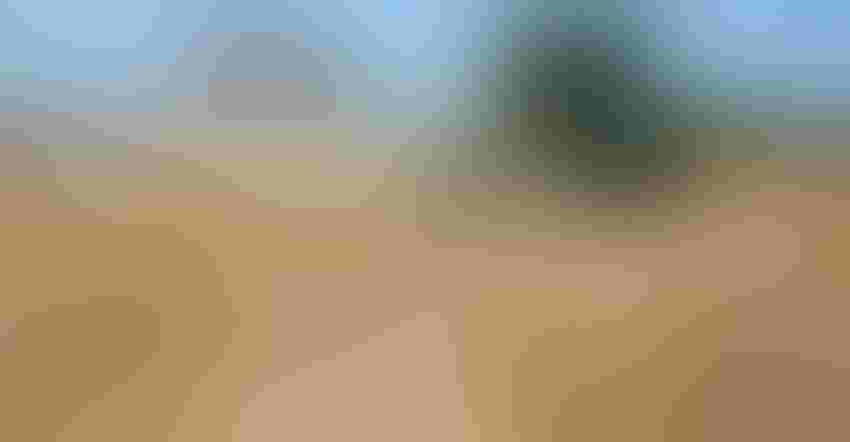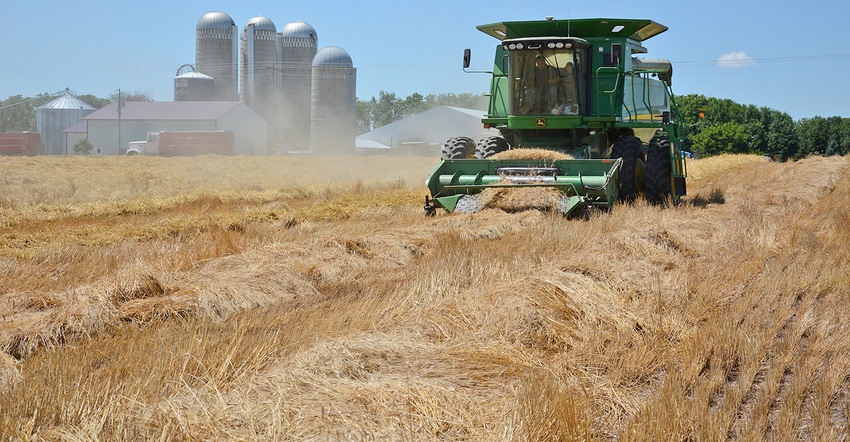 7-BUSHEL BUMP: Wheat yields in Minnesota are projected to reach 67 bushels per acre, up from the record set in 2015 of 60 bushels per acre, according to Jochum Wiersma, University of Minnesota small grains specialist.
Minnesota is on track to break its wheat harvest record: For the first time in nearly 30 years, the number of acres planted with University of Minnesota-developed varieties edged over the 50% mark.
Harvest is tracking at a record-breaking 67 bushels, shattering the previous record of 60 bushels per acre set in 2015, Jochum Wiersma, University of Minnesota Extension small grains scientist, says.
Yield trends from 1995 to 2016 have shown an overall 2.7% increase in average yield per year.
"We're pleased with the performance of the newer varieties released by the university, including Linkert and Shelly," Wiersma says.
The Linkert variety was released in 2013, and Shelly became available last year.
In 2017, 50.6% of wheat planted in Minnesota was developed at U-M.
"Linkert was planted on half a million acres and it has particularly good straw strength, while Shelly is coming in with impressive yields," he says.
About 1.17 million acres of Minnesota farmland were planted with wheat in 2017, down from 1.3 million last year. Market volatility over the last two decades has kept wheat acreage from expanding significantly beyond its strongholds in northwestern Minnesota, where about 80% of the state's crop is grown.
Nonetheless, wheat is making some inroads in southern Minnesota. Farmers recognize wheat's value, including the benefits of planting it as a rotation crop to break disease and pest cycles, Wiersma says. Wheat uses less water, for instance, compared to full-season crops like soybeans and corn, which allows the soil to recharge for the next season.
Jim Anderson, a U-M Department of Agronomy and Plant Genetics professor and wheat breeder, notes that growers are selecting among 40 or so available varieties based primarily on their yield, protein content, resistance to lodging and disease resistance.
Anderson, Wiersma and university colleagues study the strengths and weaknesses of new wheat varieties at more than 5,000 yield plots per year, seeking the best candidates for release. It currently takes eight to 10 years to get a new variety to market — though new varieties are cycling through more quickly. The breeding program expanded the number of testing locations and variety candidates evaluated beginning in 2010.
Initial trials take place on U-M's St. Paul, Crookston and Morris campuses before expanding to include many private farms, where growers collaborate with researchers.
Read more about U-M Extension's small grains program.
Source: University of Minnesota Extension
Subscribe to receive top agriculture news
Be informed daily with these free e-newsletters
You May Also Like
---