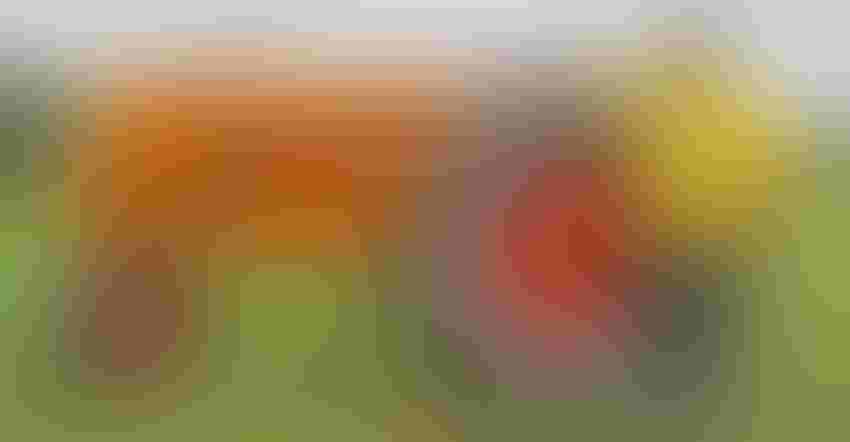 LABOR OF LOVE: Ben Rehme of Manitowoc, Wis., paid $1,000 for this 1950 Minneapolis-Moline U in 2008 and spent the next year restoring it.
Ben Rehme of Manitowoc, Wis., began collecting antique tractors when he was 14. Today, he and his father, Alvin, have 13 machines, including a 1949 Minneapolis-Moline RTU, a 1936 John Deere Model D and a 1941 International T-9 bulldozer.
"Besides wanting another tractor to restore, I was looking for something with more power to put on a sawmill and threshing machine," Rehme says. "In 2008, I saw a 1950 Model Minneapolis-Moline U along the road, so I stopped by the farmstead and chatted with the owner.
"The paint had faded, and it looked pretty rough. There were holes in the sheet metal, rust covered the tire rims, but the motor turned over. Upon closer examination, I noticed peculiar markings on the hood where the previous owner had etched approximately 20 dates with a knife, noting every time the oil had been changed. Since it fit my bucket list, I paid $1,000 and took it home."
Over the next year, Rehme, who is employed as a tool and die maker, began restoring the tractor. After sand-blasting and power-washing the machine, he and his father pulled off the heads, changed the valves and replaced the oil seals. They spent hours removing all the dents and repairing the sheet metal. It cost $200 for the Prairie-Gold paint, and now the U looks exactly like it did when it came off the showroom floor.
Nearly a century ago, Minneapolis-Moline was a large tractor and machinery producer based in Hopkins, Minn. This enterprise was the product of a merger of three companies in 1929: Minneapolis Steel and Machinery, Minneapolis Threshing Machine, and Moline Plow. Minneapolis-Moline was later purchased by the White Motor Co. in 1963 and continues today as Agco.
The U Series saw a number of variants, including the UTU, UTS, UTL, UDU, UOPL, UB, UTIL and UT. Billed as a row crop tractor and first manufactured in 1938, the U had manual steering, a cab-open operator station, 4.6-liter four-cylinder engine, rating of 40 hp on the drawbar, five forward speed transmission, one reverse gear, two lights in the front and one in the rear, live hydraulics, PTO, belt pulley,  small toolbox under the fuel tank, and mounted fenders.
During the summer, Rehme takes the U to area festivals and operates a 1930 Avery 28-inch threshing machine, silo filler, rock crusher and two-bottom plow. Come spring, he does some disking, goes over the ground with a spring-tooth harrow, plants 3 acres of grain for an annual vintage equipment celebration, skids logs in the woods and runs his sawmill.
"This tractor originally came from Iowa, and I'm the third owner," he adds. "I like the U because of the narrow front, it's very reliable, always starts even in below zero weather and is a steady workhorse that you can always count on to get the jobs done. It was an excellent investment and worthy tractor that perfectly fit into my ever-expanding collection."
Persinger writes from Milwaukee, Wis. To have your favorite tractor featured, email or send in a photo of yourself with your tractor, along with a 300- to 400-word write-up about the tractor, to: [email protected] or Wisconsin Agriculturist, P.O. Box 236, Brandon, WI 53919.
Subscribe to receive top agriculture news
Be informed daily with these free e-newsletters
You May Also Like
---