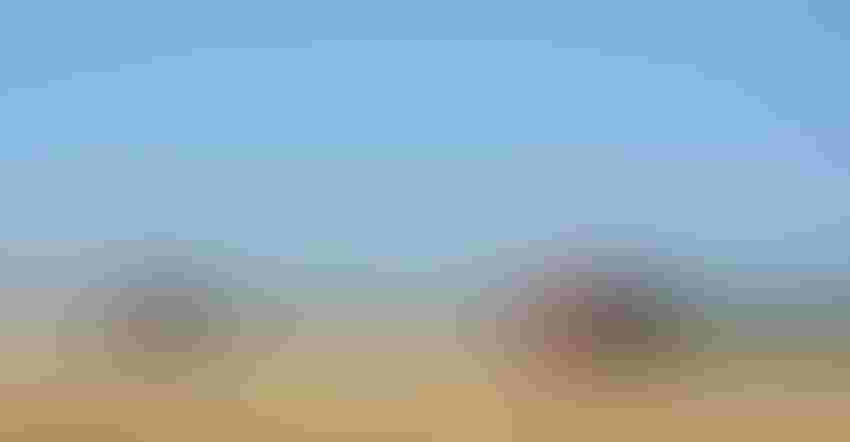 FINALLY ROLLING: The Smarsh family was finally rolling toward finish of the 2019 wheat harvest as the July 4 holiday loomed. Kendall Smarsh was manning the truck as his son, Dakota and uncle Mark, drove these two combines June 31 near Cheney Lake.
Wheat harvest 2019 in Kansas has been on-again, off-again, hot and wet.
After a wet winter followed by a cool, wet spring, wet harvest got off to a late start with Kansas Wheat issuing its "Day One" of the 2019 harvest on June 24. The last week of June brought lots of sunshine, scattered showers, temperatures topping 100 degrees F and winds of 20 to 25 mph.
For the most part that's perfect wheat harvest weather, and the combines were rolling in earnest by the end of the month.
With the Fourth of July holiday bearing down, Kendall Smarsh, his son, Dakota, and his uncle, Mark Smarsh, were trying to finish up the last 300 acres of the family's wheat ground near Mount Vernon in western Sedgwick County.
He said there had been some positive news and some serious challenges unfolding during a long, wet process.
"I've got about 200 acres on the back side of Cheney Lake that is still too wet because of the lake being so high," he said. "That has just remained soaked and water continues to seep in from the lake.
"I'm hoping it will be ready to go in the next few days."
He said he had avoided starting it as traffic to the lake picked up in advance of the July 4 holiday with campers trying to get RVs and boats pulled into their favorite spots ahead of the holiday
"I think the campgrounds are still pretty flooded," he said. "A lot of people aren't going to be able to get to their favorite spots. But they sure are trying to find a place and sharing the road with them while pulling harvest equipment is … well, let's just say I'll let them get settled in before I tackle that field."
On July 1, Smarsh was a cutting a field that just a week before had been marshy.
"We tried to get in this field and couldn't, so we spent two days cutting over west of Pretty Prairie where we have a little higher ground," he said. "It was great wheat — 63 pound test weight, 12.5% protein. We're really happy with it."
Back in the frequently flooded field, he said he was expecting some lighter test weights and lower protein as a result of both the wet conditions and the harvest delayed past optimum date.
"I think the cool, wet weather was great for wheat that was on ground that drained well, like my upland acres," he said. "The fields that had standing water didn't fare so well."
Across the state, Kansas Wheat reported that harvest was working slowly northward as the state, with some farmers reporting ripe heads but green stems.
Bob Temple, of WindRiver Grain in Garden City, reported that his area is usually wrapping up harvest around the first week of July, but they were running a little behind schedule due to the rain they received this year. On the bright side — they are seeing above average yields and hope to finish harvest closer to the end of next week. Their protein levels have been below average.
Morgan Walls, of Elkhart Coop, is running about two weeks behind in wheat harvest this year. Their protein levels are averaging about 10.5% to 11% and test weights are ranging from 60 to 64 pounds per bushel. They are seeing above average yields, having 40 to 60 bushels per acre instead of 20 to 25 per acre. He is hoping to finish harvest out within the next two weeks.
Justin Ochs, Skyland Grain in Johnson, also reported a two week delay behind a normal harvesting schedule. Ochs said that they may be looking at a 70 bushels per acre average for harvest, but he also pointed out that many farmers in their territory had been "hammered by hail," so that number could have been higher.
Test weights are in the mid-60s, but proteins are lower than average (with the exception of a pocket from Eastern Colorado that is right at 12%.) He estimates that the area will be cutting for another ten days, depending on if the weather cooperates.
Kansas Wheat supplied some of the information contained in this report.
Subscribe to receive top agriculture news
Be informed daily with these free e-newsletters
You May Also Like
---