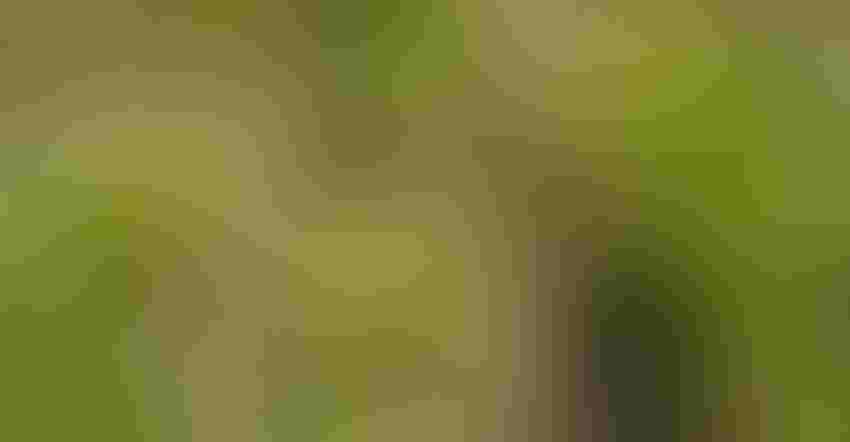 FIGHTING WSM: Wheat breeder for western Kansas, Guorong Zhang at the Kansas State University Research Station at Hays, says finding more varieties with improved resistance to wheat streak mosaic virus has been a focus for the last three years.
Kansas State University wheat breeder Guorong Zhang spends his days trying to find the best new varieties to help growers in western Kansas grow the best possible wheat.
Just a few years ago, the western Kansas breeding program at Fort Hays State University Research Station, with legendary breeder Joe Martin in charge, was heavily invested in finding new white wheats, but Zhang says he is currently evenly divided on research of both white and red wheat varieties.
"For white wheats, we are working on improved straw strength and sprout tolerance," Zhang says. "In the red lines, I have been working on improved resistance to wheat streak mosaic virus, especially at getting resistance to hold at higher temperatures up to 24 degrees Celsius."
Zhang says he hopes to introduce three new varieties — one white and two red — this fall if summer trials on the lines continue to do well.
He introduced one red line with excellent WSM resistance in the fall of 2018, but the Kansas State University committee elected not to release it because of susceptibility to stem rust.
"I thought the need for WSM resistance might be greater than the concerns about stem rust," Zhang says. "However, the Kansas Wheat Alliance committee didn't see it that way and it is their decision that prevails."
Kansas Wheat Alliance is the commercialization arm for the Kansas State University breeding programs at both Manhattan and Hays.
K-State plant pathologist has expressed concern that planting too many acres of wheat susceptible to stem rust could create a pathway for the return of the deadly pathogen, which has been well controlled for four decades with excellent genetic resistance packages.
Zhang says one of his red lines has WSM resistance as well as improved leaf, stripe and stem rust resistance.
"It is similar to the Tatanka red line we introduced a couple of years ago," he says, "It has good drought tolerance and average straw strength.
His second red line that may be up for release is showing good stripe rust resistance and excellent drought tolerance, making it a potentially good variety for western Kansas and the Oklahoma panhandle.
"It has not been tested for stem rust resistance, but it does have the genetic marker," he says. "It also has excellent straw strength, but I have some concern that yield may be an issue on that line. I'm still gathering data through this growing season to determine if I will recommend it for release."
The white variety that is standing out in demonstration plots is promising for excellent baking quality and sprouting tolerance, Zhang says.
"The white line also has all kinds of resistance: wheat streak, all kinds of rust, Hessian fly and soilborne mosaic. I think it will be able to go east a ways," he says. "The one problem is it does show some susceptibility to head scab, which means it shouldn't go behind corn."
He says the new white line does old WSM resistance up to 24 degrees C., making it an excellent choice for areas where wheat streak mosaic virus has been a problem.
"WSM is a big concern in both fall volunteer wheat being grazed out and even in winter grazing programs," he says. "A variety that can hold resistance despite warm fall or winter weather would be a big advantage."
Zhang says he is also expanding the breeding program at Hays with a partnership with the Nebraska wheat breeding program.
"We are going to put in some variety plots and see if we have lines that might perform well in both Kansas and Nebraska," he says. "All in all, I'm keeping very busy out here."
Subscribe to receive top agriculture news
Be informed daily with these free e-newsletters
You May Also Like
---