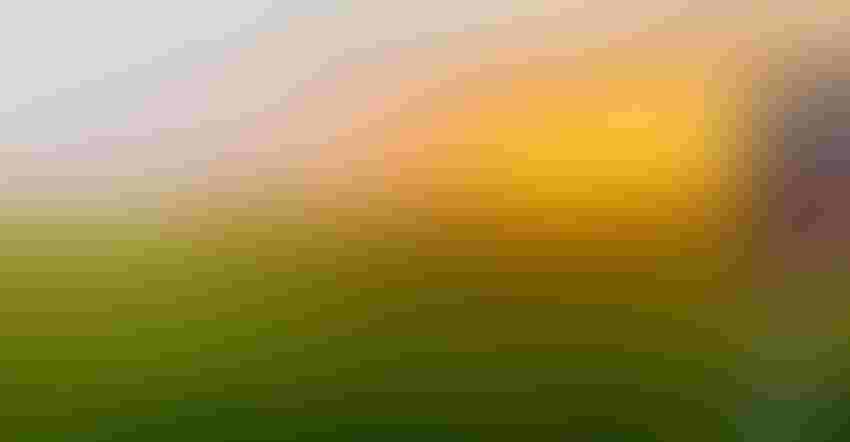 NEW VARIETY: This photo of a field of LCS Photon AX near Conway Springs was taken by Nathan Miller. LCS Photon AX is one of the latest CoAXium varieties released by Limagrain.
P.J. Griekspoor
It has only been three years since Limagrain Cereal Seeds and the Colorado Wheat Research Foundation rolled out the first wheat varieties of the CoAXium wheat production system, introducing wheat with tolerance to Aggressor herbicide for the control of grassy weeds, but the program is growing fast with more than a dozen lines from several breeding programs and seed providers available to plant in the fall of 2020 and more in development.
The Axigen trait was developed by Colorado State and is managed by the Colorado Wheat Research Foundation. As a public trait, it belongs to the farmers of Colorado and can be licensed to any breeding program. Seed companies that don't have a breeding program, including WinField United, which has CoAXium varieties in its Croplan brand and Nutrien, have also signed commercialization agreements to market CoAXium varieties.
Introgression agreements for breeding with the Axigen trait are in place at Kansas State University and the University of Nebraska and the Oklahoma State University is actively breeding the trait.
Zach Gaines, national sales and marketing manager for Limagrain, says it is important for growers to know that all CoAXium varieties, no matter what breeding program they come from, are labeled only for use of Aggressor herbicide and not for other Group 1 herbicides with the same or similar active ingredients. Any growers spraying other herbicides are in violation of their contract.
Gaines says Aggressor herbicide, developed by chemical partner Albaugh, is a Group 1 ACCase inhibiting herbicide that is particularly effective on grasses such as downy brome, jointed goat grass, feral rye, wild oats and volunteer cereals. As a Group 1 herbicide, it offers an alternative to Clearfield technology on weeds that have developed resistance to Group 2 (ALS) herbicides.
Mark Torno, U.S. product manager for WinField United's Croplan brand for sunflower, canola and wheat, offered a couple of management tips that he said have been noted in the field.
"Coverage is really, really important especially if you have a thick weed problem, so getting decent water volume is important and using a deposition agent such as InterLock, will help get coverage on the field," Torno says. "Second, the earlier you get the weeds controlled, the better. You can control weeds later but the earlier you get them, the less they impact yield. A lot of farmers have commented that when grasses are controlled early, they see a significant increase in yield."
Torno says WinField United is very happy with the lines it has. Including CP7017 and CP7050 which are available to plant this fall.
"They have shown very strong performance with high yield potential and a strong agronomic system," he says. "The plan for next year is good supply of seed available across Montana to the Dakotas to Oklahoma."
As with any new technology, Gaines says stewardship is extremely important and following the label is essential.
"The CoAXium system is one of the fastest growing programs in hard red winter wheat," he says. "We are happy that all the major wheat breeding universities in the Central Plains will be working with the trait. But rapid growth is both good and dangerous.
"We know that there are naturally resistant plants within any weed species and that over-using a single chemistry can lead to those resistant plants becoming more prevalent. We have already seen resistant to Group 2 herbicides which impacts the Clearfield varieties. CoAXium was introduced to work in a rotation with the Clearfield system, not to replace it."
Gaines says Limagrain is working to educate growers and seed companies about the importance of rotating between chemistries.
"The CoAXium program is incredibly effective tool and it is important that we all practice good stewardship to preserve it," he says.
Subscribe to receive top agriculture news
Be informed daily with these free e-newsletters
You May Also Like
---