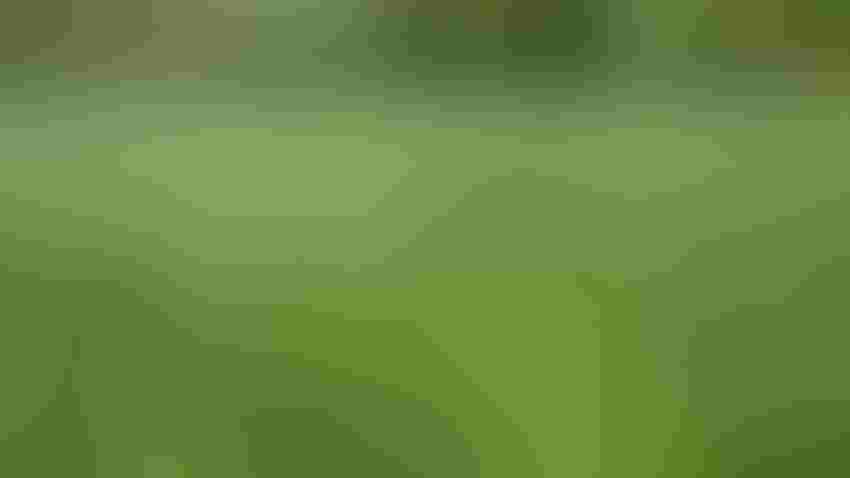 Wheat needs timely fertilizer applications to flourish as it is a shallow rooted crop grown during the traditional wettest time of the year.
Brent Murphree
In fall 2022, many Midsouth wheat producers were either new to or returning to wheat production after several years off. Midsouth wheat specialists want to remind growers that late winter is a great time to maximize wheat productivity, but they must make timely management decisions to realize that potential.
"After five or six years of historically low wheat acreage, there has been a renaissance in interest in growing wheat this year," said Erick Larson, extension professor at Mississippi State University. "A lot of the interest is driven by prices, but 2022 was a rather droughty year, which limited the productivity of our summer crops. That has also shifted some folks' interest into wheat."
Jason Kelley, University of Arkansas extension professor, said his state has seen a 25% to 30% increase in acreage this year for the same reasons, but amount of wheat acreage in the state still trails the numbers from 30 to 40 years ago.
"Sometimes our falls are too wet to plant wheat. It was dry last fall, so more wheat acreage got planted," he said. "Our crop condition is where we want it to be right now."
February is an important month for wheat production. It is when the number of tillers on each plant is determined, which directly impacts the crop's yield potential. To maximize the number of tillers, growers need to make timely fertilizer applications and control weeds, so the plants have the necessary resources to thrive. If not managed properly, both can limit plant growth.
"Once number of tillers are determined, there is no amount of management you can do that will bring back the crop's yield potential," Larson said.
Wheat needs timely fertilizer applications to flourish as it is a shallow rooted crop grown during the traditional wettest time of the year. Warm, wet Southern weather depletes nitrogen availability over the winter, which makes spring nutrient applications even more important. Most fertilizer applications are aerially applied in the early spring due to wet weather.
"Fertilizer applications should go beyond nitrogen," Larson said. "Sulfur is more important now than it was 20 years ago. We don't have much industrial disposition to provide sulfur so we must supplement to meet crop needs, especially on sandy soils which historically have sulfur deficiencies. Many producers will use a nitrogen-sulfur mixture."
Phosphorus application
Kelley said many producers will also apply phosphorus during January or February if they did not apply phosphorus in the fall. Wheat is typically very responsive to phosphorus if soil levels are low.
The timing of the first application is important. Larson said growers should make that first nitrogen application in the early spring after the wheat breaks dormancy but before stem elongation.
"The optimal time for the first application is going to depend on seasonal weather and your geography," he said. "Wheat growth will begin to pick up when low temperatures exceed 40 degrees F and daytime temperatures climb into the 50s and 60s."
Delaying the first spring nitrogen application can limit tiller development and result in a loss of yield potential.
"The main tillers drive yield," Kelley said. "If a producer is late on nitrogen applications, it could cause those tillers to abort and would affect yield."
Most growers will split their nitrogen into two or three applications to avoid nitrogen loss from wet weather in the early spring.
"Primary nitrogen uptake occurs in April and early May, so growers split their application to make sure the nutrient is there when the plants need it," Larson said.
Weed control
To get the best weed control, producers should apply a preemergence herbicide in the fall. But in February, producers should keep a close eye on winter annual weeds that may pop up in their fields. Controlling these weeds is important for tiller development.
"Winter annual weeds, including henbit and chickweed, are often overlooked because these small-statured weeds complete their lifecycle almost entirely during the winter. If left uncontrolled, these weeds could impact tiller development by competing against young wheat plants for nutrients and light," Larson said. "Growers should monitor for these weeds and treat if necessary."
Winter annual weeds need to be actively growing for producers to be able to control them.
"Before making an application, growers should consider the weather and the condition of the weeds," Kelley said. "A cold blast could stop weed growth which would make herbicide applications ineffective. The same goes for ryegrass. Weeds must be actively growing for herbicides to work effectively."
In March, growers may make a post-emergence herbicide application to control ryegrass, if needed. Ryegrass is the biggest weed problem for wheat and can cause tremendous crop loss. Fall herbicide applications for ryegrass typically provide better control and result in greater yields.
"We have a good opportunity to control ryegrass with preemergence applications in the fall," Larson said. "But if producers find substantial amounts of ryegrass in their fields, they will need to employ a post-emergence application, but management is key to achieving reliable control and producing good results."
Subscribe to receive top agriculture news
Be informed daily with these free e-newsletters
You May Also Like
---