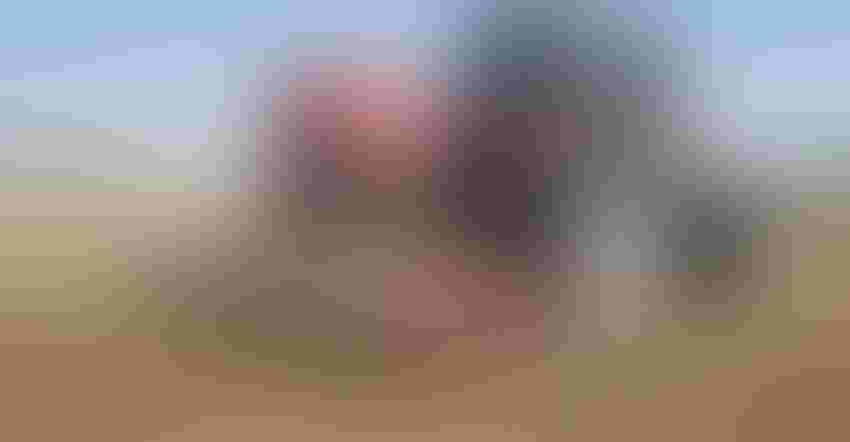 BROADCAST WHEAT: Some growers are experimenting with a planting method known as broadcast incorporation. A Joker with Gandy air seeder was used at one Michigan location for single-pass broadcast incorporation.
Courtesy of MSU
While much of this year's wheat went into the ground with less aggravation and more success, undoubtedly fall wheat planting will again test growers. It's already time to plan for next year.
All you have to do is remember the "mudfest" of the 2021 harvest that dropped planted wheat acreage by 23% in Michigan and in other areas where consistent fall rains limited field time. Having enough time to get wheat planted was a challenge.
Looking at alternatives, some growers are experimenting with a planting method known as broadcast incorporation, which allows them to cover more acres in wider swaths and less time than using a traditional grain drill.
After seed is broadcasted over the soil surface, it's incorporated using a shallow tillage implement. The operation can be further sped up by mounting a spreader on top of the tillage implement, so seed is broadcasted just ahead of the last gang, says Patrick Copeland, who is a Michigan State University grad student studying different planting methods in a three-year research project with Manni Singh, MSU assistant professor of cropping systems agronomy, and Dennis Pennington, MSU wheat systems specialist.
The study, funded by the Michigan Wheat Program, was initiated with the 2020-21 crop.
In a perfect world, wheat should be planted soon after the Hessian fly-free date, as highest yields (with average heat unit accumulation) often are attained when seedlings emerge within two weeks after the posted fly-free date, Singh advises.
"The goal is to plant early enough to produce two to three tillers before the winter vernalization period," Singh adds. Research over the past two years has shown about a 20% yield penalty with mid-October planting and a 33% to 46% decline beyond that time, compared to September planting.
The biggest concern with broadcast incorporation is the random distribution of seeds in the soil profile resulting in a highly variable seed depth.
The Michigan State University Cropping Systems Agronomy lab is conducting on-farm trials to evaluate the performance of broadcast incorporation, as well as precision planting of wheat. To date, it includes 10 different locations over two years.
"So far, despite a definite increase in depth variability, no yield penalty has been demonstrated to result from the use of broadcast incorporation when compared with a traditional grain drill," Copeland says. "This may be the result of a 24% to 37% increase in the number of effective tillers [i.e., tillers that produce heads with grain] canceling out any yield penalty resulting from the increased variability in seeding depth."
Grower perspective
Bill Hunt — who farms about 12,000 acres in Genesee County's Davison, Mich., and raises corn, soybeans and 300-500 acres of wheat — is part of the research study and was on the Michigan Wheat Program board for 10 years before being termed out. He hasn't yet seen a difference in yield between seeding with a grain drill or broadcast.
"But I also plant about 200,000 more seeds," he says. "We're seeding about 1.6 million per acre with a normal drill, but when we broadcast, we're putting out about 1.8 million. As long as you can get out there before Oct. 10, the odds are the shallow and deeper ones will have time to emerge — I don't have a lot of confidence doing it much later than that."
The research, so far, does not support the concern with broadcast incorporation under late planting or that higher seeding rates are beneficial. "Two late-planted locations [Oct. 20 and Nov. 5] in the 2021-22 growing season did not show this to be the case," Copeland says.
For the past three years, Hunt has forgone no-till planting for light tilling wheat. "It has produced better emergence at the same time, it was more consistent, and it yielded a little bit better," he says.
By randomly distributing the seed over the soil surface, growers can break away from the row pattern with high density within rows and low density across rows.
"This achieves something that more closely resembles our optimal distribution," Singh says. "This allows plants to make more efficient use of the space available to them, resulting in increased tillering."
Hunt says, "That is what I have found works the best, as well as slowing down around the outside of the field so you get a good amount of wheat around the perimeter of the field."
Do not over-bury the seed, he advises. "We set our tool about 2½ inches maximum, with an assumption of burying about 50% of that," Hunt says. "There's some wheat on top, some wheat down at the bottom, there's wheat in the middle, but that's why I say you have to increase the [seeding] rate a little bit to compensate for some death loss."
Paying closer attention to wheat and changing some management practices has allowed Hunt to hit over 100-bushel wheat. "I'm planting earlier, splitting my nitrogen applications, not planting wheat as thick to allow for better tiller development," he says. "We've cut back on seeding by about 400,000 to 500,000 kernels."
He also went to shorter varieties that don't lodge as easily. "Hundred-bushel wheat doesn't compete a lot of times with 170- to 180-bushel corn, but it's a whole lot better than where it was years ago," Hunt says. "If you keep those yields up, you're making more money on wheat than soybeans. Yes, we have to apply a fungicide right before it heads, and there's concerns with falling numbers and vomitoxin, but we're making money and it allows us to do some tiling, fencerow removal, and cleanup of the fields."
Based on what has been observed so far, Copeland says broadcast incorporation appears to be a viable option for farmers whose priority is getting wheat in the ground as quickly as possible.
"Some questions remain to be answered, such as whether the performance of broadcast incorporation will hold up during more severe winters than we have experienced recently," he says.
Trials will be continued in the 2022-23 season, and a detailed interpretation of data will be shared with farmers at project conclusion.
Subscribe to receive top agriculture news
Be informed daily with these free e-newsletters
You May Also Like
---