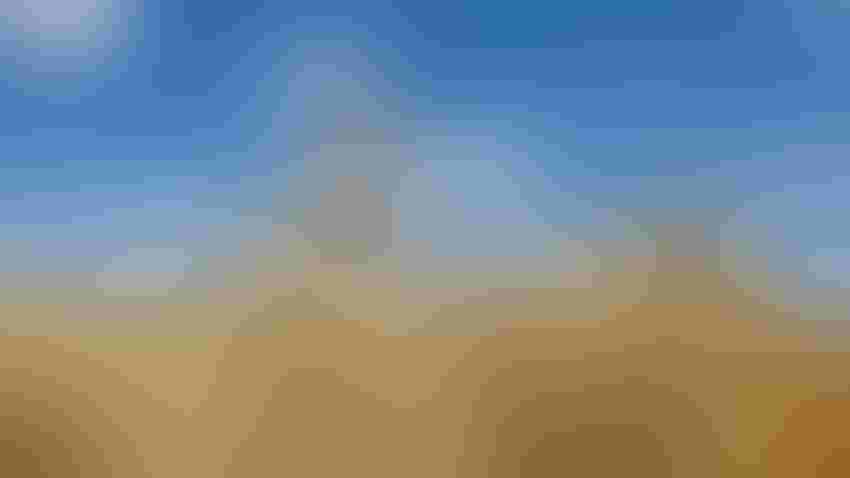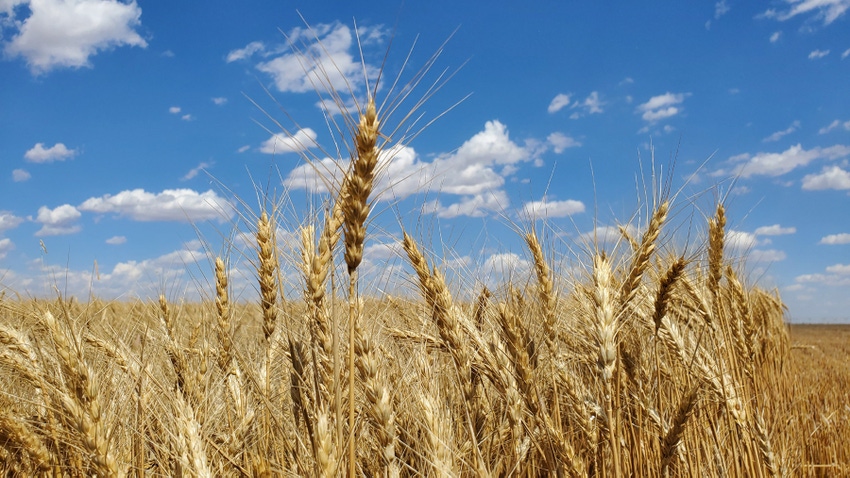 "Mother Nature won," says North Central Oklahoma Extension Agronomist Josh Bushong, Enid, about the 2022/23 wheat crop. Prolonged drought stresses both the Oklahoma and Texas wheat crop.
Shelley E. Huguley
"Mother Nature won," says North Central Oklahoma Extension Agronomist Josh Bushong, Enid, about the 2022/23 wheat crop.
With few exceptions, that sentiment, included in an update by the Oklahoma Grain and Feed Association, sums up conditions across the Southwest as producers evaluate crop prospects near harvest.
Drought, beginning last fall and persisting through winter and into spring across much of the region, kept wheat under stress.
In addition, freeze damage, temperature inconsistencies, wind, and pests damaged wheat in some locations.
Across the region, drought caused the most damage.
Amanda De Oliveira Silva, Oklahoma State University Extension small grain specialist, Stillwater, says many Oklahoma fields will be disastered, grazed, or cut for hay.
"We are receiving a rain now (May 15) and that will help fill out the grain we have left for harvest," Silva said. "Cool temperatures will also benefit grain fill. This will be one of the hardest years for Oklahoma wheat farmers. We don't know yet how much will be abandoned, harvested, or cut for hay."
Hay is in demand and prices are good, so producers might see better profit opportunities with hay than grain.
Production estimates from a recent crop tour indicate grain production will be low.
Variable yields
Updates across the state compiled by the Oklahoma Grain and Feed Association indicate regional yields vary from as low as 12 bushels per acre to 41 bushels per acre.
Northeast Oklahoma received consistent rainfall throughout the season and producers expect to make historical average yields, 41 bushels per acre.
Other regions report production off by as much as 30% to 90%, based on OGFA estimates.
Significant reductions
"We are looking at a significant reduction," Silva says.
Consequently, OSU Extension specialists advise producers to source seed for fall planting early. Most expect seed to be in short supply.
"As producers start looking for seed, they need to be aware of the seed source where they purchase and also if they put up seed for next year," cautions Texas A&M AgriLife Agronomist Jourdan Bell, Amarillo.
"Be aware of certified seed regulations and plant variety protection attached to specific varieties on both purchased or saved seed," Bell said. "Some newer varieties include stewardship agreements and can't be saved."
Bell said recent rains across the Texas Panhandle came too late for much of the 2023 wheat crop. "But rain will benefit wheat that will be harvested. Rain will help test weights," she said. "Winter drought means a lot of acres will be failed, especially dryland."
The overall condition across the region is "extremely variable, Bell said. "Even irrigated wheat is not as good as we hoped because of high temperatures and wind. Overall yield will be down and a large portion of the crop will be harvested for silage or hay. We will see reduced grain production out of the High Plains because of drought."
Light disease pressure
Bell said disease pressure on the '23 wheat crop has been light. "We've seen some wheat streak mosaic and barley yellow dwarf."
Silva said disease pressure has been light in Oklahoma. "We're seeing some fusarium root rots, things thatare prone to develop in dry conditions. We haven't seen much rust because of drought," she said.
Bell said brown wheat mite and Russian wheat aphid pressures have been heavy. "This is the second year in a row that we have seen Russian wheat aphid. It's been a big surprise and affected the whole High Plains region last year. We had not seen the RWAs in about 20 years. We do not have varietal resistance to Russian aphid, so producers need to be aware and scouting."
She said timing, understanding when the aphid appears, will be important in control measures. She said the bird cherry oat aphid also infested some wheat this year.
In other Texas wheat production areas, conditions are mixed.
NE Texas acreage down
"We had a steep reduction in planted acres due to rain during fall planting in the Northeast and Central Texas areas," said Ben Scholz, a Texas and national wheat industry leader who farms near Lavon, Texas,
"The Northeast Texas crop is currently headed with good to excellent yield prospect — if feral ryegrass control efforts were effective," Scholz said. "Most fields have been treated for rust and we are not hearing of any issues." 
Scholz said Central Texas had "significant planted acres destroyed due to Hessian fly last fall and winter. 
"Both Central and Northeast Texas had prevented planting claims for wheat. Some have taken reduction in claims and planted corn, grain sorghum, or other crops. We hear that some producers are planting either cover crops or hay on prevented planting acres due to some program changes for this year only." 
Year in focus
Comments from the OGFA update put the 2023 wheat harvest in focus.
"Harvested acres down 30% to 90%." Josh Bushong, OSU Extension, Enid.

"With hay shortage, how much will be cut down for hay?" Jeff Mitchell, Farmers Grain Company, Pond Creek.

"8 to 9 months with no measurable rainfall. This is the largest area affected I have ever seen." Darrell McBee, OSU Extension, Harper County.
Growers and observers across the region now hope recent rainfall will fill out the wheat crop that remains to be harvested for grain.
They also pray that rainfall will continue throughout the summer crop growing season.
"Producers are concerned if they don't continue to get rain, soil moisture can run out," Bell said. "They will be looking at optimum planting dates and hope they get enough rain to help carry crops through summer."
Following significantly reduced wheat production, producers need decent summer crop yields.
Subscribe to receive top agriculture news
Be informed daily with these free e-newsletters
You May Also Like
---