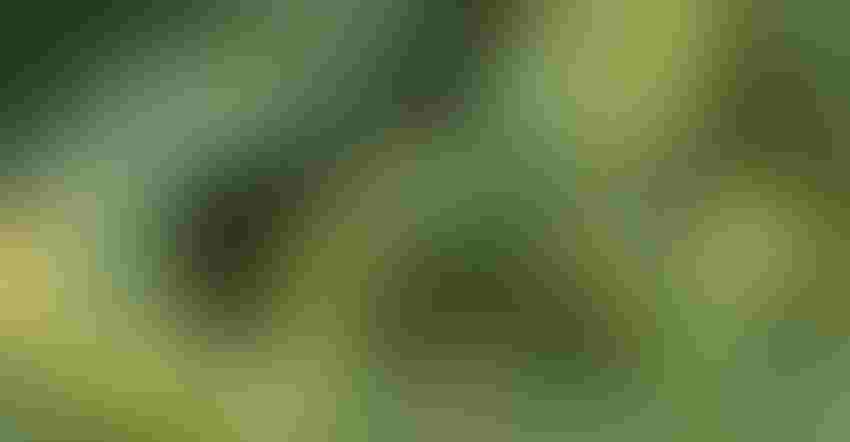 HIGH TEMPS: Temperatures can easily reach 85 degrees F in May and June in Illinois, potentially causing widespread volatilization before EPA's new June 30 cutoff date for applying dicamba on soybeans.
Holly Spangler
With new federal dicamba soybean labels, Illinois has yet to announce how it will enforce additional application restrictions like those used in 2020.
Illinois Department of Agriculture officials are weighing their options following the recent U.S. EPA label decision on dicamba, now that states no longer can use local needs labels to "further restrict" pesticide use.
Related: A deeper dive into EPA's dicamba re-registration
In 2020, IDOA used the 24(c) local needs label to cut off applications at June 20 and on days when the temperature rose above 85 degrees F. Doug Owens, IDOA bureau chief of environmental programs, believes the 2020 temperature restriction led to the department's dramatic 80% drop in dicamba complaints compared to 2019 — and the fewest in Illinois since the product was approved for in-season use in 2017.
The newest EPA label for dicamba restricts use after June 30 but doesn't include temperature restrictions. In Illinois, temperatures can easily reach 85 degrees in May and June.
IDOA has declined to comment, but experts say without the local label, the state can't address what they see as a local need to limit dicamba volatilization.
Technically, the Federal Insecticide, Fungicide and Rodenticide Act's Section 24(c) only permits states to use local labels to add uses for federal pesticides — not add restrictions. However, EPA has allowed states to add restrictions for the past several years, which is how Illinois and other states have been able to further restrict application by date and temperature.
In an email statement, EPA says the agency has the authority to strike down local needs labels "regardless of the chemicals involved" under its interpretation of FIFRA.
Seeking out options
At this point, the only other route for adding restrictions in 2021 is to go through a formal rulemaking or legislative process under Section 24(a). Arkansas is one of the only states to do this, thanks to its state plant board.
According to Jean Payne, president of the Illinois Fertilizer and Chemical Association, the political process behind these labels can take years compared to relatively swift agency actions with 24(c) local needs labels — especially in Illinois.
There's potential for Illinois to reach out to the registrants of the federal dicamba labels to request they include state-specific clauses on labels. States such as California and New York have a history of doing this, Payne says. But those clauses likely still would have to be approved by EPA in a drawn-out process.
"We've been trying to encourage the department to make its decision, whatever it may be, as soon as possible so that the industry has certainty," Payne says. "If they do want to pursue the 85-degree cutoff that we had last year again, then retailers might be looking at much more glufosinate demand. They would need to plan inventory for that, well, yesterday."
More than 2 options
Seed companies are selling new XtendFlex soybean varieties with genetic resistance to dicamba, glufosinate and glyphosate for 2021, giving farmers options for weed control while regulatory pressure builds against the dicamba trait. There are also Enlist soybeans with 2,4-D tolerance.
Payne says demand for dicamba alternatives was strong in 2020 and will be stronger in 2021, thanks in part to the federal downwind buffer increasing to 240 feet and the strict record-keeping requirements of dicamba.
"It's not like it was a few years ago, where your options for weed control in GMO soybeans were either a dicamba-tolerant trait or a nondicamba trait. Now growers have more options," Payne says.
There are 29 counties in Illinois with Endangered Species Act protections. And while EPA's current dicamba labels maintain the old rule of a 57-foot omnidirectional buffer away from potential habitat, there's a new federal 310-foot downwind buffer requirement in these counties.
"If you know you're in a problematic area, it might be the better choice to go with a different option and not just plant the regular Xtend trait, where you're locked into dicamba as your only effective postemerge option," Payne says, concluding there will be instances where commercial applicators won't spray dicamba if conditions don't allow for a legal application. "Then what?"
Subscribe to receive top agriculture news
Be informed daily with these free e-newsletters
You May Also Like
---